Napoleon divorces Josephine
The Emperor divorced his first wife on December 14th, 1809.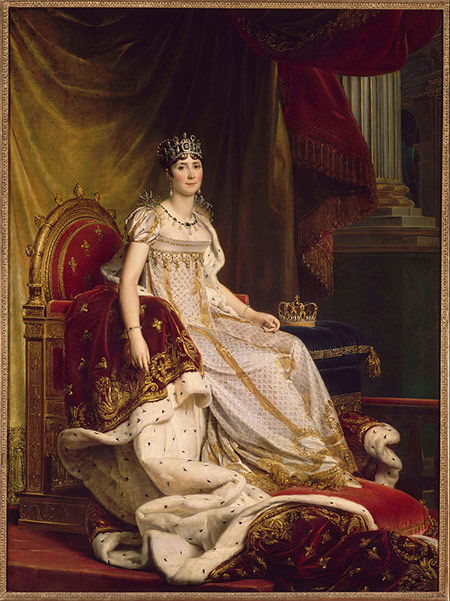 The future Empress of the French was born in Martinique in 1763 as Marie Josèphe Rose Tascher de la Pagerie, daughter of a minor aristocrat. She was known as Rose or Marie and it was Napoleon who called her Josephine. At 16 she was sent to France to be married to the Vicomte de Beauharnais. They had two children, but the marriage did not work and they separated.
Beauharnais was executed during the Terror in 1794. His widow spent a few months in prison, but she was close to the men who took over France after Robespierre's fall, including Paul Barras and Jean-Lambert Tallien. Charming, coquettish and sexually adventurous, she became Barras' principal mistress and lurid tales circulated about their orgies with Tallien's wife and others.
It was through Barras that she met a shy young Corsican army officer named Napoleon Bonaparte who was six years her junior. They were married in Paris in a civil ceremony which, conveniently for him later on, was invalid in several respects. The official who conducted it was not entitled to do so, the officer who witnessed Napoleon's signature was too young, the bride reduced her age by four years to 29 and the groom gave a false address and date of birth.
Napoleon went off to lead the Army of Italy in a brilliantly successful campaign, while Josephine failed to answer his love letters, had at least one love affair and ran up colossal debts. As her husband rose to fame and power Josephine began using her contacts to forward his interests. At Pope Pius VII's insistence they were married in a Roman Catholic ceremony in 1804, the day before he was crowned Emperor of the French. Louis Marchand, Napoleon's valet, said of her: 'She had the elegance of a Creole together with infinite grace and charm, and an evenness of temper that never failed.'
Unfortunately, she failed to bear Napoleon an heir. For years he hesitated over whether to divorce her. She knew what was in his mind and, when in late 1807 he left for Italy without her, she was in a miserable state, often in floods of tears and suspecting that her attacks of indigestion were caused by attempts to poison her by members of his family who wanted to be rid of her. In April 1809, when Napoleon went to Bavaria to fight the Austrians, Josephine hurled herself weeping into the carriage so that he was forced to take her with him. He left her in Strasbourg while he attended to business and to Countess Walewska, a favourite mistress, whose pregnancy satisfied him that Josephine's failure to bear him children was no fault of his.
Matters came to a head at the end of November 1809 at the Tuileries in Paris when Napoleon at last told Josephine that he was going to divorce her. Her shrieks could be heard all over the palace; she collapsed on the floor and Napoleon and another man had to carry her to her apartments.
Both the couple's marriages, civil and religious, were annulled. The first official step was taken in the throne room of the Tuileries on December 14th. Napoleon spoke first, saying that he had found the courage to end his marriage in the conviction that it would serve the best interests of France, but he had nothing but gratitude for the devotion and tenderness of his beloved wife. With her hands shaking, Josephine started to read a prepared statement in which she was to say that she was proud to offer her husband the greatest possible proof of devotion by consenting to the divorce. She could not go on and an attendant finished the speech for her. She and Napoleon both signed the record of the proceedings and Napoleon kissed her. The civil marriage was formally annulled and Josephine left for her chateau at Malmaison in pouring rain with a long procession of her ladies and household officials, her pet parrot, her dogs and gigantic quantities of luggage.
On January 9th the Roman Catholic marriage was annulled on the grounds that the civil marriage had been conducted 'badly and illegally'. In April Napoleon was married by proxy to the Emperor of Austria's daughter Marie-Louise, who would bear him a son the following year. He treated Josephine considerately and made sure that she had plenty of money and was given proper precedence as Empress Dowager. She lived at Malmaison outside Paris until her death there at the age of 50 in 1814. When someone told Napoleon that she had died of a broken heart, he was pleased and said: 'She really loved me, didn't she?'