The peace treaty that temporarily ended hostilities between France and Britain during the Revolutionary Wars was signed on 25 March 1802.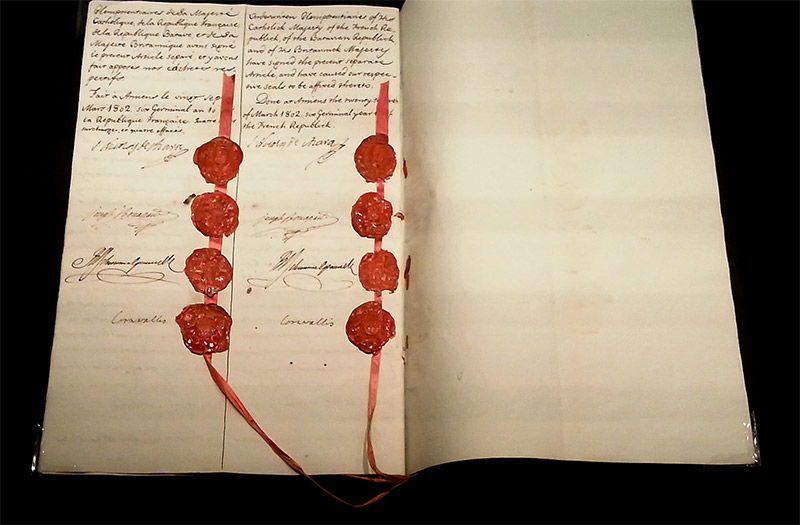 Early in 1801 the British war against France under Napoleon as First Consul was not going well and the country was sick of it. When the Younger Pitt's government fell in February, the new premier was Henry Addington, who was bent on peace and an end to entanglements on the Continent. As he wrote to Lord Malmesbury two years later, 'his maxim from the moment he took office was first to make peace, and then to preserve it … if France chose, and as long as France chose; but to resist all clamour and invective at home, till such time as France (and he ever foresaw it must happen) had filled the measure of her folly, and had put herself completely in the wrong.' 
Talks went on quietly in the summer of 1801 in London between the foreign secretary, Lord Hawkesbury, and a French diplomat, Monsieur Otto, and a preliminary agreement was signed at the beginning of October. The French had far the better of the deal. They agreed to restore the Two Sicilies and the Papal States to their former regimes, but they kept control of the Netherlands, the west bank of the Rhine, Piedmont and the Savoy, while Britain agreed to leave Egypt and let go of the Cape of Good Hope, Malta, and various islands in the Caribbean, while keeping Trinidad and Ceylon.
The agreement gained the approval of Pitt, however, and Lord Cornwallis, an eminent soldier and former governor-general of India, was appointed as ambassador-extraordinary to agree the final treaty. He was no diplomat and had largely forgotten his French, but he left for Paris and an interview with the First Consul in November, after which the two sides got down to detailed discussions in the Hôtel de Ville at Amiens. With Talleyrand hovering in the background, the French deputation was led by Joseph Bonaparte, Napoleon's elder brother, who was well liked personally by the English representatives, though dismayingly prone to offering concessions in private one day and ruling them out in public the next. William Wilberforce urged Addington to include the abolition of slavery in the Amiens terms, but Addington, though sympathetic, wanted nothing to interfere with progress towards peace. After months of wrangling over details, Cornwallis  threatened to go home unless matters were settled in eight more days, and the treaty was finally concluded.
Though widely welcomed on both sides of the Channel, the Peace of Amiens was no more than a truce. It lasted for not much longer than a year, giving both sides a breathing space in which to reorganise before the war was formally resumed in May 1803.