The man who founded the Tudor dynasty was born on January 28th, 1457.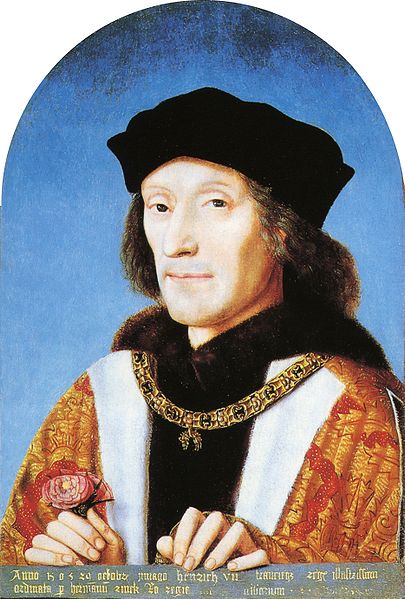 The future Henry VII was born with a claim to the English crown which was extremely slight and intriguingly complicated. He was to spend his youth in the nightmare politics of the Wars of the Roses but he was a survivor. So was his mother, the thirteen-year-old Lady Margaret Beaufort, great-granddaughter on the wrong side of the blanket of John of Gaunt, Duke of Lancaster, by Katherine Swynford. That the Beauforts were subsequently legitimized still left a question mark over their political position, but Lady Margaret was a rich enough heiress to make possession of her a profitable investment.
Small, slight, shrewd and determined, Margaret was twelve when she was married to Edmund Tudor, son (ostensibly at least) of Owen Tudor, which brought a link with the French royal house into the equation. The Tudors were Anglesey landowners and Owen Tudor became a courtier of Henry V and met Henry Vs young wife, Catherine of Valois, the daughter of Charles VI of France. There were stories that he caught the Queen's eye when she saw him swimming, or that he tripped and fell into her lap when dancing. When Henry V died in 1422, Queen Catherine was left a widow at twenty and, according to one chronicler, 'was unable fully to curb her carnal passions'. She apparently had a love affair with Edmund Beaufort, future duke of Somerset, but it was Owen Tudor she married, on the quiet, the first widowed queen of England to remarry for 300 years. Her sons Edmund and Jasper Tudor stood high in the favour of their half-brother Henry VI, who created them earls of Richmond and Pembroke.
Gossip made Edmund Tudor the son of Queen Catherine's affair with Edmund Beaufort, who was Lady Margaret's uncle. If so, Henry VII was not Welsh, and a Beaufort on both sides, but the gossip did not prevent Margaret Beaufort being married off to Edmund Tudor in 1455. Getting her with child despite her youth secured him a life interest in her substantial inherited estates, but he died the following year, when she was six months pregnant. Perhaps damaged by giving birth so young, she would have no more children.
Meanwhile she went for protection to Jasper Tudor and it was in his stronghold of Pembroke Castle that she gave birth to the baby Henry. The following year she married Henry Stafford, a son of the Duke of Buckingham, to gain his protection and avoid having another husband forced on her. In 1462, when the young Henry Tudor was five years old, he was taken away from her and his wardship was given to William, Lord Herbert.
Young Henry had never known a father and had now been parted from his mother as well. The Herberts seem to have treated him kindly and he was given a gentleman's education, but Lord Herbert was executed in 1469. Henry stayed on with Lady Herbert and in 1470, when he was thirteen, he had an audience with Henry VI. Later Tudor propaganda had it that the pious, half-mad king prophesied that the boy would one day rule England.
Meanwhile, Henry returned to his Uncle Jasper and they were soon standing siege by a Yorkist army in Pembroke Castle. They managed to get away by ship to Brittany in 1471 and Duke François gave them shelter and protected Henry from England's Yorkist king, Edward IV, who wanted him in his own hands. Louis XI of France also tried to get Henry into his clutches. It was a desperately insecure situation and it is little wonder that the young Tudor came to manhood cautious, prudent and deeply reserved.
Eventually, the death of Edward IV in 1483, the succession of Richard III, the disappearance of the princes in the Tower and the deaths of other Lancastrian claimants left Henry Tudor, however improbably, as a credible claimant to England's throne. He was encouraged by his mother, who was plotting against Richard III. Henry led an invasion from Brittany in 1485, defeated Richard III at Bosworth and became king of England at the age of twenty-eight. His mother, who burst into floods of tears at his coronation, died a few weeks after him, in 1509.