Paul Wingrove looks at the roles of Stalin, Mao and Kim Il Sung.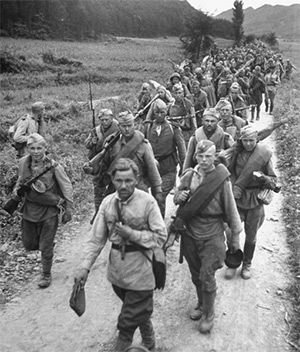 Soviet troops in Korea, 1945
On June 25th, 1950, Communist North Korea launched an invasion across the 38th Parallel into South Korea. Initially taken aback, the West, under American leadership, quickly recovered and within days had obtained United Nations Security Council agreement to repel the attack. For President Truman this was a decisive encounter. As he saw it, North Korea's Communist leader Kim Il Sung was not acting independently, nor was the aim of this attack simply limited to reunification of the divided Korean peninsula. In this aggressive action he discerned the hand of the USSR, and possibly that of Communist China. In Truman's words: 'The Reds were probing for weaknesses in our armour; we had to meet their thrust without getting embroiled in a world-wide war'. His Secretary of State, Dean Acheson, also concluded that 'it seemed close to certain that the attack had been mounted, supplied and instigated by the Soviet Union...', and:
To back away from this challenge... would be highly destructive of the power and prestige of the United States... we could not accept the conquest of this important area by a Soviet puppet under the very guns of our defensive perimeter with no more resistance than words and gestures in the Security Council.