Scottish Emigration: Going for Good
Roger Hudson on a moment in the story of Scottish emigration captured in 1923.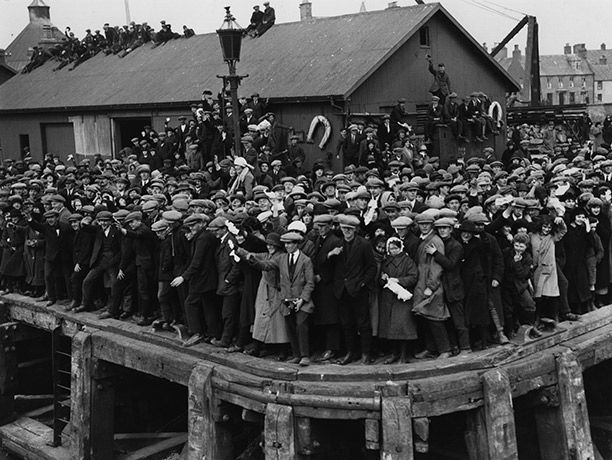 Those left behind wave farewell to 260 young Hebrideans who have set sail, in search of a new and better life, from Stornoway harbour in the Isle of Lewis on the Canadian Pacific ship, the Metagama. It is 1923 and the brief boom following the end of the First World War is over. The emigrants will achieve a measure of lasting fame, for theirs is the first such voyage to be covered by newsreel cameras and so it will become entrenched in the collective memory. Within the year 800 other young people will have left the Isle of Lewis, and many from South Uist, too.
Scottish emigration was no new phenomenon. From the 13th century on there had been a steady flow, mostly to Germany and Scandinavia. In the 17th century, during the Thirty Years War, maybe 60,000 Scottish soldiers fought as mercenaries and many other Scots went to Ulster in the same period. From 1700 to 1815 up to 80-90,000 may have left Scotland for overseas, including about 20,000 Highlanders and Islanders leaving for North America between 1763 and 1775, and another wave after the failure of the potato crop in 1782/3. At this time Highland landlords were dead set against emigration: they wanted people for the collection of kelp (seaweed, burnt to make soda), for fishing and to serve in family regiments in the Napoleonic wars. It was only after 1815 that migration came to be seen as a safety valve for the Highlands and Islands, most particularly in the period of the great potato famine, 1845-56.
Scotland never suffered the huge mortality that hit Ireland because only 200,000 were affected by poverty and hunger, compared with three million Irish. Thanks to the efficiency of the relief effort the Scottish figure had dropped to 70,000 by 1848. But by then what we have come to call 'donor fatigue' was also setting in. Landlords could see little improvement to the economy as a result of the relief works they had instigated and calculated that the closing down of the Central Board of Management for Highland Relief would mean a great increase in the poor rates that they would have to pay. There was much talk of chronic 'Celtic laziness', backed by dubious racial theorising and a fear that continued relief would merely perpetuate dependence. Profits to be made from black cattle were down, while sheep farming was looking up. Several large estates were virtually insolvent and the trustees running them, accountants and lawyers in Edinburgh and Glasgow, were responsible in law for a rigorous adherence to the bottom line.
There was undoubtedly coercion, with the many in arrears over their rent being offered a choice of a free passage or eviction from their crofts. Between 1841 and 1861 the population of the West Coast above Ardnamurchan and the Inner and Outer Hebrides went down by a third: Lewis, the Uists, Barra, Tiree, Mull and Skye lost most. After that, though emigration continued apace, it was largely from the Lowlands, driven not by destitution but by the prospect of better opportunities. A peak was reached in the 1920s, with 363,000 leaving for the US and Canada in that decade, and hundreds of thousands going to England, too. The Canadian Pacific Railroad Company had actively promoted Canada as a destination ever since it had been allocated 25 million acres between Winnipeg and the Rockies in 1880. It needed a steady flow of Scotsmen and women to open up this vast area.