'All roads lead to Rome' – tribute to a phenomenon that held a world empire together. But who built them and how were they planned and maintained? Logan Thompson tells us more.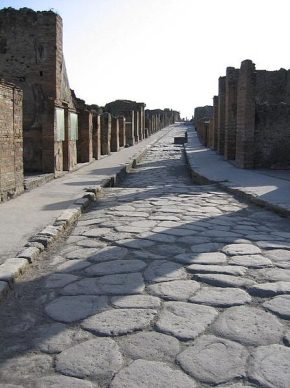 A Roman street in Pompeii
For many centuries, the expansion and protection of the Roman Empire rested upon the broad shoulders and discipline of heavy infantry legionnaires. It was due to the efforts of these carefully recruited, ruthless, tough, highly trained and well-led soldiers that Roman civilisation advanced and developed unhindered.
It was these legionnaires who ultimately ensured efficient, uniform administrative standards, gigantic ambitious building projects, mesmeric but succinct Forum oratory, a guaranteed peace and real certainty of its continuation for the majority, and an extremely, luxurious and decadent life-style for the few. Without the powerful army, one of the best in history, and certainly the most effective for the longest period, none of the former would have been possible. The primary reason for such military effectiveness was the metalled roads the soldiers constructed and upon which they marched. Why, and how, did the Romans devote so much time, physical effort and considerable funds to developing extensive route networks, and how were these planned, built and maintained?