The premiere of Tristan und Isolde
Wagner's opera was first performed in Munich on June 10th, 1865.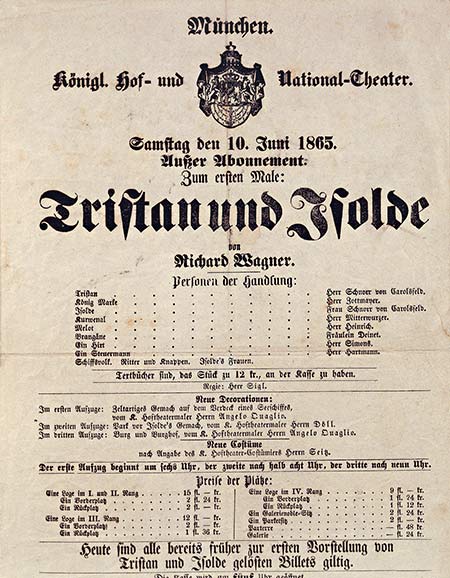 The story of Tristan and Yseult is an ancient Celtic legend, which was taken up by medieval European writers. Tristan is the nephew, heir and finest warrior of King Mark of Cornwall. Mark marries a beautiful Irish princess, Yseult the Fair. Tristan and Yseult fall tempestuously in love, with tragic consequences for themselves and everyone involved. The story is about the overwhelming and annihilatingly destructive force of passionate love, which sweeps people away with it and carries them to heights of rapture while forcing them to break every tie of loyalty, duty and affection to others.
In the 1850s Richard Wagner was living in Switzerland in an uneasy relationship with his wife, Minna, and working on his Ring cycle of operas when he fell passionately in love with a married woman, Mathilde Wesendonck. He also began reading the philosopher Schopenhauer, who would profoundly influence him for the rest of his life. In the grip of both passions he put the Ring cycle aside to work on the Tristan story, basing his libretto on the medieval German version by Gottfried von Strassburg. It took him years to create a colossal music drama that eventually ran to five hours, completed in 1859.
The opera would be forbiddingly expensive to stage and the score was so innovative that it was widely considered unperformable. It was not until King Ludwig of Bavaria came to the rescue that it had its premiere in Munich in 1865, conducted by Hans von Bülow (with whose wife, Cosima, Wagner was now having an intense affair). The audience found the music weird and the next stagings did not occur until 1874 and 1876 in Weimar and Berlin, while the British and US premieres were not until the 1880s. It took the music world time to recognise the force and beauty of Wagner's score. The love scenes are unmatched for sheer erotic intensity and the opera has long been regarded as a milestone in the history of music.