The first King George was born on 28 May 1660.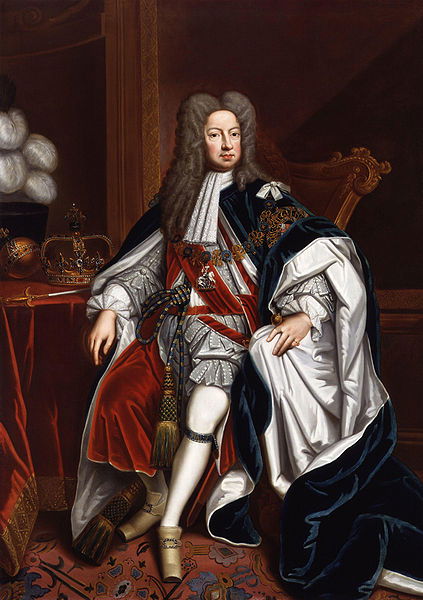 The baby born in Osnabrück that day, christened Georg Ludwig and known in the family as Görgen, began life with two distinct advantages. He was born and bred a Protestant and he was descended in the female line from the royal house of Stuart, which regained its English and Scottish thrones in the year of his birth. His maternal grandmother was James I's eldest daughter Elizabeth, the romantic 'Winter Queen' of Bohemia. Her 12th child, generally known as the Duchess Sophia, married Ernst August of Brunswick-Lüneberg in 1658 when she was 27. Intelligent and cultivated, a lover of music, opera and philosophy, she fell headlong in love with him on their wedding night and Görgen was their first child.
The Brunswick-Lünebergs ruled two duchies, Brunswick-Grubenhagen and Hanover. Ernst August was the youngest of four brothers and on the face of it had an unpromising future, but as things worked out he became Duke of Hanover in 1679 and achieved his ambition of making Hanover an electorate of the Holy Roman Empire before his death in 1698.
Duchess Sophia thought her little Görgen 'beautiful as an angel', but not many would subsequently share her opinion. Short with bulbous blue eyes, a sharp nose and a pale complexion, he inherited little of his mother's intellectual ability and few of her interests apart from a love of music – he would be a friend and patron of Handel – and her zeal for walking. His principal amusements were hunting and eating, but from the age of 15, under his father's command, he served bravely in wars against the French and began to display a talent for generalship.
Georg Ludwig also shared his father's appetite for women. In 1676 he fathered an illegitimate son by one of the family's governesses and by 1680 it was high time he was married. His father apparently thought of Princess Anne (the future Queen Anne) as a bride, though how far this was ever a serious proposition has been questioned. Georg Ludwig visited England and Charles II introduced him to Anne, but she seems to have taken against him on sight and the idea went no further. Instead, after much manoeuvring, he was betrothed to one of his cousins, Sophia Dorothea of Celle. They were married in November 1682, when she was 16 and he was 22.
His mother, Duchess Sophia, was happy with the choice of bride and the young couple were pleased with each other. Sophia Dorothea was pregnant when Görgen went off to fight the Turks outside Vienna in 1683 and she bore him their first child, Georg August, the future George II, within a year of their marriage. Things did not go so well later. Sophia Dorothea did not bear another child until 1686 and, although her husband was away fighting much of the time, it looks as if his ardour for her had cooled. The new baby was a daughter, also Sophia Dorothea, later to be Queen of Prussia and the mother of Frederick the Great. There were no more children and Sophia Dorothea, who had started telling her friends that she and her husband no longer cared for each other, began a flirtation with a dashing young blade called Count von Königsmarck, which by 1692 had become a full-blown love affair.
The pair foolishly wrote each other revealing letters, some of which came into the hands of Ernst August, who warned Königsmarck off, but by 1694 they were planning to run away together. The problem was money; they delayed far too long, their intentions were betrayed and one night in July Königsmarck went to Sophia Dorothea's palace and was never seen again. It seems clear that he was killed on Ernst August's orders. Sophia Dorothea was arrested. She refused to admit to adultery, but agreed to a divorce from Georg Ludwig for refusing him his conjugal rights. She was shut away in the castle of Ahlden for the rest of her life, treated respectfully, but allowed no contact with her two children. She died in 1726 after more than 30 years in captivity. Georg Ludwig did not marry again and contented himself with mistresses.
In 1701 the Act of Settlement barred Roman Catholics from the British throne. Princess Anne became queen the following year and Georg Ludwig's mother, Duchess Sophia, died in June 1714 at the age of 83, leaving Georg Ludwig himself as heir apparent. When Queen Anne died two months later, he succeeded at 54 as George I of Great Britain and Ireland, to be hailed by an over-excited English poet as a direct descendant of the Germanic god Woden. He still spoke only rudimentary English. The first of Britain's new Hanoverian dynasty died 13 years later in 1727 on a visit to Osnabrück, not greatly lamented, within a year of his ex-wife.