A Rich Harvest of Formats
In a diverse field, expertise should remain at the heart of history on television.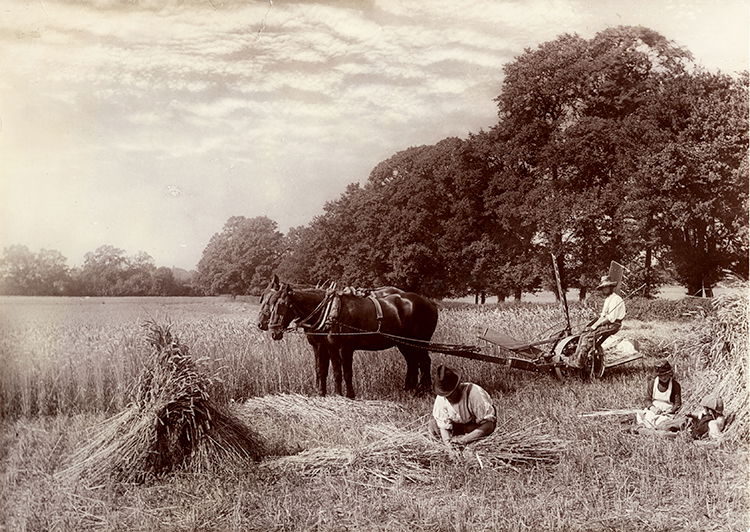 In late 2017, the Royal Television Society staged a 'Great History Debate'. A panel, chaired by Tony Robinson of Blackadder fame included the presenter and historian David Olusoga; Tom McDonald, the BBC's Head of Specialist Factual Commissioning; and Leanne Klein, CEO of production company Wall to Wall, makers of shows such as Victorian Slum and Who Do You Think You Are?, and discussed the future of history television programming.
Broadcast magazine reported negatively on the conference's conclusions. McDonald was quoted as commenting on the 'lack of confidence about the genre … across British broadcasting' and on concerns about how to engage young people. Klein was cited agreeing that there had been a 'complete lack of confidence in history' for the past five years, that ITV and Channel 4 were not keen on commissioning much history and that 'TV is not a terribly useful platform for informing people about anything'.
Being there – and rewatching the debate online later – I came away with a different impression. McDonald also said, 'it's an incredibly rich time for history programme makers'. Klein added: 'TV is a great place to interest and engage – and the best way to do that is through emotional experiences.' Olusoga stated that no other medium can 'tell these stories, bring them to life and make people care' nearly as well as television.
So, what is the state of history broadcasting today? There seem to be four different types of history programme.
The first is a formatted show. These range from the hands-on – think of Dan Snow gutting a pig on the BBC's Filthy Cities – to the event-history of Channel 4's The King in the Car Park, taking in, along the way, the use of CGI, game-show formats, presenters in costume and landing squarely in 'living history' programmes, where ordinary people are put in costume to live the past, as in 1900 House or Victorian Farm. These are a way into telling ordinary people's stories and are immensely popular, with some of the highest viewing figures. They promise emotion, as well as history. The hunt is constantly on for the new format, the new living history.
A second type is the discursive model, such as the The Last Days of Anne Boleyn, made for the BBC. This most closely resembles the academic study of history, being embedded in debate and stressing the interpretative nature of history. Klein was doubtful about it, stating that 'I don't think you can engage people with two historians having a row on television'. McDonald disagreed; he felt that there was 'more room for a multiplicity of voices who give their perspectives on the story'. He said that 'hearing two people debate Anne Boleyn … [and] bring the people of history back to life … is something that television is actually rather good at and genuinely you can bring a big audience to'. Viewing figures support this conclusion. Olusoga agreed that it 'works when those historians really, really care'. It involves the audience in history as a detective story.
A third type is the docudrama. Like living history, this serves as a sort of gateway drug and stresses the storytelling remit of the historian. These days docudramas are made with high production values and attract excellent directing and acting talent, such as Lily Cole and Felicity Dean as Elizabeth I.
Finally – seeing a renaissance after years of being slightly out of fashion – is the authored programme. We may have heard rumours of the death of the expert, but this model still has power. The combination of a very good historian and broadcaster, who has an interesting story to tell, is compelling and, in the age of the podcast, people are increasingly attracted to the opinionated, personal take. I asked viewers on social media which history programmes they had most enjoyed and, of 800 comments, most people's favourite shows – Olusoga's Black and British, Helen Castor's She-Wolves, Mary Beard's Empire Without Limit, Simon Sebag Montefiore's Jerusalem – were authored. But authored programmes are not always presenter-led: consider Ken Burns' The Vietnam War and the best historical documentary on Netflix at present, 13th. McDonald agreed: 'We should be making more authored films ... History is partial and it's invented and created and moulded.' Historians should 'be brave about offering a point of view'.
With all these forms of programming, the questions are: does the format advance the storytelling? Does it make the past seem more real to people? Does it distort the past? Does it turn people off history? If it does the first two and doesn't do the latter, it works.
McDonald's final word was that, 'we need history on television more than we have for quite a long time to make sense of the velocity at which our world is changing … history is a powerful and important way of understanding the world'. I think we can all agree on that.
Suzannah Lipscomb is a Reader in Early Modern History at the University of Roehampton and author of The King is Dead: the Last Will and Testament of Henry VIII (Head of Zeus, 2016).