The History of the Picnic
The first picnics were a favourite pastime of the aristocracy, and purely indoor affairs. In the 19th century, the emergent middle classes moved lunch outdoors.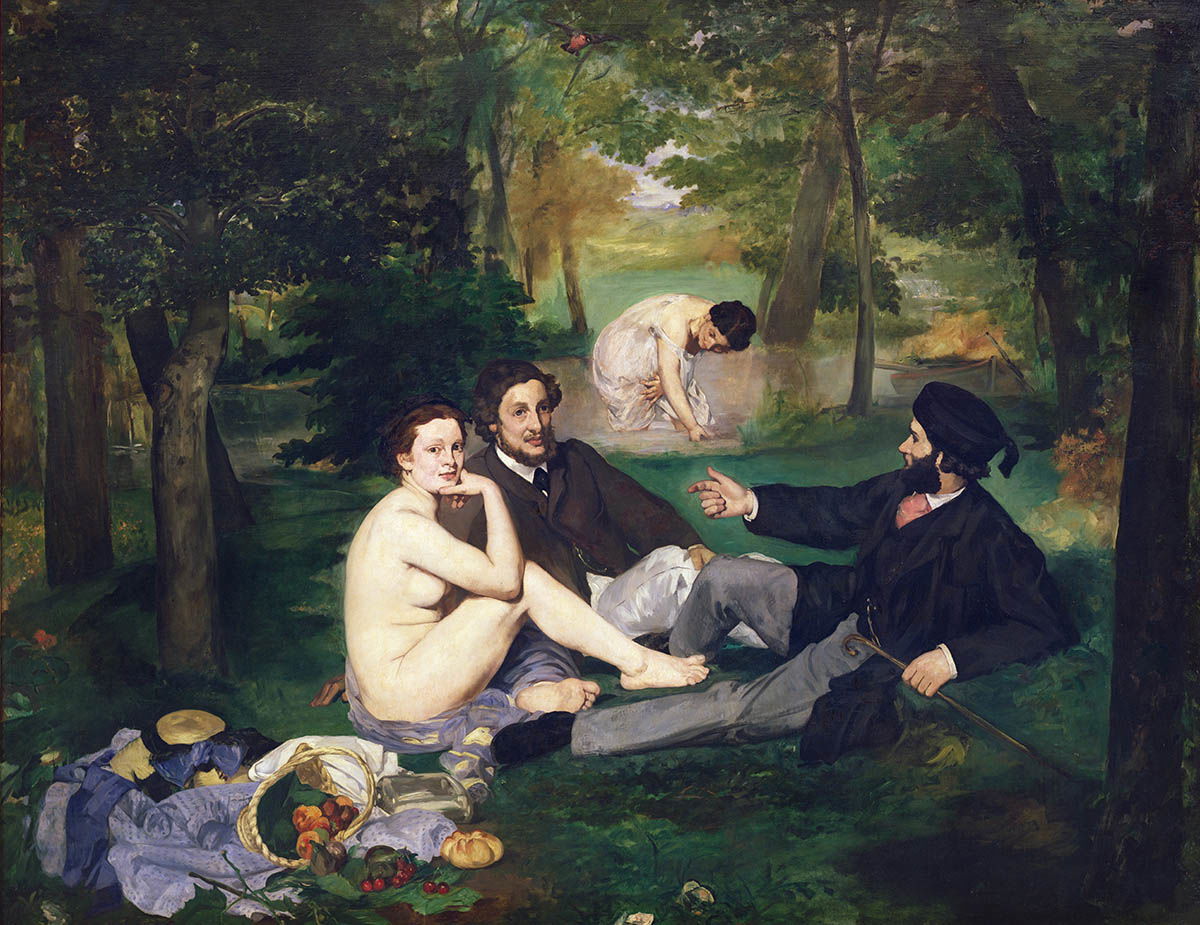 It is hard to disagree with W. Somerset Maugham's view that 'there are few things so pleasant as a picnic lunch'. Even if ants and wasps occasionally join the fun, picnics are the very epitome of innocent pastoral delight. But they haven't always been so carefree – nor so bucolic.
Where the word 'picnic' comes from is something of a mystery. The French root may derive from the verb piquer ('to peck' or 'to pick') and the noun nique ('a small amount' or 'nothing whatsoever'); but this is just speculation. What is certain, however, is that, originally, it did not refer to anything we would now recognise as a picnic. It first appears in Les Charmans effects des barricades, ou l'amité durable de la compagnie des freres Bachiques de Pique-Nique (1649), a burlesque satire on the perceived hypocrisy of the Fronde, an insurrection against French absolutism. The main character, 'Pique-Nique', is a hero of the barricades; but, like his friends, he is also a glutton, whose guzzling stands in stark contrast to the food shortages caused by the very rebellion he was leading. His name was hence ironic and probably referred to an excessively large or lavish meal, enjoyed at other people's expense.
Whether the anonymous author of Les Charmans effects des barricades invented the term, or merely popularised a word already in use, is unclear; but it seems to have caught the imagination of Paris' beau monde and, within 50 years or so, it had lost any pejorative associations it may have had. As Gilles Ménage's Dictionnaire etymologique de la langue françoise (1694) testified, a 'pique-nique' had become a fashionable – if not always extravagant – dinner, to which each guest contributed a share.
Picnics really started to come into their own during the 18th century. A favourite pastime of the aristocracy, they were enshrined as purely indoor affairs, held at home or in hired rooms, and were contrasted with the elaborate fêtes champêtres depicted by Antoine Watteau and others. Attendees were still required to contribute, but, as Philibert-Joseph Le Roux pointed out in his Dictionnaire comique, satyrique, critique, burlesque, libre et proverbial (1718), they could either bring a dish or drink (as before), or pay a share of the cost. Much like other  features of salon life, they were associated with conversation and wit – and, as such, were often seen as intellectual refinement. Typical in this regard was Jean-Jacques Rousseau, who, while rewriting the first act of Les Muses galantes in Paris, would often dine with the Abbé de Condillac 'tête à tête en pique-nique'. At larger gatherings, there was also music or a dance – with the result that 'picnic' could be synonymous with a ball or party. In 1763, for instance, Lady Mary Coke told her sister that she had been at a type of 'Subscription Ball', known in Hanover as a 'Picquenic'; and, in 1777, the novelist Cornelia Knight wrote in her diary that, during a stop-over in Toulouse, she 'was entertained at a "pique-nique" dinner and dance'.
Picnics were, however, nothing if not adaptable. When the first restaurants appeared – shortly after Lady Coke's evening in Hanover – picnickers quickly took to them. In Les Rêveries du promeneur solitaire (1776-8), for example, Rousseau recalled dining with his wife, the artist Joseph-François Foulquier and his friend Benoit 'en manière de pique-nique … chez la dame Vacassin, restauratrice' ('in the style of a picnic ... at the home of the lady Vacassin, restaurateur').   
A picnic revolution
The French Revolution changed everything, though. Fearing for their lives, most aristocratic picnickers fled abroad. Some went to Austria, others to Prussia and even America; but the majority plumped for Britain. Settling primarily in London, they were often short of money; but they did their best to maintain their old way of life – and, in doing so, introduced the picnic to England. This led to two important developments. The first – and shortest-lived – was that, in London, the picnic became less refined and more raucous. This was thanks to a group of 200 wealthy young Francophiles, who – in late 1801 – founded the 'Pic Nic Society'. Held in hired rooms in Tottenham Street, their gatherings were self-consciously extravagant. Every member was required to bring a dish (decided by lot) and six bottles of wine. As The Times reported, each strove to outdo the others in luxury and expense. After dinner, there was singing, dancing and gambling; but the principal entertainment was always a play. The productions were, admittedly, fairly amateurish. The stage was a small, crudely erected affair; there was no orchestra pit; and the actors were never professionals.
But they were wildly popular – so much so that, before long, Richard Brinsley Sheridan, the owner of the Drury Lane theatre, was getting alarmed by how much business he was losing to the Pic Nics. Rather pettily, Sheridan used his influence as a journalist and politician to have the Pic Nics shut down; but not before the caricaturist James Gillray had ridiculed the lot of them. In his print 'Blowing up the Pic Nics', Gillray portrayed an obese Sheridan, dressed in a shabby Harlequin's costume and with an empty purse dangling from his belt, leading a troupe of professional actors against the Pic Nic 'puppets', who are dining, with typical extravagance, on a small, but chic, stage.
The second development was more profound. At about the same time as Sheridan was working himself into a fury in London, picnics were taken up by the emergent middle classes and moved outdoors. What caused this change is somewhat unclear; but the most likely explanation is that the socially aspirational simply applied a fashionable French word to a pre-existing practice, without being aware of its connotations. One of the results of this was that picnicking ceased to be associated with music and dancing and became a simple meal to which people were invited by a host. Another was that it became both more 'genteel' and – thanks to the idealisation of the countryside – more innocent.
The earliest reference to this new way of picnicking appears in John Harris' The Courtship, Merry Marriage, and Pic-Nic Dinner of Cock Robin and Jenny Wren (1806), a children's book. But such was its popularity that it soon found its way into more literary works, too. In 1808, Dorothy Wordsworth picnicked with 18 others on Grasmere Island and, though she admitted to being puzzled by the origins of the word, told her friend Catherine Clarkson that 'Windermere gentlemen have a picnic every day'. In Emma (1816), too, Jane Austen provided a vivid portrait of a rustic picnic on Box Hill, albeit one marred by stilted conversation and a painfully awkward quiz.
Innocence and indecency
In the decades which followed, the outdoor picnic found its way to the United States. As was only to be expected, it remained a genteel pursuit of the urban middle classes; but unlike in England, its bucolic setting was associated more with a flight from civilisation than with childlike simplicity. Though still tinged with innocence, depictions of American picnics – such as those by Thomas Cole and Winslow Homer – tended, therefore, to contain fewer rolling fields and more gnarled trees and craggy rocks – especially after the publication of Henry David Thoreau's Walden (1854).
Outdoor picnics were less well received elsewhere, however. Though the restoration of the French monarchy was accompanied by the return of picnicking to France, the indoor version predominated – especially among the aristocracy. In 1839, for example, the novelist George Sand fondly remembered dining in a restaurant 'a seize heures en piquenique' with one of her lovers. But the legacy of revolutionary egalitarianism also opened the picnic up to others lower down the social scale. By the mid-19th century even members of the working classes were starting to adopt the practice. A typical example is found in Emile Zola's L'Assomoir (1877). In this stirring portrait of poverty and alcoholism, Gervaise Macquart and her hard-up husband Coupeau celebrate their wedding with an indoor picnic. Everyone chips in and, for the price of five francs, they all enjoy a slap-up dinner of brie, ham, soup, rabbit stew, fruit, cheese, îles flottantes, coffee and brandy. The only hiccup occurs when they realise that they have drunk too much wine and will have to pay more than they bargained for.
When outdoor picnics eventually did begin to gain ground in France – a little before the publication of Zola's novel – they were regarded with considerable suspicion. Perhaps because of a growing reaction against the Romantic idealisation of nature, they were not seen as innocent and wholesome, as they were in Britain and the US, but as decadent and wicked. This is particularly evident in Édouard Manet's Le Déjeuner sur l'herbe (1862-3), which depicted a naked woman and a scantily clad female bather sharing a picnic with two fully dressed young men in a woodland glade.
A pic-a-nic basket
Not until the early 20th century did the outdoor picnic prevail over the indoor. Particularly in England, the development of new modes of transport (trains, bicycles and motor cars) and the acceleration of social change made the countryside accessible to a far greater proportion of the population than before – while the crystallisation of 'Victorian values' ensured that the innocence of picnics was beyond doubt.
Before long, their popularity had grown to such a pitch that specialist picnic baskets were being produced for the mass market and the contents more standardised. Kenneth Grahame's Wind in the Willows (1908) is reflective of this shift. After 'messing around in boats' all morning, Mole begins to get hungry and can't help asking Ratty what is in the wicker luncheon basket stowed beneath the seat:
'There's cold chicken inside it', replied the Rat briefly: 'coldtonguecoldhamcoldbeef- pickledgherkinssaladfrench- rollscresssandwichespotted- meatgingerbeerlemonadesoda- water –'
'O stop, stop!' cried the Mole in ecstasies. 'This is too much!'
'Do you really think so?' enquired the Rat seriously. 'It's only what I always take on these little excursions; and the other animals are always telling me that I'm a mean beast and cut it very fine!'
But Mole never heard a word he was saying. Enchanted by the feast which lay ahead, and 'intoxicated with the sparkle' of light on the river, 'he trailed a paw in the water' and lost himself in daydreams.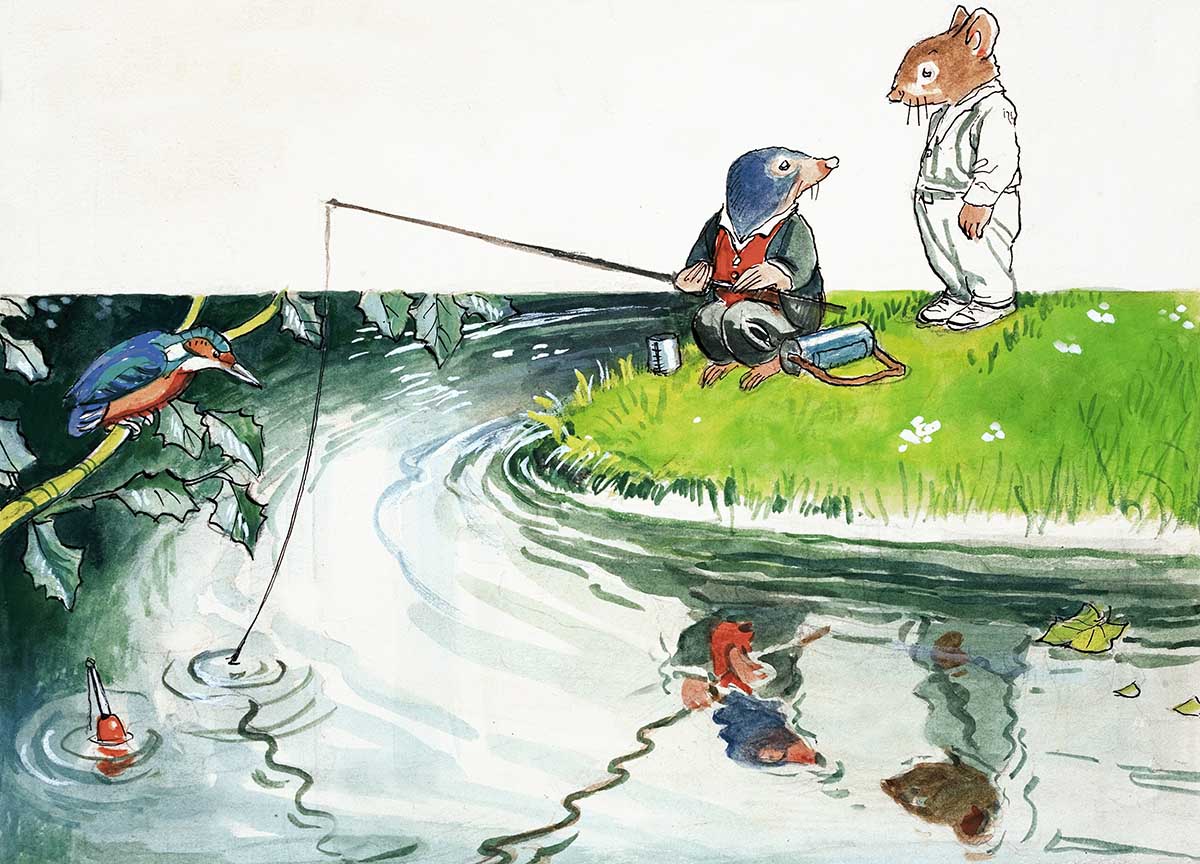 Since the publication of Grahame's tale, picnics have undergone still further change – largely as a result of the relaxation of social mores, the development of new technologies and the quickening pace of globalisation. Today, olives, focaccia and white wine are more likely to be found in a picnic basket than cold tongue, cress sandwiches and ginger beer. So too, in the last few decades, novels such as Joan Lindsay's Picnic at Hanging Rock (1967) and Ian McEwan's Enduring Love (1997) have reconnected picnicking with moral transgression, albeit not quite as explicitly as in Manet's painting.
Picnics will no doubt continue to evolve in future. If global warming continues to worsen, we may have to think more carefully about where – and how – we spread our blankets. By the same token, shifting patterns of trade will almost certainly change the foods we carry in our hampers. But, whatever happens, one thing is certain: as long as there are friends with whom to share it, there will be 'few things so pleasant as a picnic lunch'.
Alexander Lee is a fellow in the Centre for the Study of the Renaissance at the University of Warwick. His latest book is Humanism and Empire: The Imperial Ideal in Fourteenth-Century Italy (Oxford, 2018).