Devra Davis looks at the London Smog disaster of 1952-53.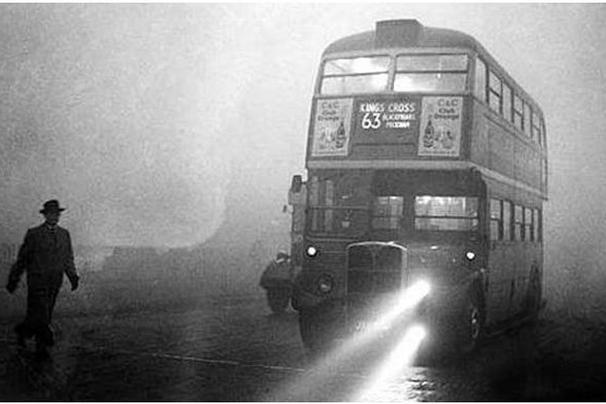 While the Golden Jubilee of Elizabeth II has been in full swing since the summer, another anniversary of unhappier events that occurred in the year of her accession remains largely unsung. From December 1952 to March 1953 in Greater London 12,000 residents more than usual perished in what was modern London's most massive civilian disaster. Smoke from a million chimneys ran like water and pumped clotted, coal-fumes into cooler stilled air. Unable to disperse upwards through the heavier chillier air, hot, smoky fumes fell to the ground and did not visibly diminish for a solid week.
During the unprecedented 1952 smog, the sun remained unseen. Dark days became murky shadowed nights. Because more people lived closer together in London at that time than in any other modern city, the city's residents suffered a colossal health toll.
The historian Peter Brimblecombe reports that for centuries, the city had the world's greatest concentration of coal stoves, most inhospitable airs and regularly foggy weather. In the Middle Ages, mountains of coal piled up in London as a result of sea trade. From its large port, London regularly sent out vessels laden with animal hides, whale oil, tallow, dried fish and meats, fertiliser and wools. Ships often returned from the less-populated northern British Isles empty, except for the crew. To weather the rough seas around the coast, mariners filled their holds with what became known as sea-coale, carbonem marus.