Gibraltar provides one of the examples of how the British Empire was 'acquired in a fit of absence of mind'.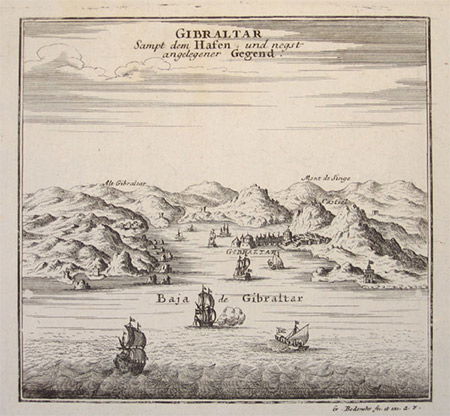 Gibraltar harbour antique engraving by Gabriel Bodenehr, c.1704.
The capture of Gibraltar for Britain by Sir George Rooke in August 1704 was an afterthought. As part of the Allied strategy in the War of Spanish Succession, Rooke had been sent with an Anglo-Dutch force into the Mediterranean to attack the French in Toulon. His alternative targets were the ports on the Spanish east coast. When none of these objectives proved practicable, Rooke decided to justify his command by attacking Gibraltar. The assault began on August 3rd and the following day the weak Spanish garrison capitulated. Since the same month brought the news of Marlborough's triumph at Blenheim, it is scarcely surprising that the taking of Gibraltar caused little excitement in Britain at the time. No one could then have foreseen its future importance.