Richard Cavendish recounts the history of the British medal for bravery in combat, first awarded on June 21st, 1854.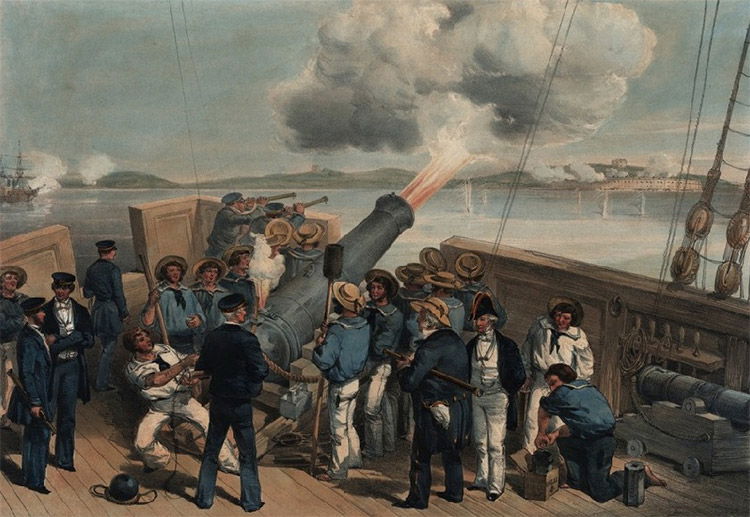 Rear Admiral Charles Davis Lucas of HMS Hecla, who came from County Monaghan, had joined the Royal Navy at 13 and was now 20 years old. Hecla was part of an Anglo-French fleet at the eastern end of the Baltic bombarding the Russian fortress of Bomarsund during the Crimean War, which mounted eighty massive guns, and as the ship drew closer a live shell from the fortress landed on the deck and lay there, obviously about to go off, to murderous effect. Lucas coolly picked the horrible thing up, carried it over to the ship's side and dropped it into the sea, where it exploded with a huge bang and a giant fountain of spray. (C.S.Forester used this incident to good effect long afterwards in one of his Hornblower stories.)
Lucas was promoted to lieutenant from that day and his was the first act of heroism to be awarded the Victoria Cross. Two more naval officers won the next two, in the Baltic, and six more were won in the Crimea in September at the battle of the Alma, four by an officer, two sergeants and a private of the Scots Fusilier Guards (later the Scots Guards) and two by officers of the 23rd Regiment (subsequently the Royal Welch Fusiliers). The medal was not instituted until 1856, but it was made retroactive to cover the Crimean War. Queen Victoria took a keen interest in the decoration which bore her name and it was she who suggested the words 'For Valour' beneath the medal's bronze Maltese cross – rather than 'For the Brave', which she pointed out could be taken to imply that other people were not. The crosses were made of metal from Russian cannon captured at Sebastopol. It was a crucial innovation that the medal was awarded completely regardless of rank and on no consideration other than a signal act of valour or devotion in the presence of the enemy.
The first investiture was held in Hyde Park on a sunny summer morning in 1857, when Queen Victoria herself presented 62 VCs before a crowd of 100,000 people and an impressive military array, some 4,000 strong, which included life guards and cavalry under Lord Cardigan, three battalions of foot guards, a troop of artillery, a detachment of sailors and a battalion of the Rifle Brigade. The Queen bent from her horse and pinned the medal on the chest of each man as he was led up to her in turn and the Prince Consort bowed to each of them as a mark of respect. Charles Lucas was the fourth to receive his medal from the Queen that day. He spent the rest of a long career in the Navy, rose to the rank of rear-admiral and died at Tunbridge Wells at the age of 80 in 1914.