The Death of Elizabeth of York
Elizabeth of York was Queen consort of England as spouse of King Henry VII from 1486 until her death on February 11th, 1503.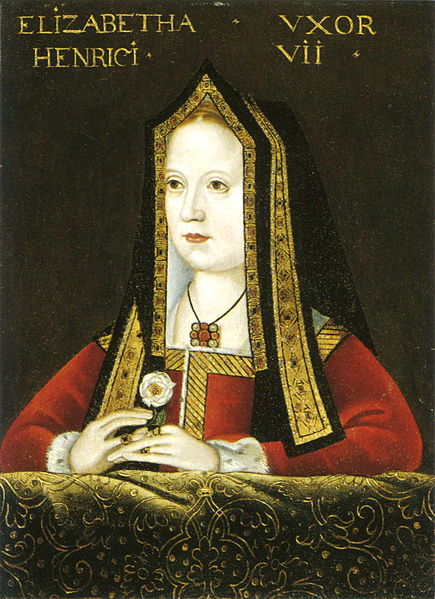 Henry VII's queen lies buried beside him in Westminster Abbey in a magnificent marble tomb provided by their son, Henry VIII. The face of her effigy may have been based on her death mask, taken when she died on her thirty-seventh birthday in the royal apartments in the Tower of London. She had not recovered from giving birth the week before, perhaps prematurely, to her eighth child – a little girl, who did not survive long. The dead queen's coffin, draped in black velvet on an open car, was drawn to Westminster by six horses through streets lined with torch-bearers. Her royal husband, who was not a demonstrative man, went away to a room by himself and gave orders that he was to be left alone. Young Henry, who was eleven, was also profoundly miserable. 
Tall, blonde, fair-skinned and handsome, Elizabeth of York was described by contemporaries as kind, gentle, dutiful and well-liked. She had started life as the first child of Edward IV and Elizabeth Woodville. A match was mooted for her as a girl to the Dauphin of France, but came to nothing, and after her father's death she and her four sisters were officially bastardised. Her two young brothers had disappeared into the Tower and there was a whisper that her uncle, Richard III, planned to scoop her up for himself. She was nineteen and confined at Sheriff Hutton Castle in Yorkshire when Henry Tudor defeated Richard at Bosworth in 1485 and made himself king. He promptly had Elizabeth restored to her mother.
Henry was nine years older and not yet married. They could not have set eyes on each other for years, if ever, but as the heiress of the house of York she was the obvious wife for him, to unite York and Lancaster and end the Wars of the Roses. He had already announced his intention to marry her and in December the House of Commons, knowing which side its bread was buttered, tactfully petitioned him through the Speaker to marry the Lady Elizabeth, from which 'many hoped there would arise offspring of the race of kings for the comfort of the whole realm.' Tactful wording was necessary because she had a better right to the throne than Henry did and he would tolerate no suggestion that his crown depended to the least extent on her. Her bastardisation was reversed and they were married in January. Their first child, Arthur, was born eight months later in September, perhaps prematurely, and she was formally crowned queen in Westminster Abbey in November.
The marriage produced eight children, of whom four survived infancy. Although it was a political match, Henry and Elizabeth seem to have been genuinely happy and affectionate together. There are no reports of him having mistresses and after she died he did not marry again, though he considered several possible successors. Elizabeth had no appetite for politics, and she was evidently easy-going enough not to quarrel with Henry's doting and managing mother, the Lady Margaret Beaufort, who had given birth to him at the age of thirteen and was one of Nature's organisers. Henry and Elizabeth lived together amicably at court and the contemporary account of their mutual grief and comforting of each other over Prince Arthur's premature death in 1502 is extremely touching. She is reported to have told him then, 'God is where he was, and we are both young enough.' They must have hoped the new baby, from whose birth she did not recover, might help to make up for their loss.