The first chancellor of the German Empire died on July 30th, 1898, aged 83.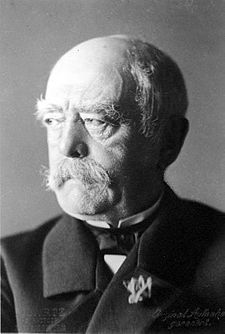 Otto Eduard Leopold, Prince von Bismarck, prime minister of Prussia for almost thirty years and from 1871 to 1890 the first chancellor of the German Empire, which recognised him as its founder, died on July 30th, 1898, at his home at Friedrichsruh, near Hamburg. He was eighty-three. Born on April Fool's Day on his family's estate in Brandenburg, a wild man in his drinking and womanising youth, he was a brute, bully and militarist ('You can do everything with bayonets except sit on them') who could also be charming and sympathetic. He had been a giant of European power politics until forced to resign by Kaiser Wilhelm II in 1890, close to his seventy-fifth birthday, when he had become too much of a reactionary for the imperial regime to stomach.
When his wife Johanna died in her sleep in November 1894, the 'iron chancellor' cried like a child. He spent his final years at Friedrichsruh, alone, resentful, pessimistic and desperately bored. He had his huge black mastiffs for company and visits from his family – sons and daughter, sister, niece and daughter-in-law. He felt far too young to do nothing, but he could find nothing to do except write his memoirs, in which he soon lost interest. 'Bored' or 'tired', he wrote over and over again in his diary, or 'bored and tired'. The Kaiser came to see him in December 1897 ('to see how long the old man will last') and there was forced politeness on both sides. Bismarck was confined to a wheel-chair now and as the summer of 1898 wore on, he developed an inflammation of the lungs. He had difficulty breathing and lay in bed much of the time, talking or singing quietly to himself. On July 30th he had a relapse and the family gathered round his bed that night as he mumbled distractedly. At last he took a glass, drank it off, cried 'Vorwarts' ('Forward') and sank down on his pillow. At about eleven o'clock his daughter saw that he was no longer breathing.
The Kaiser arrived on August 2nd to find the old statesman's coffin in a bedroom crammed with wreaths and flowers. He issued a statement honouring 'the man in whom the Lord God created the instrument for realisation of the immortal idea of Germany's unity and greatness'. There was no state funeral. The instrument of Germany's greatness was buried in a tomb at Friedrichsruh, with an inscription he had dictated, describing himself laconically as 'a loyal German servant of Kaiser Wilhelm I'. The first Wilhelm, not the second. It was a pointed rebuke from beyond the grave.