Conflicting Truths: The Bosnian War
With the trial of the former Bosnian Serb President Radovan Karadzic due to begin, Nick Hawton reflects on his time reporting in a region where history is still used to justify war.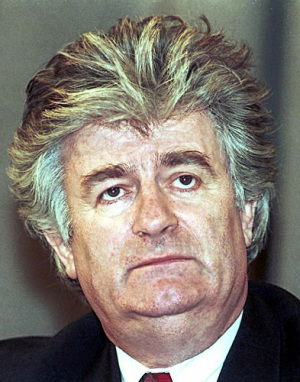 Radovan Karadžić in Moscow on 3 March 1994. Mikhail Evstafiev.
In the baking heat, the teenage boy was screaming and crying at the same time. I could see his rotten teeth as his face creased up in pain. At one point, his legs gave way and he grabbed the white tombstone next to him for support. He was shouting in a language I did not yet understand but there were two words that he kept repeating, two words that I did understand. They were 'Radovan Karadzic'.
It was July 11th, 2002, the seventh anniversary of the worst atrocity of the Bosnian War, the massacre of more than 7,000 Muslim men and boys by Bosnian Serb forces near the town of Srebrenica which, just two years before the massacre, had been declared a United Nations Safe Area. Years after the killings, the mass graves were still being discovered, their contents disinterred and the relatives invited to the mass reburials.
The boy was just one of the thousands who had come to the new memorial cemetery at Srebrenica. He was screaming the name of the person he blamed for the murder of his relatives: Karadzic, the former Bosnian Serb president and the man at the top of the UN War Crimes Tribunal's most wanted list.