Bernard Porter points out similarities and contrasts between terrorism then and now.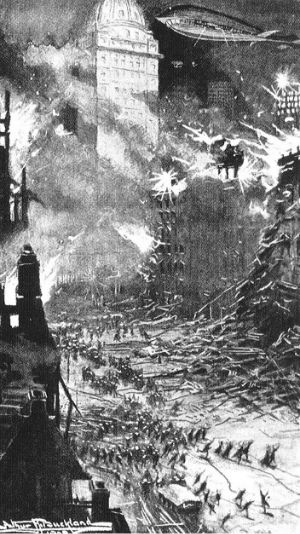 The attack on New York, from George Glendon's The Emperor of the Air
The picture on this page shows an aircraft hi-jacked by anarchists and loaded with dynamite attacking the tallest New York skyscraper of its day. 'Ground zero' is in the foreground. The year is 1910. The peculiar shape of the aircraft is  due to the fact that they have hardly been invented yet. It is taken from George Glendon's The Emperor of the Air (1910), one of a number of sensational novels based on this kind of theme that came out around the end of the nineteenth and the beginning of the twentieth century.
Similar illustrations abound. Not London Bridge but Big Ben is seen to be falling down in E. Douglas Fawcett's Hartmann the Anarchist, or the Doom of a Great City , published in 1893 but set in 1920. Other novels of this genre – by the likes of Donald Mackay, Fergus Hume and W.L. Alden – feature a Fenian 'super-gun' that can bombard Britain from the eastern seaboard of America; bombs exploding on the London underground; anthrax bacilli put into the water systems of Britain's great cities; and a 'dirty bomb' that kills everyone in London without destroying buildings. Almost all the terrors that afflict us at the beginning of the present century, in fact, were anticipated in the cheap fiction of a hundred years ago.