The Democratic Republic of the Congo was founded on June 30th, 1960. Within a few days, however, there were army mutinies and disturbances around the country.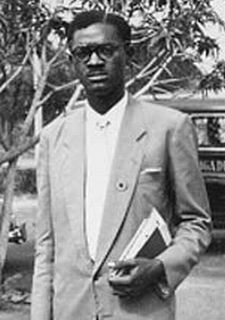 Pressure for independence in the Belgian Congo mounted steadily in the 1950s until in 1959 the Belgian government gave way, hoping at least to retain a substantial role in its former colony. Rival Congolese political parties had formed, but the pre-independence election was inconclusive and a coalition government had to be cobbled together when the country became the Democratic Republic of the Congo on June 30th, 1960. The president was the conservative-inclined Joseph Kasavubu. The prime minister was the left-wing nationalist Patrice Lumumba, head of the Mouvement National Congolais, which he had helped to found in 1958.
The two men fell out immediately, the new government was paralysed and within a few days there were army mutinies and disturbances around the country in which Belgians were attacked. Belgian troops were sent in to restore order and protect Belgian nationals, which the Congolese government at first reluctantly accepted. On July 11th, however, Moise Tshombe, president of the province of Katanga, which was rich in mineral resources, announced his province's secession from the republic. He had evident Belgian backing and Kasavuba and Lumumba now appealed to the United Nations to restore order and unity.
UN troops from Ghana and Tunisia arrived as early as July 15th, but in August the diamond-rich South Kasai area also seceded from the Congo. Lumumba was not satisfied with the UN's response to the crisis and asked the Soviet Union for assistance. This was too much for Kasavubu, who dismissed Lumumba as premier on September 5th. Lumumba retaliated by proclaiming that he had deposed Kasavubu. The army chief of staff, Colonel Joseph Mobutu, now announced that the army was taking over temporarily to restore order. Lumumba was seized, handed over to the Katangans and killed in January 1961.The circumstances of his murder have never been fully established, giving rise to numerous conspiracy theories. There were several more years of turbulence in the Congo before a dictatorship was established under Mobutu, who renamed the country Zaire in 1971.