Suffragettes, Class and Pit-Brow Women
Paula Bartley takes issue with those historians who depict the suffragettes of the Pankhursts' Women's Social and Political Union as elitists concerned only with upper- and middle-class women.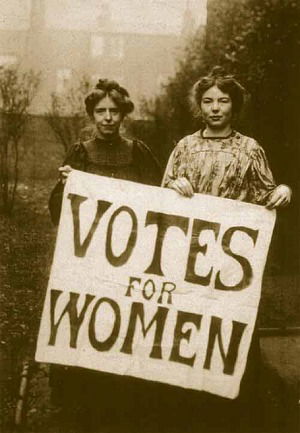 WSPU founders Annie Kenney and Christabel Pankhurst
Students of early 20-century social history sometimes have a tendency to believe that the women's suffrage movement was divided into two major camps: the peaceful, law-abiding suffragists and the militant and law-breaking suffragettes. Until the ground-breaking research of Jill Liddington and Jill Norris it was commonly assumed that both branches of the women's suffrage movement were composed of pedigreed ladies wearing fancy feather hats, long silk gowns, pristine white gloves and pretty hand-bags containing stones to break windows. Their book, One Hand Tied Behind Us, was the first to break both new theoretical and methodological ground. Using local archives, Liddington and Norris constructed a narrative of working-class suffragists active in the cotton towns of northern England. This book, more than any other, weakened the view that the suffrage movement was full of middle- and upper-class women. Yet, although they have reinstated the suffragists in the story of votes for women, they remain dismissive of the suffragettes. In fact, the suffragists of the National Union of Women Suffragists, formed in 1897 by Millicent Fawcett, are considered the principled wing of the suffrage movement, whereas the suffragettes of the Women's Social and Political Union (WSPU), founded in 1903 by Emmeline Pankhurst, are regarded contemptuously.