Steeped in Sin and Squalor
Alexander Larman takes issue with some of the assertions made in John Redwood's otherwise incisive 1974 article on the Earl of Rochester, the fast-living rake who epitomised the Restoration.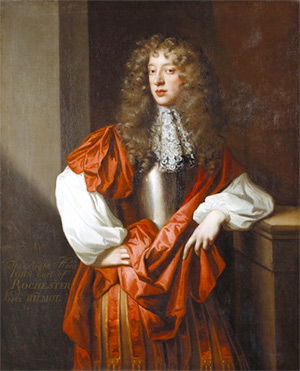 John Wilmot, 2nd Earl of Rochester, epitomised the Restoration in miniature. Living fast and dying all too young of syphilis in 1680 at the age of 33, he 'blazed out his life and health in lavish voluptuousness', as Samuel Johnson later put it. Described in his own time as 'the wickedest man alive', he has built up a posthumous reputation as the rake's rake, a man steeped in the sin and squalor of an age dedicated to hedonism and the pursuit of pleasure. 
The 1974 article, Lord Rochester and the Court of Charles II, by the future Conservative MP and minister John Redwood, takes steps to paint a more comprehensive picture of Rochester than the playboy of repute, placing him as the totemic figure of his time. Redwood illustrates the relief and hope with which the Restoration was greeted by many, saying 'most were satisfied that a better social order had reasserted its position in England'. The reopening of the playhouses and the foundation of the Royal Society indicated that both the arts and the sciences would find their niche in this new world, with Charles as patron to both. Nonetheless, Redwood does not paint a wholly accurate picture of Restoration Oxford or Rochester's role there; described by the antiquary Anthony à Wood as a 'strange effeminate age', where cross-dressing and sodomy were widespread, it was here that the young Rochester 'grew debauched' at the hands of his tutor, the occasional poet and likely pederast Robert Whitehall.