The patron saint of children and barrel-makers died on 6 December 343.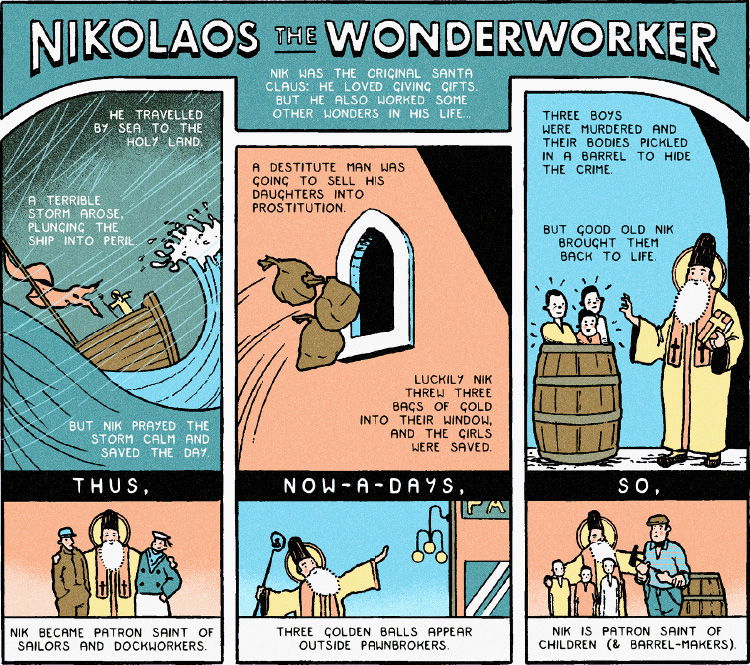 Very little is definitely known about St Nicholas, despite the large amount of material concerning his life, beginning with a 'Life' by St Methodius, written before 847. Due to his popularity, a number of legends have obscured the real St Nicholas, most famously that of Santa Claus.
Born in Patara in Asia Minor on 15 March 270, early sources agree he was raised by his uncle, the city's bishop, after his parents died in an epidemic. Nicholas was tonsured as a reader and later ordained as a presbyter.
In 305, monks from Anatolia established a small monastery with a church named in honour of St George in Beit Jala, Judea. In the years 312-315, Nicholas lived there and visited sites in the Holy Land. In 317 he returned to Asia Minor and was consecrated bishop in Myra.
In 325, answering the call of Emperor Constantine, he was one of many bishops to appear at the First Council of Nicaea. There, Nicholas proved himself to be not simply a benign gift-giver: as a staunch defender of the Orthodox Christian position, tradition has it that he became so angry with the heresiarch Arius that he punched him in the face.
Nicholas was buried in Myra. In 1087, sailors from Bari seized around half his body and took it back to their city. The rest was taken by Venetian sailors during the First Crusade to Venice, where a church to the saint was built on the Lido.