A new king in Saudi Arabia
Faisal al Saud became ruler on November 2nd, 1964.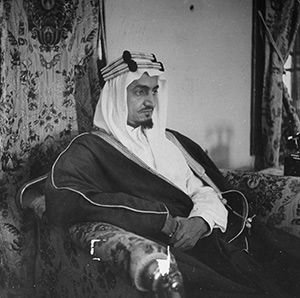 Eyes on the prize: Faisal al Saud, c. 1965.
The kingdom of Saudi Arabia was founded in 1932 by Ibn Saud. After his death in 1953 he was succeeded by Saud, the eldest of his 45 sons by his innumerable wives. The next most prominent figure in the new regime was Saud's softly spoken but forceful half-brother, Faisal. He had long been relied on by his father, who once said he wished there were three of him. Faisal spoke fluent English and, in 1945, he was the Saudi representative at the founding conference of the United Nations. Much experience abroad convinced him that Saudi Arabia needed to enter the modern world and in 1930 Ibn Saud made him foreign minister, as he still was in 1953.
Problems soon developed. Massive oil royalties were now pouring in and prominent figures began to feel that Saud and the incompetent relatives and cronies he surrounded himself with were using the money totally irresponsibly. He seemed incapable of handling the regime's finances and he badly lacked Faisal's experience in foreign affairs.
In 1958 prominent members of the royal family backed by Bedouin sheiks and the ulema, the select religious council that advised the king on Muslim law and traditions, pressured Saud into handing over full executive powers to Faisal as prime minister. Faisal started drastically cutting government spending, but in 1960 he resigned because Saud kept interfering. In 1962, however, renewed pressure on Saud forced Faisal's return.
Saud was growing seriously ill and in 1963 he spent much time seeking treatment abroad. Faisal took the opportunity to remove Saud's loyalists from key positions and substitute competent men he could rely on. In March 1964 royal princes and members of the ulema demanded that Faisal be made regent, which Saud reluctantly accepted. Later in the year the princes and the ulema insisted that Saud abdicate, which he angrily did. Faisal was proclaimed king and Saud went into exile in Greece, where he died after a heart attack in 1969.
Among numerous modernising reforms, Faisal established a new judicial system, abolished slavery, backed industrial development and introduced free health care. He built schools, hospitals, orphanages, airports and roads. He encouraged the development of women's education in Saudi Arabia and of television, though cinema remained banned. At the same time he was a leading opponent of Israel and supporter of Palestinian nationalism, hugely admired in the Arab world, while skilfully keeping on good terms with the United States.
Time magazine chose Faisal as its Man of the Year in 1974, describing him as 'dour, ascetic, shrewd'. His vigorous programme came abruptly to an end in 1975, when he was assassinated by one of his nephews.