Roger Howard recalls a moment when Israel was rocked by exaggerated claims of a threat posed by Egypt.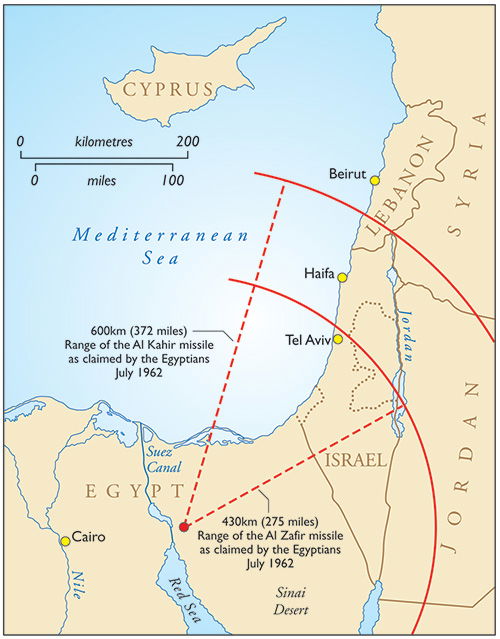 Map showing the distances claimed by Egypt for the reach of its rockets.
In the spring of 1963, Israel was suddenly gripped by a curious mass panic. Sensational newspaper reports and radio announcements claimed that the country was threatened by enemy 'atom bombs', 'fatal microbes', 'poison gases', 'death rays' and a 'cobalt warhead' that could 'scatter radioactive particles over large areas'. Within hours, opinion in the entire country had been ignited. Parliamentary debates, everyday conversations, even songs and poems were all preoccupied obsessively with the same theme – that Israel was confronted by the imminent threat of another Holocaust, less than two decades after the first.
The source of this supposedly dire foreign menace was not Iran, nor the Soviet Union, although superpower tension at this stage in the Cold War was certainly intense. The perceived threat instead emanated from Egypt, which over the past decade had been led by the supremely charismatic and populist military officer, 44-year-old President Gamal Abdul Nasser.