Napoleon: the Emperor Distilled
Andrew Roberts is both entertained and stimulated by Felix Markham's 1963 article on Napoleon, which made judicious use of what correspondence was then available.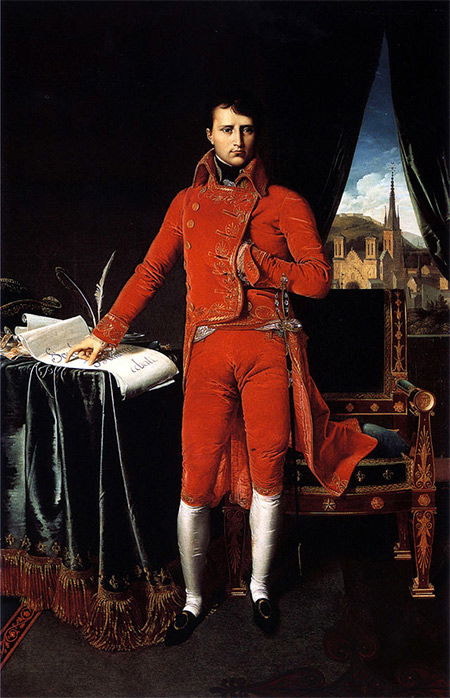 Although it was written over half a century ago, Felix Markham's article The Emperor at Work holds up remarkably well, both as an insight into Napoleon Bonaparte's personality and as an immensely entertaining piece of writing. Markham was a history don at Hertford College, Oxford between 1931 and 1973 and his article represented a distillation of his knowledge and opinions derived from over three decades of reading and teaching about the emperor. The sources he used are therefore widespread, illuminating and judiciously chosen.
Since 2004 the Fondation Napoléon in Paris has been publishing the 33,000 letters that Napoleon signed during his lifetime, an invaluable source that Markham, who died in 1992, could not use. However, he did trawl impressively through the 32 volumes of correspondence that were published in the reign of Napoleon III (r. 1852-70). Many of the traits that Markham noted in Napoleon – especially his capacity for hard work and his superb sense of humour – have been even further enhanced by the Fondation's modern volumes.
Markham can perhaps be criticised for taking at face value the strictures against Napoleon made by his private secretary Antoine de Bourrienne, who is reported as saying that the emperor told him: 'Friendship is only a word; I care for nobody.' Bourrienne was bitter that his former boss had been forced to sack him twice for gross peculation. In fact Napoleon had plenty of friends – later in his piece Markham lists Generals Lannes, Desaix, Junot, Bessieres and Duroc among them – although almost all of them died in battle. (Duroc didn't die at the battle of Bautzen, as Markham stated, but at Reichenbach the following day.)
Nor is Markham right in stating that Napoleon was 'a relatively small man'. At 5ft 5ins – exactly my height – he was the average size for a Frenchman of his day. The reason we imagine him a midget was because he was unfortunate enough to be the contemporary of the greatest British political caricaturists of all time – including George Cruikshank, Thomas Rowlandson and James Gillray – who universally portrayed him as dwarfish beside his enemies. (When I visited Longwood House on St Helena while filming a BBC TV series to be broadcast this spring, I took the opportunity to lie down on Napoleon's deathbed, which was precisely the right size.)
Markham is particularly good on the relations between Napoleon and his family. He puts Napoleon's nepotism down to 'a persisting trait of his Corsican origin', which seems unfair considering that it was also practiced by every royal and aristocratic house of the day and had been for centuries. With two important exceptions – Lucien's cool-headed assistance during the Brumaire military coup of 1799 and Jerome's bravery at Waterloo 16 years later – Napoleon's siblings were rarely anything other than an incubus. Made into princes, dukes and, in three cases, kings, his brothers were ungrateful, incompetent and, in King Louis of Holland's case, downright treacherous (as also was their sister Queen Caroline of Naples, a treachery Markham rightly denounced as 'squalid and disastrous').
There have been more books written about Napoleon than there have been days since his death; certainly no end seems to be in sight. It was thus a huge achievement for Markham to have written a biography so long ago – of which his History Today article was the trailer – that still ranks in their forefront. He was the historical adviser for Stanley Kubrick's tragically never-made biopic of Napoleon, a project so enormous no Hollywood studio would finance it, despite Audrey Hepburn being touted to play Josephine. Kubrick and Markham nevertheless spent many hours discussing Napoleon and their fascinating conversations can be read in transcript form at the London College of Communication. There seems to have been a curse on any actor playing Napoleon successfully since Albert Dieudonné in Abel Gance's 1927 masterpiece, other than perhaps Herbert Lom in the 1956 version of War and Peace. Maybe his personality was just too big, even for the silver screen.
Andrew Roberts' Napoleon the Great was published in paperback by Penguin in April 2015.