How and why did concert-going change from a raucous, noisy affair to one of hushed appreciation?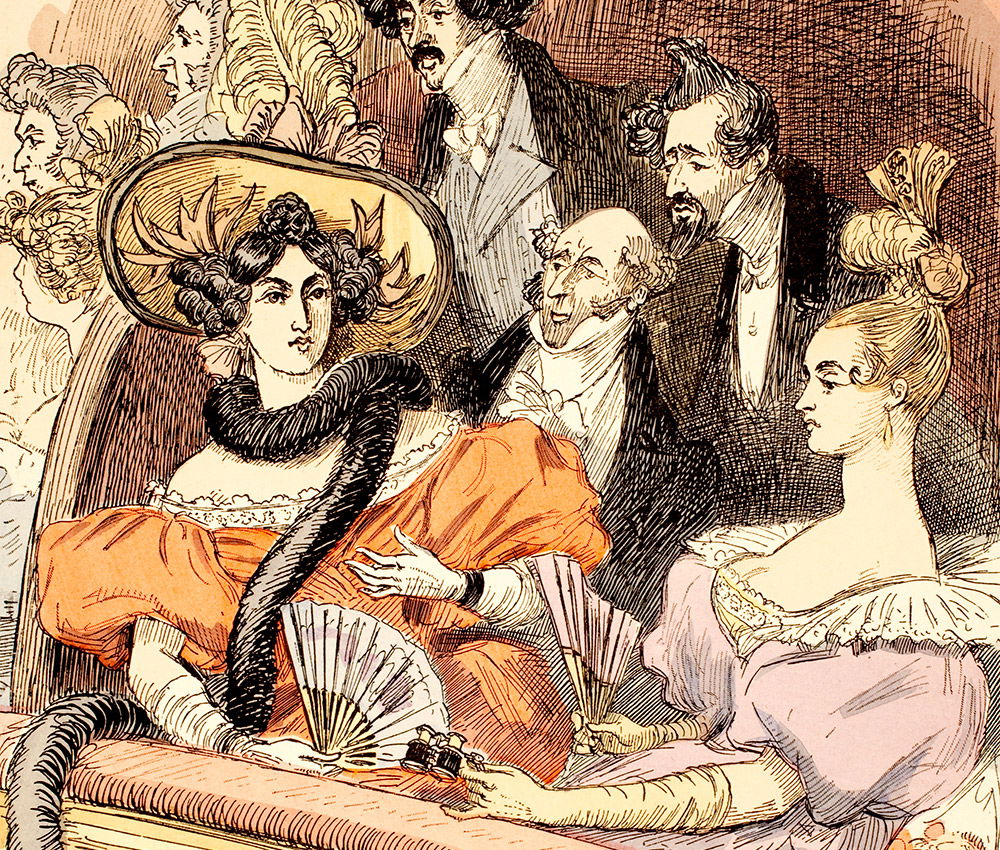 In December 2013, La Scala opened its gala season with a performance of Giuseppe Verdi's La Traviata. The critics loved it. The Financial Times called it 'electric'. La Repubblica  praised the director, Dmitri Tcherniakov, for digging 'deep into the soul of the characters' and bringing out the full psychological intensity of the drama. But for a small group of Milanese musical purists – known as loggionisti, because of their fondness for the cheap seats (loggione) – it was not up to scratch. Having interrupted the performance several times with noisy catcalls, they rounded off the evening by booing loudly during the curtain call. The cast were devastated. The Polish tenor, Piotr Beczala – who had sung the part of Alfredo Germont – was so appalled that he refused to perform at Milan's most celebrated cultural landmark ever again.
It wasn't the first time that the loggionisti had made their feelings heard. In 2006, the Franco-Sicilian tenor Roberto Alagna stormed off stage midway through a performance of Verdi's Aida in protest at the furious cries that were hurled at him. Even the great Luciano Pavarotti was not spared the loggionisti's wrath. In 1992, he was booed while playing the title role in Verdi's Don Carlo.
But for the incoming Artistic Director, Alexander Pereira, enough was enough. Five months before taking up his new role, he announced that he would no longer tolerate the antics of 'hissing hooligans'.
Pereira's tough stance met with widespread support. As several critics pointed out, performances should be listened to in complete silence. That way, everyone could enjoy the music; and artists could be accorded the respect they deserve. The loggionisti, however, disagreed. Believing that the audience have every right to take sub-standard singers to task, they have continued to raise merry hell.
Though it is frustrating for music lovers to have to put up with this sort of behaviour, the loggionisti can at least claim to have history on their side.
When the first public opera houses were founded in the mid-17th century, they were designed more as venues for social interaction than as sites of aesthetic experience. Fanning out from the stage in glittering tiers were the boxes. Owned or leased by aristocrats or wealthy bourgeois, these intimate little spaces were perfect for entertaining guests, exchanging gossip or simply being seen. Down below was the parterre. Usually left open and generally without seating, this was the preserve of lower-income groups, including soldiers, students and servants, who used the space to meet friends, share a drink and gamble. Accordingly, the music was treated with noisy indifference, at best, or vocal contempt, at worst. Audiences were more interested in their own conversations than with what was happening on stage. They might perhaps listen to an aria, or watch the ballet (if there was one), but no more; and, if they did not like what they heard, they would make their displeasure known.
By the 18th century – when many theatres installed seats in the parterre and converted the top tiers of boxes into open loggione – the unruliness of performances had already become a commonplace of literature. In Les Liaisons dangereuses (1782), for example, Pierre Choderlos de Laclos indicated that well-bred patrons thought it quite acceptable to chat throughout a performance. In a letter to Sophie Carnay, Laclos' 'heroine' Cécile de Volanges relates that she had been invited to the Marquise de Merteuil's box at the Paris Opéra so that they could talk about her forthcoming marriage 'without any fear of being overheard'. Naturally, such sociability all but smothered the music. After a visit to La Scala in 1770, the English music historian, Charles Burney, complained that the 'abominable noise and inattention' of his fellow patrons had made it impossible to make out anything but a few bars during some of the better known arias.
Angered by the lack of respect for their music, some composers attempted to fight back – even writing works satirising their audiences' bad manners. The anonymous Critique des Hamburgischen Schauplatzes (1725), for example, offered a comical defence of opera against the frequent interruptions of German loggionisti. But it was a losing battle. Realising that no audience would listen to an entire work, composers started to produce pieces that took account of their inattention. These often included an aria di sorbetto ('sherbet aria'), an incidental passage that allowed the audience to buy food or drink without fear of missing anything important.
Such concessions only encouraged further raucousness. By the early 19th century, it was almost out of control. In Paris, the situation was particularly bad. In the 1830s, Honoré de Balzac admitted that no one went to the Opéra for the music; while in Stendhal's Le rouge et le noir (1830) Julien Sorel quickly learns to disregard the performance in favour of his own intrigues. But in Milan, it was even worse. In 1840, Mary Shelley wrote: 'The theatre of La Scala serves not only as the universal drawing-room for all the society of Milan, but every sort of trading transaction, from horse-dealing to stock-jobbing, is carried on in the pit; so that brief and far between are the snatches of melody that one can hear.'
Not until the late 19th century did silence come to be expected of audiences. Even then, it took longer to reach some countries than others. An amusing illustration of the difference between Britain and Italy can be found in E.M. Forster's novel Where Angels Fear to Tread (1905). Hoping to talk their widowed sister-in-law out of marrying an Italian, the interfering siblings, Philip and Harriet Kingcroft, rush off to the Tuscan town of Monteriano. Soon after arriving, Philip spots a poster announcing a performance of Donizetti's Lucia di Lammermoor and tries to persuade the sceptical Harriet to go with him. 'However bad the performance is to-night', he warns, 'it will be alive. Italians don't love music silently, like the beastly Germans. The audience takes its share – sometimes more.' And so it turns out. Though Harriet does not care for music, Forster noted, she knows 'how to listen to it', and is outraged by the constant shouting and whistling. Not until the mid-20th century would poor Harriet have been able to find an Italian theatre where silence more or less reigned.
Why did audiences change their minds? Part of the reason is undoubtedly the evolution of opera itself. Although composers had previously been willing to accommodate unruly behaviour, the advent of Romanticism persuaded Germans to adopt a more uncompromising approach in their music. Beginning with Louis Spohr – who abhorred the 'vile noise' of Italian opera houses – attempts were made to make opera more like the Singspiele ('sing-plays') of folk tradition. This entailed grouping arias into longer and more coherent scenes, which could not be interrupted or missed without the narrative thread being lost. The culmination of this trend was Richard Wagner's notion of the Gesamtkunstwerk ('total work of art'). Combining music, poetry and drama in epic form, Wagner greatly expanded the role of the orchestra and relied more on the use of leitmotifs – recurrent musical themes associated with a particular character or idea – than on structural divisions to advance the story. So great were the demands placed on audiences, that little scope remained for inattention – or interjection. And, as Wagner's influence spread, so did the silence.
Arguably more important, however, were social factors. Between about 1650 and 1850, opera was 'enjoyed' by a relatively broad range of people. Though public opera houses tended to be financed by monarchs, nobles or wealthy merchants, performances were attended by high and low alike. In the later 19th century, however, the emergence of music halls changed everything. Offering every kind of entertainment – from music to magic – and a deliberately relaxed atmosphere, these quickly won the favour of lower-income groups. And as opera houses became the preserve of the upper and middle classes, so their audiences attempted to distance themselves consciously from the noisy and often crude behaviour that was increasingly associated with music halls. Silence, in other words, became what it had never been in the past – a mark of social distinction, of taste and of refinement.
This has rather uncomfortable implications. In preferring to listen to an opera in silence, we are really just perpetuating a form of Victorian snobbery. Now that efforts are being made to broaden the appeal of opera, perhaps the time has come to be a little less precious. Especially in the case of works like Rossini's La Cenerentola – which were composed with noise in mind – Pereira and his colleagues could turn more of a blind eye to the loggionisti. Admittedly, there might be a bit more booing. But who knows? Perhaps the applause might be louder, too.
Alexander Lee is a fellow in the Centre for the Study  of the Renaissance at the University of Warwick and author of The Ugly Renaissance (Arrow, 2015).