The last woman hanged in Britain was executed on 13 July 1955.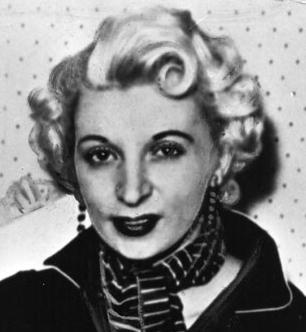 Ruth Ellis was a London bar hostess and call girl, from Rhyl in North Wales originally, who took up with an ex-public schoolboy called David Blakely, a motor-racing enthusiast and, like her, a heavy drinker. He had other women and she acquired another, older lover in his thirties, a former bomber pilot named Desmond Cussen, who wanted to marry her. The triangular situation provoked fierce jealousy on all sides and drunken rows between Ruth Ellis and Blakely in which he beat her up. She was often seen badly bruised and in March 1955, according to her, she had a miscarriage after he punched her in the stomach.
Things came to a head on the Easter weekend in April, when Blakely, sick of her, hid with friends and refused to see her or answer her desperate telephone calls. On the Sunday evening Ruth Ellis took a loaded revolver to a pub called the Magdala near Hampstead Heath station, where she thought Blakely would be. She peeped in to make sure he was there and when he came out she fired two bullets at him and then more shots into him as he lay bleeding on the pavement. One bullet went astray and hit a passing woman in the thumb. Ruth Ellis then calmly told the bystanders to call the police and surrendered to an off-duty policeman who had been having a drink in the pub. Blakely was dead when an ambulance got him to hospital. Ruth Ellis eventually told her lawyer privately that Cussen had given her the loaded gun, shown her how to use it and driven her to the pub, but there was no corroboration.
At her trial in June she said nothing of that, declined to plead insanity and maintained she had acted under provocation. After a two-day hearing the jury took twenty-five minutes to find her guilty and she was sentenced to death. The execution was set for three weeks later in Holloway Prison at 9am. Apart from one screaming fit when told there would be no reprieve, Ruth Ellis remained calm and dignified, reading the Bible, doing crossword puzzles and writing farewell letters. She believed she deserved death for killing Blakely and told people: 'An eye for an eye and a tooth for a tooth. I am quite happy to die.' Up at 6.30am on that last morning and given a tot of brandy, she was perfectly composed.
A Catholic priest was with her at the end and at her request a crucifix was hung on the wall where she could see it as she steadily walked the few steps from the condemned cell to the execution shed. The hangman was Albert Pierrepoint, who denied in his memoirs that any 'untoward incident' had marred the proceedings or contributed to his decision to retire a few months later, but the execution undoubtedly hastened the subsequent abolition of the death penalty.