Mary, Queen of Scots leaves France for Scotland
Mary Queen of Scots left Calais for Scotland on August 14th, 1561, aged 18 years old.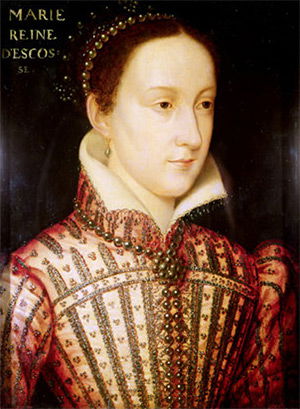 When her fleet of galleys and cargo ships left Calais the 18-year-old Queen of Scots and Dowager Queen of France burst into floods of tears as she said farewell to ma chère France and sailed on a journey to what for her was virtually an unknown country. Mary had been Queen of Scots since she was a baby, only a week old. At the age of five she was sent to France to keep her out of the clutches of the English. At 15 in 1558 she was married to the future Francis II, who was 14. It is thought that she was probably still a virgin when he died two years later. Catherine de Medici, the French queen mother, no longer wanted her in France and Mary decided that her future lay in Scotland.
The Scottish fleet that came to Calais for Mary was commanded by the high admiral of Scotland, who happened to be the same Earl of Bothwell who was destined to play a sinister role in her later life. The journey to Leith, the port of Edinburgh, took less time than expected and when she landed Mary had to go to a local merchant's house until noblemen led by her illegitimate half-brother Lord James Stewart, Earl of Moray, came to escort her to Edinburgh where crowds had gathered to cheer her on her way up to Edinburgh Castle. Young, tall, graceful and vivacious, she made an excellent impression and bonfires blazed merrily as she presided over a banquet. After she had retired for the night a crew of 500 or more amateur musicians kept her awake by scraping fiddles and singing psalms out of tune outside. In the morning, with her usual good-natured charm, she sweetly thanked them.
Mary's home in Edinburgh was Holyrood Palace, which had been rebuilt by her father, James V. Her rooms in the north-west tower included her presence chamber for receiving visitors, her bedchamber, a small supper chamber and a combination stool chamber and dressing room. The palace had a large deer park where she went hunting and she built an extra bath house where allegedly she liked to bathe in white wine for her complexion.
The young queen spoke Scots fluently, but she was far more French than Scottish. She kept a splendid court on French lines and most of her household were French. Strict Protestants were horrified by the fact that Mary and her ladies danced at banquets and balls. John Knox, that pillar of self-righteousness who had already issued a denunciation of all female rulers in his The First Blast of the Trumpet Against the Monstrous Regiment of Women (1558), said that the queen had brought with her to Scotland 'sorrow, dolour, darkness and all impiety'. He complained that Holyrood would soon be a brothel and attributed the fascination Mary exercised on men to 'some enchantment whereby men are bewitched'. Mary's efforts to reason with him failed utterly. As time would show, her attractiveness to men went with an unerring ability to pick the wrong one.
Mary was popular with many of her subjects, but she faced serious problems. She was a Roman Catholic and, although she attended Mass only in private and announced that she had no intention of interfering with Scotland's official Protestantism (while confidentially telling the pope the contrary), she aroused Protestant suspicions. Though she had the support of Lord James Stewart and others, the Scottish nobility was prone to lawlessness, violence, feuds and rapacity and was far from easy to deal with. Also she was by right of birth not only Queen of Scots but the nearest heir to the throne of England. Indeed the French maintained that Mary had a better claim to the throne than Elizabeth I. Mary's refusal to renounce that claim earned her the hostility of Elizabeth, who would prove by far Mary's superior in statecraft.
Even so things went well enough for Mary's first few years in Scotland, until in 1565 she became passionately infatuated with one of her cousins, Henry Stewart, Earl of Darnley. She said he was 'the best proportioned long man she ever saw' and she made the fatal mistake of marrying him. Not only did she discover that Darnley was power-hungry, vicious and totally unreliable, but the preferment the marriage gave him and his branch of the Stewarts infuriated many of the Scottish nobles, especially Mary's right-hand man, Lord James Stewart, who led a rebellion against her. To what extent Lord James secretly wanted the throne for himself has been debated ever since, but the Darnley marriage was the first step on the long path to Mary's eventual overthrow and expulsion from Scotland, her years of imprisonment in England and her execution by the English in 1587.