James Gillray dies in London
The artist died on June 1st, 1815.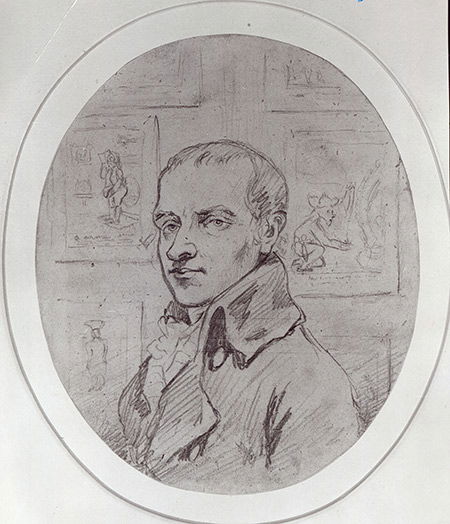 The master of witty, if often viciously corrosive, comedy art came from a modest background in Chelsea – then a village outside London. His father was the sexton of a local cemetery. Young James showed an interest in art early on and got a grounding as an apprentice to an engraver turning out stationery, trade cards, certificates and maps. In his early twenties in 1778 he was admitted to the Royal Academy Schools and in the 1780s he began producing caricatures, including sardonic scenes of prominent personages. They were enlivened with amusing speech bubbles and captions. He was particularly hard on George III and Queen Caroline, while other frequent victims included the Prince Regent and Charles James Fox. When the Napoleonic Wars began, Gillray patriotically eased off on George, turned his evil eye on Napoleon and the French instead and lauded John Bull. 
The English high art world mostly looked down on Gillray, but his work, sold in the form of prints, was popular enough to earn him an adequate living. He kept his private life extremely private, but from 1791 his prints were sold exclusively by Hannah Humphrey in Old Bond Street and he soon moved in with her above her shop. When she moved to St James's Street, off Piccadilly, in 1798, Gillray went with her and stayed there for the rest of his life. She was unmarried and some 15 to 20 years older than him. Exactly what the relationship between them was nobody now knows, but there was certainly a deep mutual affection and at one point, apparently, they decided to get married. When they arrived at the nearby church of St James's in Piccadilly, however, he changed his mind and told her they should leave well alone, so they went back home. 
When he was about 50, something went badly wrong with Gillray's eyesight. He tried wearing spectacles, but they were no help and he became unable to produce work of what he considered the proper quality. In 1808 he had a physical and mental breakdown and went to Margate to convalesce, but he remained miserably depressed and signed his last print the following year. He was drinking extremely heavily and, in 1811, tried to commit suicide by throwing himself out of a top-floor window of the house in St James's Street. He survived, but was now intermittently insane and the faithful Hannah had to look after him until he died at the age of 58. He was buried nearby in the courtyard of St James's Church. His will left her everything he had and she died three years later, in 1818.