The Jacobite standard raised at Braemar
The Stuart banner was raised on 6 September 1715.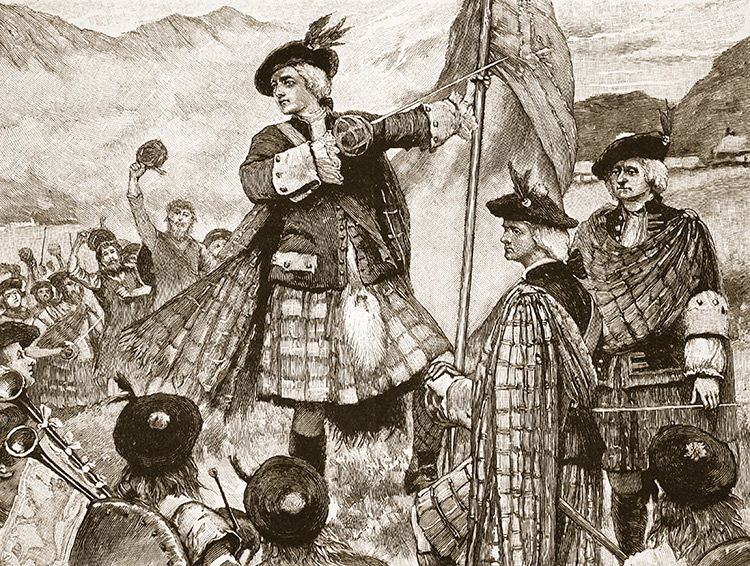 James Francis Edward Stuart, later known as the Old Pretender, was born in St James's Palace, London in 1688. His father, James II of England and VII of Scots, was privately Roman Catholic and his mother, Mary of Modena, openly so. The next British king would clearly be raised a Catholic and a story spread among Protestants that the real baby was stillborn and another infant had been smuggled into the queen's bed in a warming-pan. It was not a promising start.
A Protestant rebellion drove James into exile in France by the end of the year. Mary of Modena had already taken the baby there. Courtesy of Louis XIV, they lived at the Chateau de St-Germain-en-Laye while Britain was ruled by William of Orange and then by James II's Protestant daughter Anne from 1701. James II died that year and young James, now 13, was claimed to be his rightful successor as James III and VIII. In 1708, with a French fleet, he tried to invade Scotland, but was driven away by English warships. When Anne died in 1714 Catholic claimants were barred. James knew he might succeed her if he turned Protestant, but he spurned the idea and a German Protestant, the first of the Hanoverian dynasty, was crowned as George I. 
John Erskine, Earl of Mar, now took a hand. A Scottish peer, he lived in London and was secretary of state for Scotland. Although he assured George of his loyalty he was deprived of his post. In August 1715 he got away to Scotland, allegedly disguised as a workman. Lowland Scotland was staunchly Protestant, but the situation was different in the Highlands and Mar convinced a number of clan chiefs that Scotland faced enslavement by the English, if it did not act. At a gathering at Braemar, west of Aberdeen, he proclaimed James VIII king of Scotland, England, Ireland and France and raised the Stuart banner.  
Mar led a large army, but he was a useless general. He failed to defeat government forces in battle and a Jacobite invasion of England also failed. James Stuart arrived in Scotland in December, but he was timid, indecisive and no leader. Mar and James scuttled off to France in February 1716, leaving their followers in the lurch. Mar accepted a bribe from George I's government (reportedly £3,500 a year, over £1 million today) and stayed quiet until his death in 1732. Rescued by successive popes, James Stuart lived on in palatial ineffectuality in Rome until he died aged 77 in 1766.