Georges Auguste Escoffier
The chef and restaurateur died on 12 February 1935.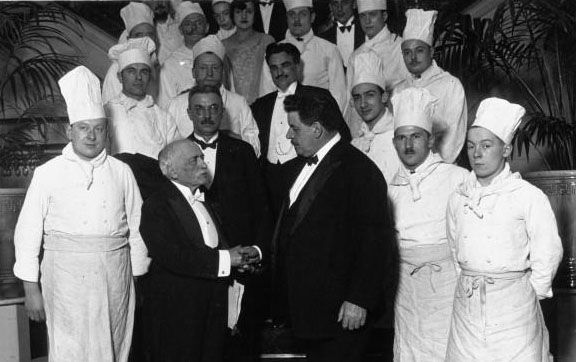 Escoffier's brilliance as a master chef was forged in the fires of war. Taking his first kitchen job aged just 13, he worked his way up to chef saucier at Le Petit Moulin Rouge, haunt of the Parisian demi-monde.
With the outbreak of the Franco-Prussian War in 1870 he was appointed Chef de Cuisine for the army on the Rhine in Metz, later spending his six months as a prisoner of war cooking for the captured Marshal MacMahon and his staff. On his return to Paris he escaped the siege on the last train to Versailles.
Escoffier made his name during his partnership with César Ritz, managing the kitchens at his new Grand Hotel in Monte Carlo. Here, Escoffier introduced the prix fixe set menu, designed to guide his wealthy but inexperienced clientele through the intricacies of haute cuisine.
He became an international celebrity. Never forgetting his time in the army, he promoted simplicity and freshness in his cooking, the use of preserved foods, which he felt the burgeoning world population would need to survive, and an avoidance of waste. A devout Catholic, he ensured that, every evening, spare food from his kitchens was given to local French nuns to feed the poor. Loved by his staff, he went to great lengths to make professional kitchens – then renowned for their violence and alcoholism – more civilised and humane places of work. He died in 1935 at the age of 88.