America's "motor city" was founded on 24 July 1701.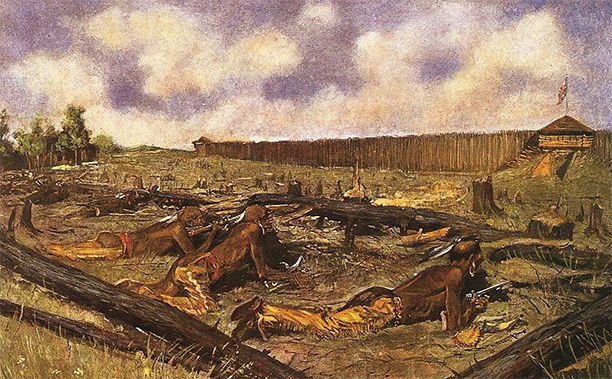 The motor capital of North America was founded by a man named Cadillac, menaced by one called Pontiac and ultimately given its twentieth-century role by one named Ford. Early European explorers of North America had hoped to discover gold and silver, but found furs instead. It was French fur traders who in 1604 established the first permanent French colony in North America at Port Royal in Nova Scotia.
Quebec was founded four years later. French explorers pushed down the Great Lakes and the Mississippi River all the way to the Gulf of Mexico and by 1700 there were 15-25,000 French in North America – farmers, traders, hunters, trappers and missionaries, many of them in isolated forts and trading posts – by contrast with some 250,000 British settlers packed in colonies down the eastern seaboard. New France was closely supervised from Paris. Only Roman Catholics were permitted as settlers and the Jesuits and Franciscans discovered a powerful zeal for converting the native American Indians.
A French settler with a promising future ahead of him was Antoine Laumet de Lamothe Cadillac, a Gascon adventurer of tremendous charm and matching unscrupulousness, in his forties. He added de Lamothe Cadillac to his name to make himself sound aristocratic, equipped himself with a bogus pedigree, coat of arms and army commission, and concealed his origins so effectively that his early life has remained obscure ever since. Arriving in North America in the 1680s, he was put in command at the Great Lakes post of Michilimackinack in 1694 and lined his pockets by selling the Indians brandy – illegally and to the fierce disapproval of both the Indian chiefs and the Jesuits – and taking bribes from beaver-pelt traders and smugglers. With approval from Paris, he set out in 1701 to build a fort and trading post on the river between Lake Erie and Lake Huron. The purpose was to control the traffic on the river, secure the rich trade in furs in the Great Lakes region for France and provide a base to help protect the French and their Indian allies against the British.
Travelling in birchbark canoes with a hundred or so Frenchmen, an equal number of friendly Indians and the inevitable pair of priests, Cadillac picked a site on a bluff overlooking the strait between Lake Erie and Lake Saint Clair, where he and his men spent some weeks building Fort Ponchartrain du Detroit. It was named in compliment to Louis XIV's minister of marine and colonies, Louis Phélypeaux de Ponchartrain, while Detroit was French for 'the strait'. A small settlement developed, though both the colonists and the local Indians objected to Cadillac's tyrannical and extortionate administration. In 1710, more or less in disgrace, he was packed off to be governor of Louisiana, which was considered a thoroughly undesirable post. He was later recalled to France and spent some time in the Bastille before ending his life comfortably installed as governor of a town in his native Gascony, where he died in 1730. His fake coat of arms would long afterwards adorn Cadillac cars.
Detroit meanwhile was surrendered to the British in 1760 during the Seven Years' War and then unsuccessfully besieged by the Ottawa Indian chief Pontiac, who had forged an unprecedented alliance of practically every Indian people from Lake Superior to the lower Mississippi against the British. However, the British  occupation did not end until 1796, when Detroit came under American control.