The Birth of Oliver Cromwell
The early life of Oliver Cromwell, who was born on 25 April 1599.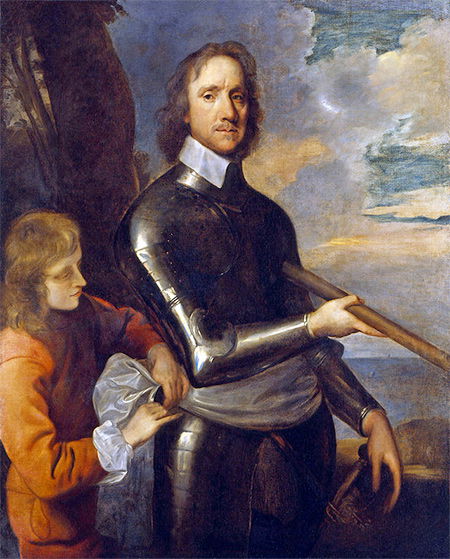 A baby boy was christened in the church of St John the Baptist in Huntingdon on April 29th, 1599. Years later someone added to the Latin entry in the birth register, 'England's plague for five years'. Later still, someone else took heavy black ink and crossed out this partisan gloss.
The child, the future Lord Protector of England, had been born on April 25th, probably in the early hours of the morning, in a house in the town's high street which was rebuilt in about 1830 and is now called Cromwell House. The only son of Robert and Elizabeth Cromwell to survive, though he would grow up among a flock of sisters, he was named Oliver after his uncle, the richest member of the family, Sir Oliver Cromwell, who lived in hospitable grandeur at Hinchingbrooke House, outside Huntingdon.
The boy should really have been Oliver Williams. His great-grandfather was Richard Williams, who in Henry VIII's time rose so far in the world under the wing of his maternal uncle Thomas Cromwell that he gratefully changed his surname to Cromwell. Richard's father was Morgan Williams from Glamorgan, who owned property in England and married Thomas Cromwell's elder sister Katherine. Richard himself remained a favourite with Henry VIII after Thomas Cromwell's fall. The spoils of his service to the state included land taken from Ramsey Abbey and the nunnery at Hinchingbrooke. They were inherited by his son Sir Henry Cromwell, known as 'the golden knight' for his lavish spending. He entertained Elizabeth I in style at Hinchingbrooke in 1564, while his eldest son, Sir Oliver, entertained James I several times and finished the job of throwing the family wealth away.
The Cromwells were now well connected in England's eastern counties. Sir Henry's second son, Robert Cromwell, who inherited the house in Huntingdon, was a gentleman farmer, justice of the peace, member of parliament, and the town's joint mayor. Two Cromwell sisters, Elizabeth and Frances, were respectively the mothers of John Hampden, a leading Parliamentarian against Charles I, and Edward Whalley, a future Roundhead general and regicide. Oliver Cromwell's own mother, Elizabeth, was the daughter of William Steward, of a comfortably-off Norfolk family who farmed Ely's abbey and cathedral lands. The idea that the Stewards were connected with the royal Stuarts and descended from a Scottish prince shipwrecked on the Norfolk coast in 1406 is a non-starter. The Lord Protector himself never took it seriously, though he did once joke that his mother was a Stuart at a drinking party in Edinburgh in 1651.
Little is known about Oliver's childhood, despite fanciful tales about him being stolen from his cradle by a pet monkey, dreaming that he would be king one day, or on a visit to his uncle at Hinchingbrooke during one of James I's visits, punching on the nose another small boy who would grow up to be Charles I. He went to Huntingdon grammar school, now the Cromwell Museum. The master was Thomas Beard, a Cromwell family friend and a zealous Puritan who regarded the Pope as Antichrist and believed in the Almighty's keen eye for sin and promptness to punish it. In 1616, Oliver went up to Sidney Sussex College, Cambridge, but left without a degree when his father died the following year.
Reports that Oliver preferred cheerful company and football, cudgels and other boisterous sports to academic study are probably true. He grew up as a gentleman farmer and all his life he loved horses and dogs and country pursuits. There were many stories of him drinking and sowing his wild oats as a young man, but in 1620, when he was twenty-one and she was twenty-three, he married Elizabeth Bourchier, the daughter of a well-to-do London fur and leather merchant, at St Giles', Cripplegate. The groom was described in the marriage settlement as 'Oliver Cromwell alias Williams'. He took his bride back to Huntingdon, where he managed the family estate until, in 1628, his election as member of parliament for the town started him on a career which would make him ruler of England.