Australia's New Capital is Named
Canberra was born on March 12th, 1913.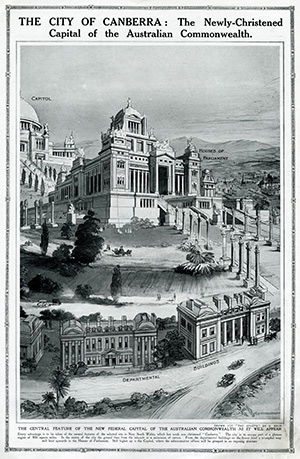 Until the 1890s Australia consisted of six separate colonies. They had their own parliaments and their own administrations, with different policies and different tax rates. They ran their own separate armed forces. They issued different postage stamps, built their railway lines on different gauges and set their clocks to different times. At the borders between them officials collected import duties and a family that moved from one state to another risked having to pay duty on some of its belongings. Not surprisingly a strong federalist movement had developed, fostered by a growing sense of national identity, and after 1898 a federal constitution was worked out by delegates from most of the colonies. It was profoundly democratic and it has stood the test of time.
After much arguing and politicking and a final decisive referendum, the Commonwealth of Australia came formally into being on the first day of 1901 as a united nation. It had a white population of just under 3.8 million, with a life expectancy of 59 for women and 55 for men. A competition to design a national flag drew more than 30,000 entries. A national coat of arms, with a kangaroo and an emu as supporters, appeared in 1908 and the golden wattle plant gained popular favour as a national emblem, with the backing of the Wattle Day League, which said it stood for 'home, country, sunshine, kindred and love'.
A particularly thorny question was where the new Australia's capital was to be. Melbourne and Sydney were the country's largest cities, but there was fierce rivalry between them. After much wrangling it had been decided that Melbourne would be the capital for the moment and the seat of the new federal parliament, but that a new capital city would be created somewhere in New South Wales, but not in Sydney itself. Indeed it was to be at least 100 miles away. Various sites were considered but in the end a place called Canberra was chosen in 1908.
Canberra was an obscure village on the River Molonglo, about 150 miles southwest of Sydney, with a long aboriginal history, a record of European settlement going back to the 1820s and an Anglican church dating from the 1840s. Its name may come from an aboriginal word meaning 'meeting place'. It and the surrounding area were transferred from New South Wales to the Commonwealth government at the beginning of 1910 as the Australian Capital Territory. It was declared an alcohol-free zone, though that would not last.
In 1911 the federal minister for home affairs, King O'Malley, who had campaigned vigorously for Canberra, organised an international competition to design a new city. There were more than 130 entries and it was won the following year by an up-and-coming American architect in his thirties, Walter Burley Griffin. He had been the leading assistant to the great Frank Lloyd Wright, who had helped him to set up his own practice. His collaborator on the Canberra project was his wife, the former Marion L. Mahony, who had also worked for Wright. Names suggested for the new city included Captain Cook, Shakespeare, Paradise and Olympus, but in the end it was decided to retain Canberra.
On a fine day in March 1913 several hundred people assembled on what is now called Capital Hill to launch the new city. They included Lord Denman, the British governor-general of Australia, and Lady Denman, as well as Andrew Fisher, the federal prime minister, King O'Malley and other Australian politicians, heads of federal departments and top military and naval officers and Commander 'Teddy' Evans, who had served with Captain Scott in the Antarctic. Lord Denman was attended by a guard of honour from the Duntroon Military College, which was close by. Lord Denman laid the first foundation stone and others were laid by Andrew Fisher and King O'Malley. Lady Denman formally christened the new city Canberra (with the accent on the first syllable). Appropriate speeches were made at a lunch afterwards and Canberra Day is now celebrated locally on the second Monday in March every year.
Lord Denman found that he had far less influence in the new Australia than his predecessors and he resigned in 1914. Work on the city was seriously delayed by the First World War and later by disputes between Walter Griffin and Australian bureaucrats, who persistently interfered with and altered his original plans. He was a patient man, but he finally resigned in 1920. The future Edward VIII, then Prince of Wales, laid another foundation stone for Canberra that same year, but it was not until 1927 that Parliament House was completed and the federal parliament and administration at last moved from Melbourne to  Canberra.