The Assassination of Robert Kennedy
Kennedy was fatally shot on 5 June 1968, in Los Angeles, California. He died the following day.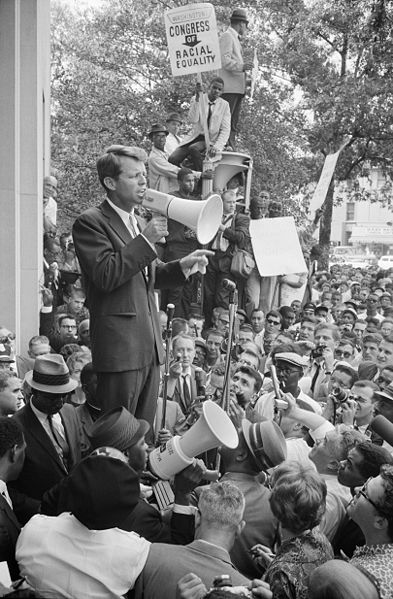 Robert F. Kennedy speaking to a crowd of African Americans and whites outside the Justice Department on June 14th 1963
The two Kennedy brothers were assassinated within five years of each other. Robert Francis Kennedy was forty-two when he was shot down in Los Angeles. The seventh child of his family and the great-grandson of Irish immigrants in the previous century, he would succeed his brother John F. as leader of the dynasty. On November 22nd, 1963, he was having a swim and lunch with his wife Ethel at their grand mansion in McLean, Virginia, when FBI chief J. Edgar Hoover telephoned to tell him that President Kennedy had been shot.
Elected as a Democratic senator for the state of New York in 1964, Robert Kennedy announced his candidature for the presidency in 1968. He would win four out of five Democratic primaries and it looked as if he might well be the second Kennedy president when he went to California for the primary there. Among cheering crowds in San Francisco's Chinatown with Ethel on June 3rd, the sound of shots rang out. It was an ominous moment, but they turned out to be firecrackers. Later that day the senator spoke in Los Angeles and San Diego before spending the night in Malibu, north of Los Angeles.
The next day, voting day in the primary, it was foggy and cold. Kennedy played with his children on the beach before being driven in the evening to a suite in the Ambassador Hotel in Los Angeles to await the results. News of his victory came in and around midnight he went down to the hotel ballroom to speak to a crowd of supporters gathered there. He had left the ballroom by a crowded passageway, shaking hands with supporters and hotel staff, when a man stepped out in front of him and fired shots from a .22 calibre revolver at the Senator and his entourage, hitting him at close range in the head and body, and wounding five others as well. The assassin was seized, but it was too late and Robert Kennedy was taken to the Good Samaritan Hospital, where he died the next day.
Flown to New York for the funeral in St Patrick's Cathedral, the body was then taken by special train to Washington DC, past enormous grieving crowds, and Robert Kennedy was buried at dead of night, close to his brother John in the Arlington National Cemetery. The assassin proved to be a Palestinian from Beirut named Sirhan Sirhan, aged twenty-four, whose Christian family had emigrated to California and settled in Pasadena in 1956. At his trial he maintained that he had acted in revenge for Kennedy's pro-Israeli sympathies. He was sentenced to death in 1969, but the sentence was commuted to life imprisonment three years later. His numerous applications for parole have been denied.