A Midsummer Night's Dream Is Published
On October 8th 1600, Thomas Fisher published A Midsummer Night's Dream in quarto format thought to have been printed from Shakespeare's own handwritten copy.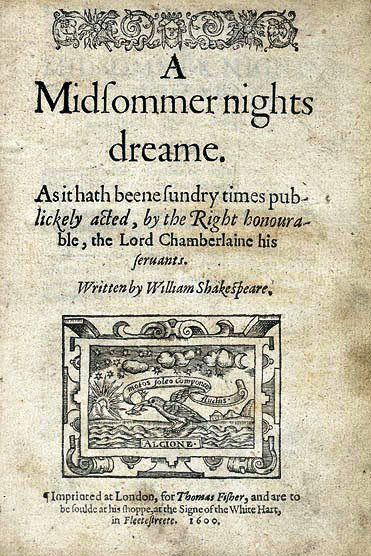 Thomas Fisher kept a bookshop at the sign of the White Hart on Fleet Street, London, in 1600. On October 8th he entered 'a booke called A mydsommer nightes Dreame' in the register of the Stationers' Company. This was the method of establishing publisher's copyright, for the Company controlled the publication of all books, plays and pamphlets. The author at this time had no copyright to his work. A dramatist sold his play to the actors' company staging it, which usually would not want it in print because then other actors could buy a copy and put it on. Sometimes, however, the company needed the money or wanted a play printed to forestall a pirate edition. This may have happened with A Midsummer Night's Dream, which came out soon after the appearance of a pirated version of Henry V.
Thomas Fisher's edition of the Dream in the usual small, cheapish quarto format is thought to have been printed from Shakespeare's own handwritten copy of the final acting text. Publication would have been at the instance of the Lord Chamberlain's Men, the cream of the profession and the company in which Shakespeare was partner, actor and house dramatist. It is thought that Shakespeare himself normally took the part of the noble Duke Theseus of Athens.
Shakespeare was 36 in October 1600, the best-known playwright in the country, and probably the best paid. His latest biographer, Park Honan, estimates his annual income at this stage at somewhere between £100 and £160, equivalent to at least £50,000 to £80,000 a year today. Plays he had already written included Henry IV, Richard III, The Merchant of Venice, Romeo and Juliet and possibly Hamlet, while Antony and Cleopatra, King Lear, Macbeth and Othello were still to come. He was one of the syndicate that owned the Globe Theatre in Southwark, opened in 1599 and the finest in the capital.
Shakespeare had recently bought New Place, a grand house in Stratford-upon-Avon, for his wife Anne and their two daughters Susanna and Judith. The dramatist himself spent most of his time in London. In 1596 he was living in the parish of St Helen's Bishopsgate, a good address in a well-to-do district on either side of Bishopsgate Street, convenient for his company's Curtain Theatre. By 1599 he had moved across the river to Bankside, close to the newly built Globe, and may have had lodgings somewhere among the roistering taverns, brothels and bear-gardens of the Bishop of Winchester's estate, the Liberty of the Clink, whose flocks of prostitutes were known as 'Winchester geese'. By 1604 he had moved back to the City and lodged not far from St Paul's in the house of Christopher Mountjoy, a Huguenot manufacturer of elaborate head-dresses for ladies.
Pepys went to see A Midsummer Night's Dream in 1662 and hated it. In his diary he called it 'the most insipid ridiculous play that ever I saw in my life' and the only things he enjoyed were 'some good dancing and some handsome women'. Evidently he was having an off night. For most audiences, with its theme of lovers and their entanglements, its fairy scenes in the enchanted wood and its lovingly handled bungling tradesmen as comic relief - perhaps inspired by memories of a Stratford boyhood - this is the most magical and lyrical of Shakespeare's plays.