Marriage of James IV of Scots and Margaret Tudor
Richard Cavendish describes James IV of Scots and Margaret Tudor's wedding on August 8th, 1503.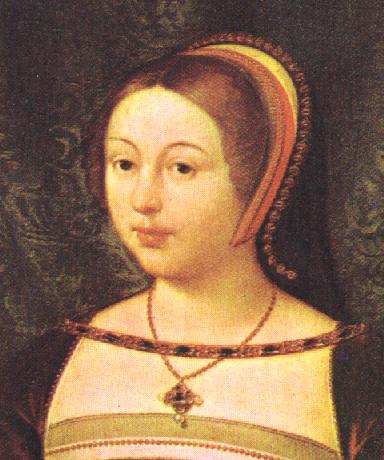 Dashing, accomplished, highly intelligent and interested in everything, James IV of Scots enjoyed himself with mistresses while manoeuvring to secure a politically useful bride. He was thirty when a small, dumpy thirteen-year-old from England, daughter of Henry VII, reached Scotland for a wedding which a hundred years later would put a Scottish king on the English throne. That prospect had been foreseen in the long negotiations that preceded the signing of the marriage agreement in 1502. Henry VII reportedly told his advisers that a Scots king might one day inherit England, but England would be the gainer as the dominant partner in an enlarged realm: 'the accession will be of Scotland to England, not of England to Scotland.'
Margaret's train on the journey north by York, Durham, Newcastle and Berwick was headed by the Earl of Surrey, with his Countess as the princess's chaperone. John Young, Somerset Herald, was sent along to make an official record. The ladies rode on palfreys or were drawn on litters, escorted by gentlemen, squires and pages, with trumpeters, drummers and minstrels. The party crossed the border into Scotland on August 1st, 1503, to be greeted by the Archbishop of Glasgow and a thousand Scottish lords and gentlemen 'in rich jewels and massy chains'. At Dalkeith Castle on August 3rd, King James himself, in a crimson velvet jacket, rode in with a train of horsemen. Margaret curtsied deeply and he bowed low and they kissed in greeting. They talked together privately and sat together at supper and afterwards he played to her on the clavichord and the lute. Two nights later she played for him.
On Monday August 7th, they made a state entry into Edinburgh, both of them in cloth of gold trimmed with black velvet or black fur. To tremendous cheers and the clangour of bells they rode in on one horse, with Margaret riding pillion behind the King, escorted by two hundred knights and pausing to witness numerous pageants. The union of the thistle and the rose was celebrated next morning in the chapel of Holyrood-house. Margaret wore a gown trimmed in crimson and the Countess of Surrey bore her train, while James was magnificent in white damask with crimson satin sleeves. After the marriage ceremony conducted by the archbishops of Glasgow and York there was a nuptial mass and a short coronation ritual, with the King's arm round his new queen's waist much of the time. There followed a splendid feast of fifty or sixty dishes including roast crane and roast swan, and then dancing and supper until finally at last 'the King had the Queen apart and they went together'. Edinburgh blazed with bonfires that night.
It looks as if James may quietly have delayed the consummation in consideration of his wife's age, but there were days of festivities at great expense, though the English guests took care not to be impressed. The new queen wrote a homesick note to her father ('I would I were with your Grace now and many times more') before her husband took her on a tour of his realm. At Stirling Castle she was taken aback to find a whole nursery of royal bastards being brought up together, James being an affectionate father. The strait-laced Margaret never accustomed herself to the free ways of the Scots court and the boldness of the women. She bore James six children, but only one survived, the future James V, who was seventeen months old in 1513 when his father was killed at Flodden, fighting an English army commanded by the same Earl of Surrey. Margaret was then twenty-three. The rest of her life was spent in intrigues and power struggles, with two more marriages before she died aged fifty-two in 1541. It was her great-grandson, James VI, who succeeded to the English throne in 1603.