The government's count of its citizens is of enormous value to historians.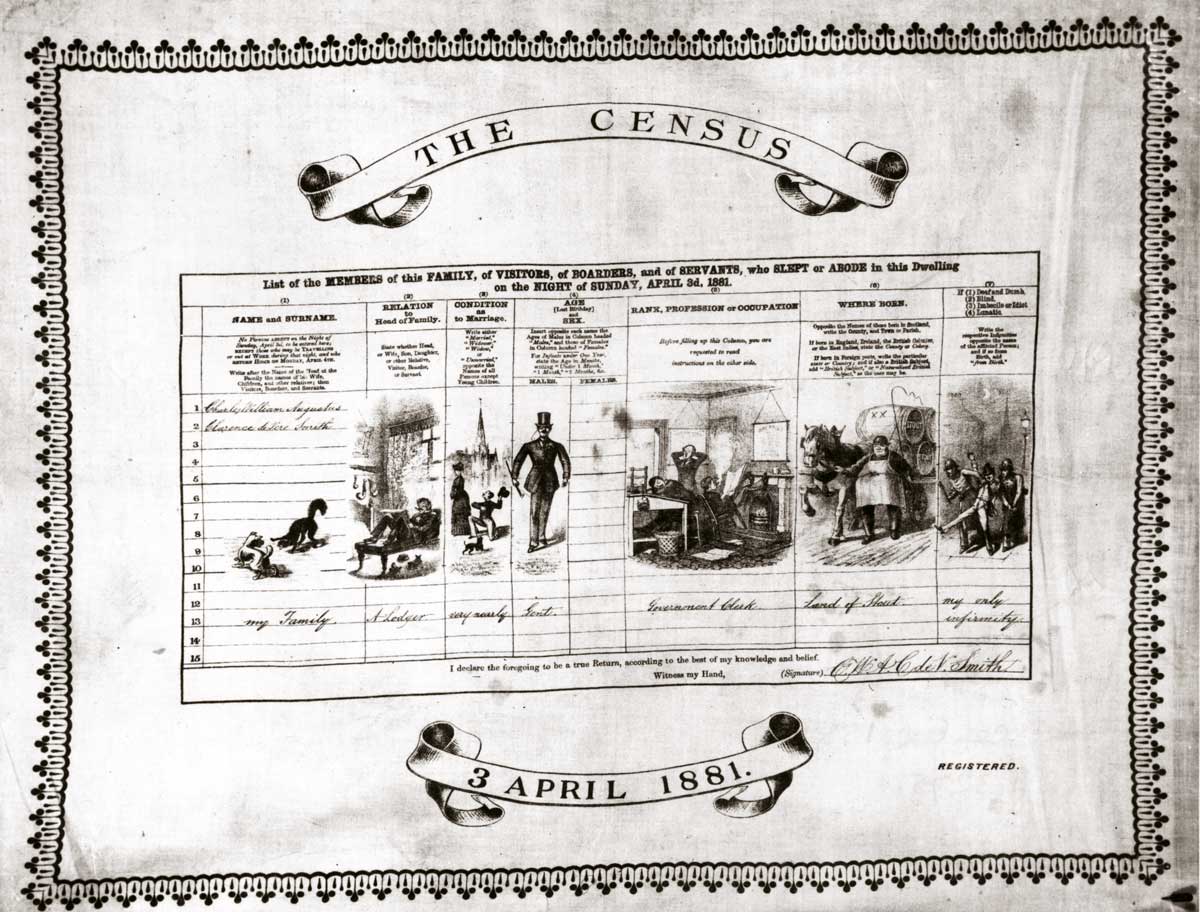 I recently embarked on the sort of history most commonly pursued in this country: genealogy. By comparison with what I usually work on, this means focusing on people who are, for me, startlingly close in time – only some 140 years or so ago – yet these folk, too, are seen only darkly; so much is unknown. Yet, one source that helps bring our ancestors into focus is the census.
Censuses aim to produce an official count of the population. Although they date back thousands of years and England has had its fair share of similar data-collecting tallies – the Domesday Book of 1086, which recorded taxable landholders (so no women and children), or the hearth tax of 1662, which depended on finding out the number of 'firehearths and stoves' in every dwelling – the first modern European census, counting all people and households, seems to have been that of Sweden and Finland in 1749. England followed suit in 1801 and, every ten years since except 1941, everyone has been required on the same day to answer the same core questions, giving us decennial freeze-frames of the population. 
In 1800, no one knew the population of England and Wales; in 1801, they learnt that it was 8.9 million. At first it was not designed to provide huge amounts of information about individuals. Only from 1841 were names listed: first name, surname, plus age (rounded to the nearest five years), sex, occupation and place of birth. In 1851 middle names or initials were added, plus the relationship of each person  to the head of the household,  marital status, disabilities and exact age and address. In 1891 the census also asked about employment status. More information was sought with every round. In 2001, citizens were additionally asked their ethnic group, religion, state of health, caregiving commitments, qualifications, mode  of commuting, number of hours worked, type of accommodation, whether they owned or rented, number of rooms and floors, if they had central heating and so on. The questions proliferate because such data has all sorts of statistical and planning uses for government.
But the censuses have historical value, too. The manuscripts capture people who otherwise leave no trace. This is patchy: few records survive from 1801 and 1811 and only excerpts from 1821/31, while the 1931 census for England and Wales was destroyed by fire in 1942. No census was taken in 1941 because the country was at war. And the manuscripts, which allow us to track down individuals, are only released in England 100 years after the census was conducted (so those named are dead; though Canada releases them after 92 years). 
The 1921 census is only due online in January 2022, but the records of 1841 to 1911 are immensely valuable for tracing lost ancestors. I learn, for example, where one of my great-great-grandfathers, William Wynn Robinson, a Unitarian minister, lived in Gainsborough, Lincolnshire, and that he housed and educated four schoolchildren besides his own. I learn that his wife, Emma Clephan, was the daughter of a baker from Stockton-on-Tees. 
I can compare their single domestic servant in 1881 with the nurse, cook, housemaid, parlour maid and nursery maid of another great-great-grandmother in Hampstead. The manuscripts are only as dependable as those who created them. Until 1911 they were compiled by enumerators – trained census-takers who went door-to-door – and who sometimes made mistakes, while the people they asked lied or forgot. Rev. Robinson gave his place of birth as Manchester in 1861, 1881 and 1891; as nearby Salford in 1871, but as Kendal, Westmorland in 1891. What looks like objective categorisation was often anything but. Patriarchy ruled: in the 1911 census, one great-grandfather, 24-year-old medical student Frederick Martin Lipscomb, was given as the 'head' of the household, ignoring his 49-year old widowed mother. In 19th-century Canadian censuses, ethnicity was recorded by the (literal) colour of skin with no scope for acknowledging mixed race, while British censuses in India forced those with syncretic beliefs to choose 'Hindu' or 'Muslim' (when religion was not a category of data collection at home).
But, though flawed, they are still immensely valuable to the historian and the genealogist. As the population has grown (on the last census day,  27 March 2011, it was 56,075,912) and the questions proliferate, they are also becoming expensive. As a result, 2021 is set to be the last census and what I wonder is: what will this mean for the historians of the future?  One hundred and forty years seems a short time. In 2162, our descendants might try to piece together our lives but, after 2021, it is possible the records will go dark for us all. 
Suzannah Lipscomb is Professor of History at the University of Roehampton and author of The Voices of Nîmes: Women, Sex and Marriage in Early Modern Languedoc (Oxford, 2019).