Madame de Pompadour: The Other Cheek
Colin Jones and Emily Richardson reveal a little-known collection of obscene and irreverent 18th-century drawings targetting Madame de Pompadour, the favourite mistress of Louis XV of France.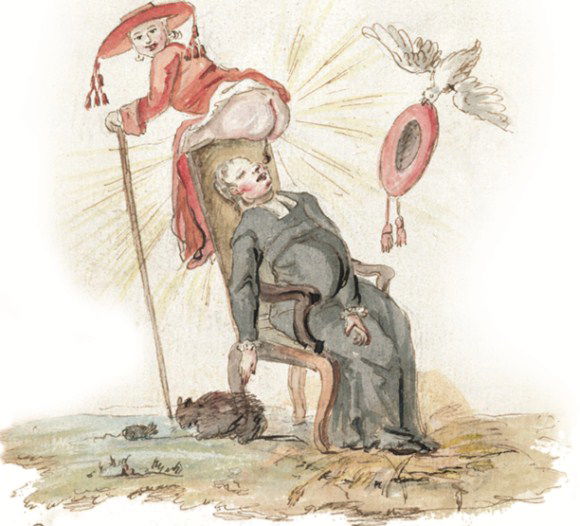 A woman dressed in a cardinal's robes is squatting on the back of a chair, positioning her exposed behind so that she can defecate into the gaping mouth of a sleeping cleric. A dove hovers close by, bearing a winged cardinal's hat. This obscene 18th-century image (shown above) displays a kind of French humour – crude, anti-clerical – that forms part of a long, Rabelaisian tradition. Yet what makes it both astonishingly bold and also highly unusual in its substance and context is that it represents Jeanne-Antoinette Poisson, Marquise de Pompadour (1721-64), Louis XV's mistress, and her political client, the Abbé (soon to be Cardinal) Bernis. The caption reads 'les biens viennent tous ensemble' – 'all good things come along together'. Text and image evoke the moment in December 1758 when Bernis received his promotion to the rank of cardinal, which was intended to give him eminent authority within the royal council. Yet at the same moment that the good news came through from Rome, the king dismissed Bernis and sent him into exile – allegedly under Machiavellian instruction from Bernis' hitherto patron, Pompadour herself. There is no disputing where power lies in this picture: the arse of Madame de Pompadour.