Using violence as a response to oppression and surveillance can both divide and unite communities.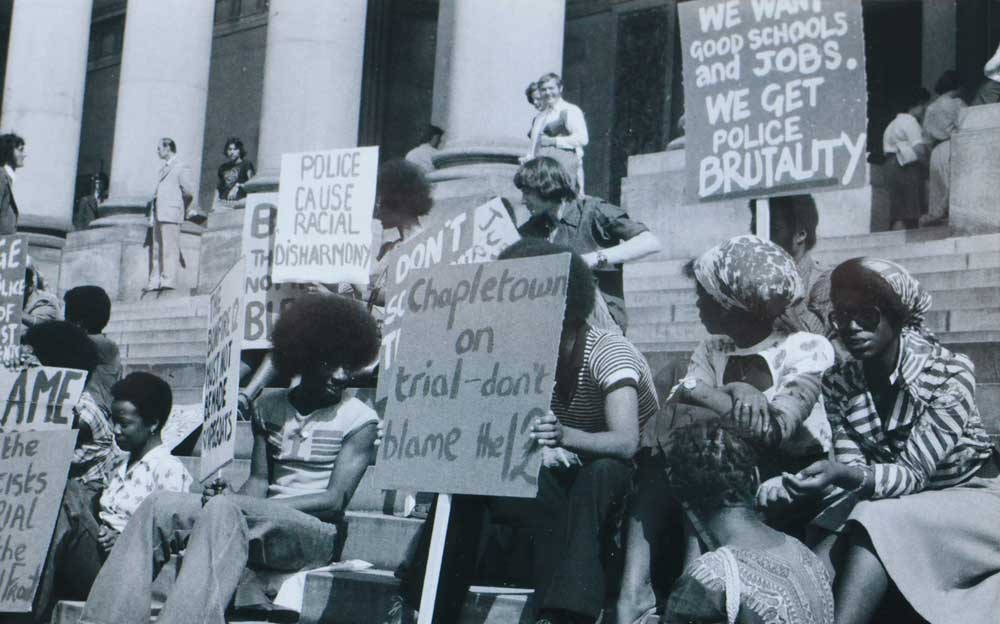 'We do not advocate unprovoked violence but if we are attacked then we are left with no alternative but to defend ourselves', the community newspaper Chapeltown News argued in October 1977, nearly two years after Black young people clashed with police on Bonfire Night 1975. Chapeltown is a multicultural working-class suburb of Leeds that many Caribbean migrants relocated to throughout the postwar period. Black people in Chapeltown had different opinions of the violence of that night and, two years later, continued to dispute whether it was justified.
West Yorkshire Police was known for its aggression towards Black communities in Leeds – a city with a reputation as a hotbed for racism due to its connections to the National Front. After years of abuse, in 1969 uniformed officers harassed a homeless man, David Oluwale, to his death, and young Black men were more likely to be stopped and searched under the SUS ('suspected person') laws. Such hostility worsened after Peter Sutcliffe, the 'Yorkshire Ripper', murdered Wilma McCann a few days before the Bonfire Night incident of 1975. Many residents have recalled that officers harassed Black men in the streets and their homes because the police chose to ignore the accurate witness description of Sutcliffe provided by Marcella Claxton after she was attacked.
There was a minor incident between young people and the police after emergency services interrupted celebrations on Rossington Grove on Bonfire Night in 1974; hoping to avoid a repeat, the police and community representatives agreed that there would be limited surveillance the following year. Nonetheless, on 5 November 1975 officers were spotted near to approximately 100 young people who had gathered for the celebrations. Frustrated by the overt surveillance, some of those in attendance threw fireworks at the police cars, which triggered more violence against the officers – many were injured and two policemen nearly died after their car hit a tree. Officers made aggressive arrests that night, including that of a local white socialist who had been taking photographs, but who was later falsely accused of orchestrating the uprising. Over the following days further arrests were made in the local school after teachers allowed officers to illegally question minors. The 11 Black boys who were selected as scapegoats were aged 14-18, with the exception of one, David Cohen, who was 21. They were charged with at least 40 offences ranging from 'Criminal damage on a WYMP car' and 'Affray' to 'Common assault' and 'Possession of an offensive weapon (a stone)'.
The uprising was significant because it constituted the community's first mass violent confrontation with the police and prompted disagreements over the 'correct' way to protest. Many, particularly older people who had grown up under Caribbean colonial systems, disapproved of the use of violence against authorities: 'The youth had to realise that there were certain parameters', recalled one. The main local body for Caribbean migrants declared: 'The United Caribbean Association regrets the unfortunate incidents of Bonfire Night.' On the other side was the Chapeltown News Collective, who argued: 'The youths' action has in fact given strength to all of us who are fighting for a better life.' London-based anti-racist organisations such as the Race Today Collective and the Black Parents Movement helped generate support for the defendants. John La Rose (founder of the Parents Movement) wrote to the United Caribbean Association (UCA) about unity between students and parents: 'We see this kind of alliance as fundamental to all the struggles the black community will have to wage in future in this society.'
Eventually a committee was formed, composed of older community leaders such as Gertrude Paul (the new chair of the UCA), junior UCA members like Nia Ward, and Annette Liburd and Fayola (Violet) Hendrickson, who were also members of the local radical arts group UHURU. Together they organised representation for most of the defendants, which included the high-profile anti-racist barrister Rudy Narayan. Community activism is, by its nature, personal: Paul provided her home as a workspace for the defence campaign and her daughter Heather, alongside local mothers such as Mrs Adams, looked after the committee. There were celebrations when most – but not all – of the defendants were acquitted by a white jury after the defence proved that the majority of the charges were fabricated or exaggerated. After the trial, a working-class juror told one of the defendants: 'Six of us have been fitted up by the police as well, we know they're liars.'
In light of the history of police hostility and corruption in Leeds, the Bonfire Night violence can be seen, as the sociologist Max Farrar argues, as a youth uprising against institutions that surveilled and persecuted poor communities. Nonetheless, the question of whether such violence was justified continued to trouble the community: the UCA, fearing a repeat in 1976, accepted funds to host Bonfire Night celebrations inside the community centre and the young people were instructed not to 'congregate on the street corners – go straight home' afterwards. The Race Today Collective and the revamped Chapeltown News Collective, now composed of younger radical Black activists, criticised the UCA for hosting a 'jailhouse Bonfire'.
Such disagreements naturally occur when residents act according to their differing aspirations for the community, but understanding them is an important way in which we can humanise the portrayal of Black Britons, who are often presented as a monolithic group, thinking and behaving as one. Sometimes such presentations are overtly racist, but on other occasions they attempt to present Black people as perpetually united in their struggle. Our differences and disagreements are qualities that make us human.
Olivia Wyatt is a PhD student at Queen Mary University of London researching Black British history.
Note from the author: I would like to thank Fayola Hendrickson, Nia Ward, Heather Paul, Yvette Smalle, Susan Pitter, Dawn Cameron, Icilma Warner, Khadijah Ibrahim, Max Farrar, Claude Hendrickson and Melvyn Wyatt whose oral histories have been fundamental to my knowledge of Chapeltown.