Franco Rosso's film Babylon presented the lives of Black Londoners in a way few had done before. 
In 1981 long-standing anger about racism, unemployment and social deprivation broke out into violent protests across many of Britain's inner cities. It began in Brixton in April, when heavy handed police tactics provoked three days of rioting, and similar outbreaks followed across the country, in Birmingham, Bristol, Manchester and Liverpool. The magnitude of the violence, the worst on mainland Britain since 1945, meant that Margaret Thatcher's government could not dismiss this as wanton criminality. She had no option but to commission an official inquiry.
This inquiry was led by the veteran Law Lord Leslie Scarman, known for his more liberal views, who, in collecting evidence, organised a private viewing of Babylon. Directed by Franco Rosso and released in November 1980, this film was one of the few to authentically portray the lives of young Black Londoners on their own terms and in their own language, not least in terms of the tensions between them and the police. Through the film, Scarman got an understanding of racism from a young Black perspective and as such, it was one of the reasons why, when he published his report later that year, he concluded that 'racial disadvantage was a fact of British life'. 
Following the sound system Ital-Lion around south London, Babylon gives an inside view into the extraordinary music culture that came with the African-Caribbean migrants who arrived as Commonwealth citizens after 1948. A sound system is a collaborative musical ensemble, with an operator of microphones, speakers and turntables; a selector who chooses the music and puts on the records; and an MC who interacts with the crowd. In preparing to do battle with the Jah Shaka sound system – then considered the very best – the Ital-Lion team are scouring Brixton's specialist record shops for a killer track: the one-off dub plate that will win over the crowd and bring them victory.  
Shot on location in Deptford, New Cross and Brixton, Babylon captures the essence of this culture, which, for the curator Paul Goodwin, who grew up in London during this time, was characterised by 'the constant battle with hostile and racist forces (police, racist neighbours) that wilfully misunderstood sound systems … and saw them as threats to "law and order" and "respectable" neighbourhoods'.
Above all, we see how sound system culture was a cornerstone of African-Caribbean life, a point underlined by Kelly Foster, music historian and south Londoner:
By the time of the film in 1980, sound system culture in the UK is about twenty-five years old. Babylon is a reminder of something I often take for granted, of how sound system culture permeated through the lives of so many African Caribbean people in the UK: from front room to church hall to shebeen. 
We see, too, how the film's sound system culture, also at the core of the Notting Hill Carnival from the mid-1970s onwards, was a defining aspect of what the cultural historian Paul Gilroy has termed an 'unruly post-colonial multiculture', whose sounds challenged Britishness because they connected with Africa and the Caribbean through the long histories of resistance to slavery and colonialism. 
In this way Babylon documents an immediate post-imperial moment, even if the British Empire is not explicitly evoked: one where hostility to Black people within the new nation state is a given, whether it be Enoch Powell's infamous April 1968 'Rivers of Blood' speech, the rise of the far-right National Front or Thatcher's 1978 television interview when she claimed that: 'People are really rather afraid that this country might be rather swamped by people with a different culture.'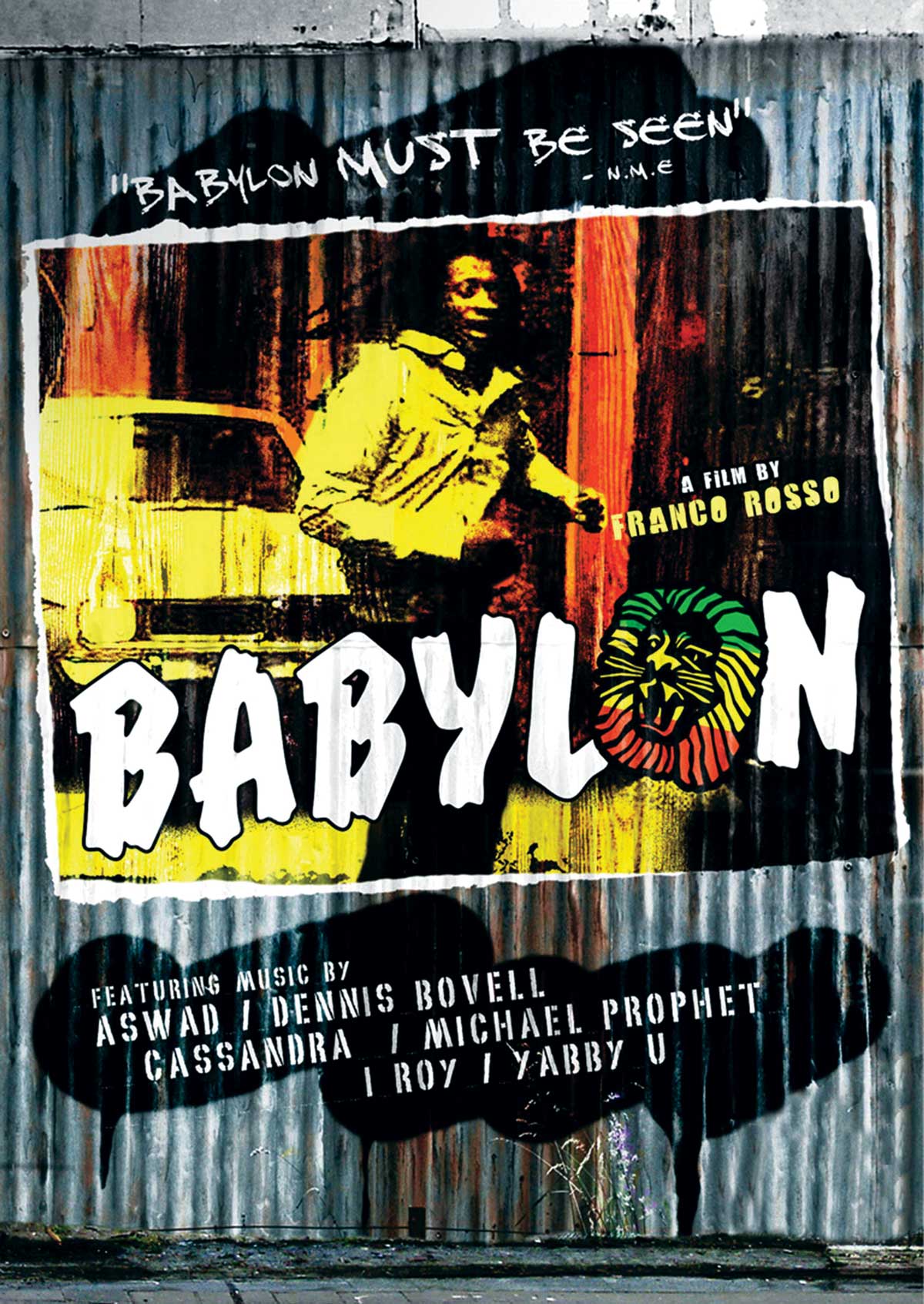 Such hostility explains why Rosso wanted to make Babylon. Born in Turin in 1941, it mirrored his own experiences of racism as the son of Italian migrants whose parents arrived in London in the 1950s: 'I had an accent … They called me names and beat me up because I was an "eye-tie", and the "eye-ties" had lost the war.' Such empathy, however, came with an understanding that his experiences were different: 'If you kept quiet, nobody knew. Whereas, of course, when West Indians came along they were very easily picked off because of their colour.' 
During the 1960s Rosso came alive to the political possibilities of film, first as a student, then as assistant director to Ken Loach on his 1969 film, Kes. What followed was a series of hard-hitting documentaries, including one on the reggae poet Linton-Kwesi Johnson, which set the scene for Babylon.  
The film was a collaborative process. Chris Menges' cinematography brilliantly depicts the then urban decay of south London while Martin Stellman's script, co-written with Rosso, originated in their work in youth theatre at the Albany Empire in Deptford, where many who attended were part of the sound system subculture. As a result, the film accurately captures the accents of Black Londoners in a way few had done before. Moreover, Babylon features a crop of talented young Black British actors – Trevor Laird, Brian Bovell and David N. Haynes – whose own experiences shaped the film's authenticity, giving it a real edge, as did the use of local Black non-professional actors.   
Equally important is Denis Bovell's soundtrack, which creates a series of moods, from humour through to defiance and outright mental anguish. Indeed, in the lead up to the final showdown with the police, Bovell conveys the psychological disorientation of the main character – Blue, played by Brinsley Forde from the reggae band Aswad – through electronically infused music that exudes menace and foreboding. 
Babylon only gained a small audience on its release – partly because of the X certificate given to it, partly because it was shown only in independent cinemas – although it quickly assumed cult status. When it was finally released on DVD in 2009, it was embraced by a new generation. The grime artist Dizzee Rascal took the toast that Blue angrily delivers at the film's climax – 'Can't Tek No More' – and made it into an anti-racist anthem. He enlisted Forde to sing the hook rather than simply sampling it: an emphatic statement of Babylon's prescience.
Martin Evans co-curated the exhibition Paris-Londres. Music Migrations. 1962-89 at the French National Museum of the History of Immigration, March 2019-January 2020.