This Great Stage of Fools
Is King Lear the Shakespearean tragedy for a world of capitalism and catastrophe?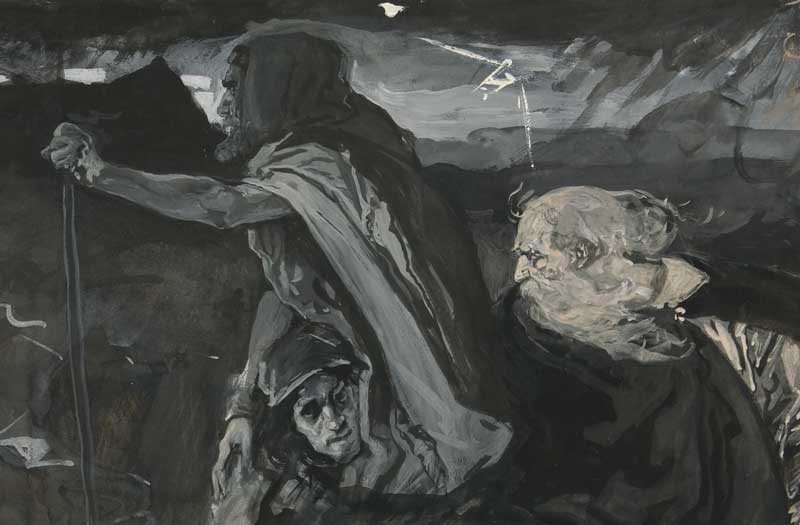 First aired in 2018, the HBO TV series Succession tells the story of Logan Roy, CEO of Waystar Royco, a vast media conglomerate. It begins with the ailing Roy, played by Brian Cox, reneging on his retirement and succession plans, leaving his children to fight for control of the company. Succession wears its Shakespearean influences on its sleeve. Cox, a celebrated Shakespearean actor, has compared Roy to the Roman heroes Titus Andronicus and Julius Caesar. Characters quote Shakespeare, while the youngest Roy, Roman, makes a clumsy allusion to Hamlet, a play he has clearly not seen: 'I land the deal, I kill Kendall, I am crowned king. Just like in Hamlet … if that happens in Hamlet.' 
But perhaps the most obvious Shakespearean influence on the series is King Lear. Like Lear, Roy is an increasingly 'infirm' patriarch, whose succession plans are left in tatters. King Lear begins with Lear announcing his 'sudden' decision to abdicate and split his kingdom between his daughters – Goneril, Regan and Cordelia. Cordelia refuses to tell Lear how much she loves him, leaving an irate Lear to disown her and split the kingdom between Goneril and Regan. The two conspire against Lear and, soon enough, also fall into rivalry, while Cordelia returns at the head of an invading army to 'rescue' Lear and restore him to the throne. Her plan fails and the entire Lear family is destroyed. 
Succession moves the action of King Lear into the modern world of globalised capitalism and, through the ageing figure of Roy, poses questions about an increasingly moribund system and its legacies. What is the next generation inheriting?
Succession is, however, not the only contemporary work to use King Lear to reflect on the crises of late global capitalism. Since the economic crash of 2008 many adaptations have set the action in corporations, with Lear transformed from a king into a CEO. 
Preti Taneja, in her remarkable 2017 novel We That Are Young, turned Lear into Devraj Bapuji, CEO of a vast corporation at the heart of Indian life, but with interests around the world. Devraj cedes control of his company to his daughters. What he bequeaths, however, is a world in turmoil: the company has overseen a growing gap between rich and poor, the rise of far-right and nationalist politics, a media empire that purposefully distorts reality and environmental damage wrought by industrial pollution and climate change. 
Edward St Aubyn made the same move as Taneja in his novel Dunbar (2017). Like Logan Roy, Henry Dunbar is the head of a global media corporation, but becomes the victim of his own values of cut-throat competition. Unseated in a boardroom coup, he finds himself confined to a care home. Once all-powerful, Dunbar is transformed into a destitute figure unable properly to feed or clothe himself, wheeling madly between insight and inanity. 
In his 2010 play The Gods Weep Dennis Kelly's Lear – Colm – is once again a CEO, who presides over intense boardroom infighting. This turns into a full-scale world war that leads to dwindling food reserves and even acts of genocide. 
In recent times, King Lear has been used to interrogate a global capitalist system in crisis. But the play's contemporary adapters are part of a longer cultural lineage. Since the Second World War and the catastrophes of Auschwitz and Hiroshima, King Lear has come to displace Hamlet at the summit of the Shakespearean canon. Its vision of 'dark and deadly' devastation certainly seems more relevant than the fraught introspection of Hamlet to an era wracked by upheaval and disaster. The play depicts the collapse of a society as it is convulsed by inter-generational conflict, war, worsening poverty, famine, disease and the destruction of the environment. 
As early as the late 1930s and early 1940s literary critics from R.W. Chambers to John Danby were aligning King Lear with a world of total warfare and the concentration camp, while in the 1960s and 1970s the play's darkly grotesque humour and its vision of utter ruin seemed to resonate with the insanity of the Cold War and the policy of mutually assured destruction. For his 1971 adaptation Lear the playwright Edward Bond even had his Lear engaged in building a vast wall in an obvious visual allusion to the Berlin Wall. The 1985 film Ran, a Samurai adaptation of King Lear by Japanese director Akira Kurosawa, began with a shot of billowing clouds that evoked the nuclear fallout of Hiroshima and Nagasaki, while in his 1987 film of the play Jean-Luc Goddard used King Lear to confront the Chernobyl catastrophe. Jane Smiley adapted the play to reflect on ecological concerns and gender-based violence in her 1991 novel A Thousand Acres and in 1995 Sarah Kane also drew on the themes and images of King Lear in her play Blasted to respond to the Bosnian war, the concentration camp at Omarska and the massacre at Srebrenica. 
Over the 20th and 21st centuries writers and artists have turned to King Lear to survey the wreckage of history and to plot a new path through the ruins. It has even been called upon in the era of Covid: 1606, when the play was originally performed, saw the return of plague to London, or the 'plagues that hang in this pendulous air', resulting in the closure of theatres. Its images of disease, death and chaos have led some to call King Lear 'a lockdown play'.
The Shakespeare critic and writer Emma Smith has recently argued that Othello is the Shakespearean tragedy for our globalised 21st century. But it is King Lear that still dominates our cultural landscape, informing some of the most striking interpretations of Shakespeare to emerge in recent times. 
When he addressed the UK Parliament, the Ukrainian president Volodymyr Zelensky – a former actor – quoted Hamlet. 'Our question', he said, 'is the Hamlet question: "to be or not be." We have decided "to be."' But consider his aged opponent, Vladimir Putin: deeply paranoid, deluded by a grandiose sense of history and his place in it, and trying to secure his legacy even as he (if rumours are to be believed) 'crawls toward death'. It is hard not to be reminded of Lear. 
Richard Ashby is the author of King Lear 'After' Auschwitz: Shakespeare, Appropriation and Theatres of Catastrophe in Post-War British Drama (Edinburgh University Press, 2021).