The French Surrender Malta
Napoleon's forces surrendered to the British in Malta on September 5th, 1800.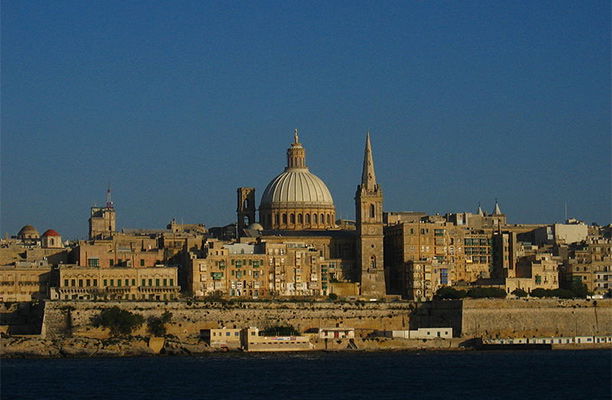 The knights of the Order of St John of Jerusalem, or Knights Hospitallers, driven out of their stronghold of Rhodes by the Turks, moved to Malta in 1530, making Valletta one of the strongest fortress cities in Europe. In 1798, however, Napoleon Bonaparte arrived on his way to Egypt and demanded that his ships be allowed into the Grand Harbour to take on water. When he was refused, he put troops ashore and sent the Knights packing. Many of the islanders were relieved to be free of them, but as the French began to apply sound revolutionary principles involving heavy taxes, higher interest rates and an attack on the Roman Catholic Church, relief turned to resentment. An uprising in September confined the French garrison of some 4,000 men under General Vaubois to Valletta and the other fortified towns.
At this point the British intervened. A modest naval force was sent to assist the islanders, commanded by Captain Alexander Ball. Ball mounted a blockade and smoothed over the mutual suspicions and hostilities of the Maltese insurgent leaders. The siege settled down to a question of who would starve to death first, the French or the Maltese. In December 1799 British troops arrived to increase pressure on the French and in February 1800 reinforcements came from the Two Sicilies. The islanders were suffering desperately from hunger and disease, but the plight of the French was worse: by August they had eaten all the dogs and cats in Valletta.
In early September Vaubois sent word to Major-General Henry Pigot, commanding the British troops, that he was ready to surrender; the capitulation was signed on the 5th after negotiations to which the Maltese were not invited. The French were to withdraw to Marseilles - the British had no way of feeding them if they were taken prisoner - while the British wondered whether to return Malta to the Knights of St John. Ball urged keeping the islands as a naval base and a centre for trade. Nelson disagreed and the London government bided its time, while Ball was left to run Malta.
In 1802 Malta was returned to the Order of St John as part of the Peace of Amiens, but a delegation of Maltese arrived in London, demanding to be placed under the rule of George III and his successors. The peace did not hold, Nelson changed his mind, and the British remained in control. Ball, who who loved Malta and was very popular there, ran the islands until his death in 1809. In 1812 a commission reported it 'a matter of gratification to find that in opposition to some representations made by a small disaffected party in the island, the great mass and body of the people were happy and contented; warm in their professions of attachment to Great Britain, and thriving in wealth and population to a degree almost unprecedented.'