The Founder of the Tate Gallery Dies
Sugar magnate and art lover Henry Tate died on December 5th, 1899, aged 80.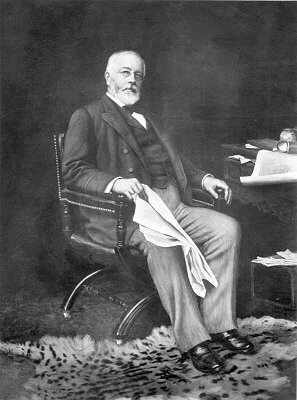 Sugar magnate and art lover, Henry Tate was the original 'Mr Cube'. Born at Chorley in Lancashire in 1819, the seventh son of a Unitarian minister, he left school at thirteen and went to work in an elder brother's grocery shop in Liverpool. When he was twenty he acquired a Liverpool grocery business of his own, which he shrewdly expanded. By 1855, he had six thriving shops in Liverpool, Ormskirk and Birkenhead. In 1859 he made a leap into the sugar business.
Sugar refining had started in Liverpool in the 1670s, but two centuries later had not developed beyond a few small firms, producing on average only about 400 tons a week each. Tate became a partner in one of them, and soon took it over completely. The refiners still produced the traditional tall sugar loaves, which grocers had to break into pieces for sale to housewives. In 1872 Tate was shown a new method of cutting the loaves into convenient small cubes. He grasped its importance, bought the license and made his fortune, and the sugar loaf disappeared into history.
Tate made huge sums of money and gave away huge sums, in Liverpool and in South London, where he lived at Park Hill, an ample mansion overlooking Streatham Common (now occupied by a convent). He built free public libraries in Streatham, Brixton and Lambeth, and spent money on contemporary British art. He knew what he liked, and he liked sentimental pictures, paintings that told a story, animal subjects and landscapes. He bought works by Millais (including Ophelia and The North-West Passage), Stanhope Forbes, Luke Fildes and others, which he displayed in his own gallery at Park Hill. Quiet, shy and modest, he made friends with the artists and entertained them at a sumptuous banquet at Streatham every year, feasting them on the early strawberries from his glasshouses.
The idea of a national collection of British painting and sculpture had begun with the will of Sir Francis Chantrey, who in 1840 left money to create one, but nothing was done until Tate took matters in hand and resolved to found a public gallery of British art with his own pictures. He was encouraged by his lively second wife, Amy Hislop. They were married in 1885, when he was sixty-six to her thirty-five, and she was socially ambitious. Her husband's offer in 1890 to fund a new gallery if the government provided a suitable site and an annual grant aroused great public interest. Punch started calling him 'the Potent Tate', while intellectuals sneered at the magnate's sugary taste in art.
After years of foot-dragging by the authorities, a site was found. The grim Millbank prison, from which so many convicts had been transported to Australia, was to be demolished. The new gallery building was paid for by Tate and designed by his favourite architect, Sydney R.J. Smith. It was opened in 1897 by the Prince and Princess of Wales (the future Edward VII and Queen Alexandra) in the presence of Mr and Mrs Tate. Tate hated public speaking and had written his speech out beforehand. There were sixty-five pictures from Tate's own collection, with others acquired under the Chantrey Bequest. At Tate's suggestion, the new institution was officially the National Gallery of British Art, but to his dismay everyone always called it the Tate Gallery.
Tate had retired at the age of seventy-seven in 1896. He was created a baronet in 1898 and paid for extensions to the Tate which virtually doubled its space. He also gave more pictures and Lady Tate presented a famous Millais, The Childhood of Raleigh, after her husband's death at Park Hill, aged eighty. He was buried in a terracotta mausoleum in Norwood Cemetery, which Smith had designed for him years before his death. The gallery founded by a man of simple, conventional tastes would eventually become a stronghold of the avant garde.