Two Hindu gods discover an abandoned child while following the wind's path.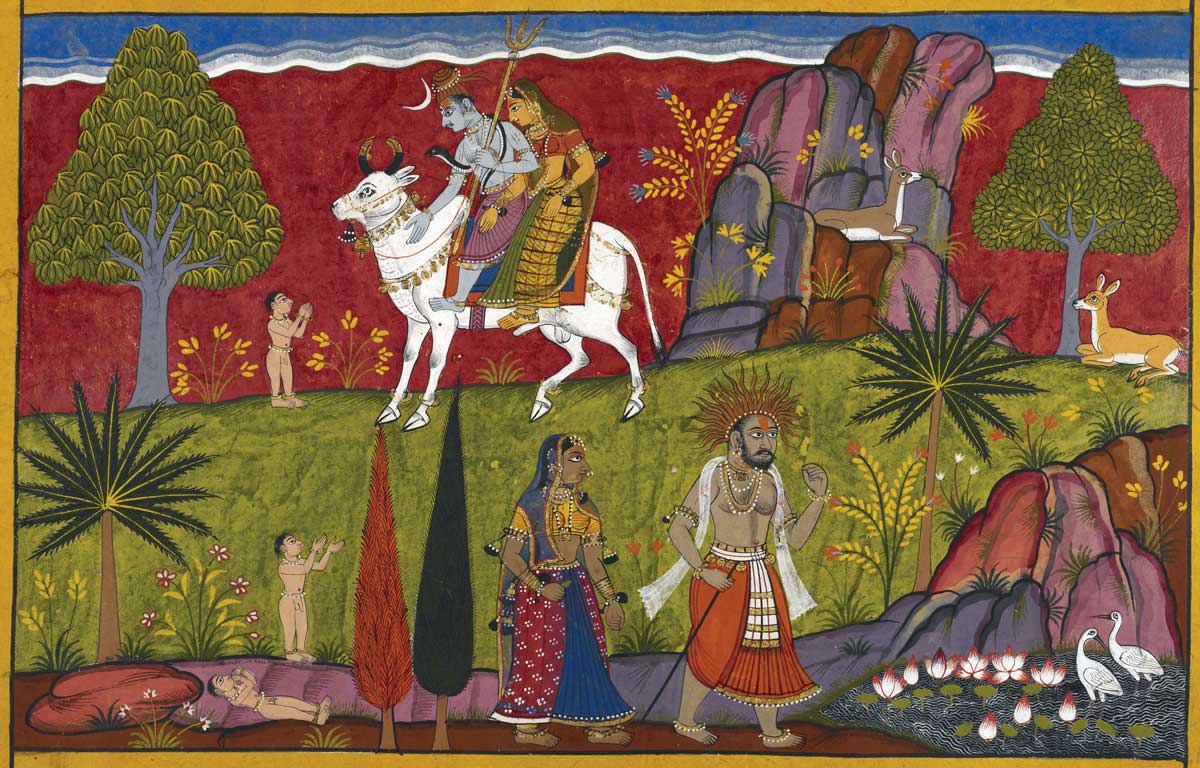 The Ramayana is one of the two great ancient Sanskrit epics from India (the other being the Mahabharata) and is one of Hinduism's foundational texts. Thought, in its earliest sections, to date from between the seventh and fourth centuries BC, it forms part of the cultural consciousness across the Indian subcontinent and Southeast Asia. The Ramayana covers the journey of prince Rama and his wife Sita, and is full of poignant stories and captivating characters through which the importance of virtue and duty emerge as central themes. The scene depicted in this painting is of Sukesha's rescue by Shiva and Parvati, who are seen riding their vahana, or animal vehicle, the Nandi Bull. 
Sukesha, 'a child as beautiful as a cloud … and as radiant as the autumnal sun', has been abandoned in the mountains by his mother. While meditating, Shiva – one of the great trinity in Hinduism, with Vishnu and Brahma – hears Sukesha's cries for help. With his wife Parvati, the Hindu goddess of universal energy and motherhood, they 'follow the path of the wind', riding the Nandi Bull, to Sukesha. The naked infant Sukesha is variously shown with his folded fist in his mouth, crying aloud and pleading for help to Shiva and Parvati. Parvati takes pity on the child while Shiva, moved by the compassion shown by his wife, bestows on Sukesha various gifts, including immortality, and makes him immediately a grown man who is virtuous and highly intelligent. The adult Sukesha is shown in the foreground with his wife, Devavati, who in turn gives birth to three sons, Mali, Sumali and Malyavan, all of whom have their own stories in the Ramayana.
This painting was just one of over 400 similar images, originally bound in seven volumes (corresponding to the seven books of the epic), commissioned by Maharana Jagat Singh (1628-52), the ruler of Mewar (now part of Rajasthan). The images were created by a group of artists in his court studio at Udaipur, between 1648 and 1653. Part of the manuscript is now in the collection of the British Library known as the Mewar Ramayana.