As the accession of Edward VII shows, a new British monarch must represent the nation's values – whatever that nation and those values are.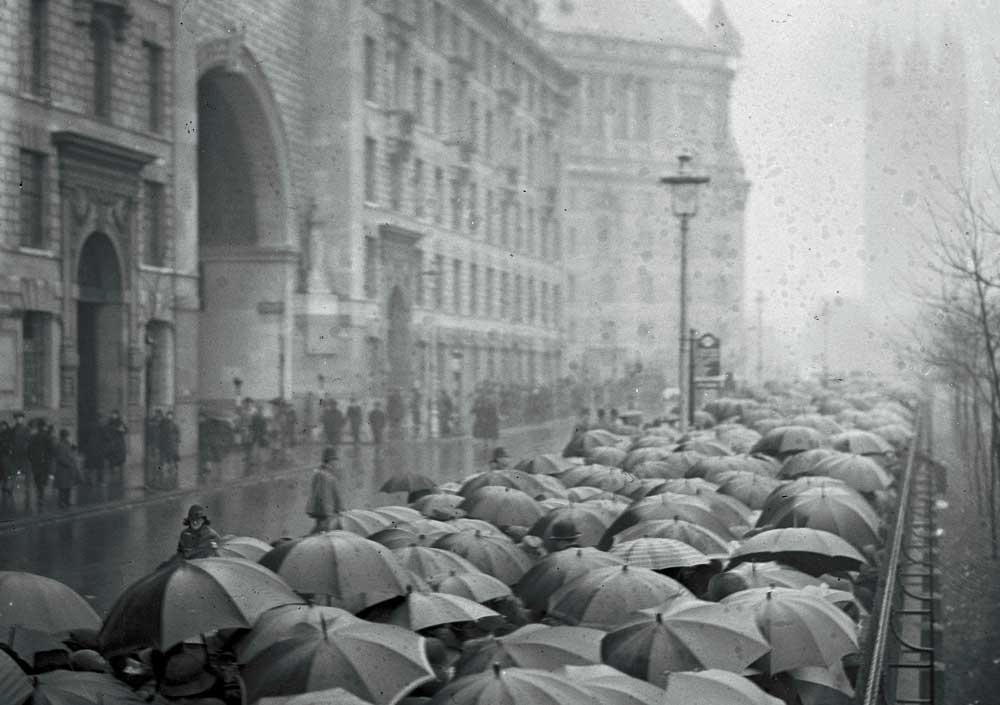 The death of a sovereign provokes hyperbole and anxiety. Initial press reactions to Queen Elizabeth II's death have credited her with assuring the stability of the British state or successfully dissimulating the violent end of the British Empire. They have speculated, feared or hoped that Charles III will not command her inscrutable authority either within the United Kingdom and across the Commonwealth. Charles looks like an unlikely object for 'British Shintoism', the almost religious devotion she attracted, not least because the media has long feasted on his foibles: his failed first marriage, his brother's misdoings, his children's quarrels and his opaque finances. These shortcomings look the more dangerous as energy prices and social inequalities spike. 'When the smoke clears from the gun salutes and the queen is laid to rest at Windsor Castle', the historian David Armitage told the New York Daily News, 'it will be painfully evident that the national cohesion she embodied has gone forever.' Past disclosures of Charles' attempted interventions in policymaking raise the spectre of an activist king, unable to keep the silence expected of constitutional and democratic monarchs. His 'missteps', wrote Armitage, may well end the monarchy.
Grateful sorrow
Charles III's challenges naturally reflect separatist tensions within the UK, its slump as a global power and the calls for a post-mortem on the monarchy's complicity in colonialism. But the questions over his personal popularity and fitness for rule are reminiscent of an earlier accession: that of Edward VII. When Queen Victoria died on 22 January 1901 a wave of mourning was triggered, the careful orchestration of which prefigured responses to Elizabeth II's death. A decade later one of her favourite clerics evoked a 'grateful sorrow which was perhaps more world-wide than any single human sentiment has at one time ever been'. He and other eulogists argued that her virtues had guaranteed the prosperity – even survival – of the UK and the British Empire.
The death of Victoria coincided with a wobble in British power. British armies were struggling to defeat the Boers in South Africa in a war deeply unpopular in parts of the Empire and across Europe. In England, the Prince of Wales had tried the public's patience while waiting for the throne. Straitlaced people were appalled by his court appearances, first to deny allegations that he was a guilty party in the Lady Mordaunt divorce trial and later as a witness in a case over high-stakes private gambling. Although the republican movement died down in the early 1870s, its press continued to mock his gluttony, grasping offspring and cruel devotion to shooting.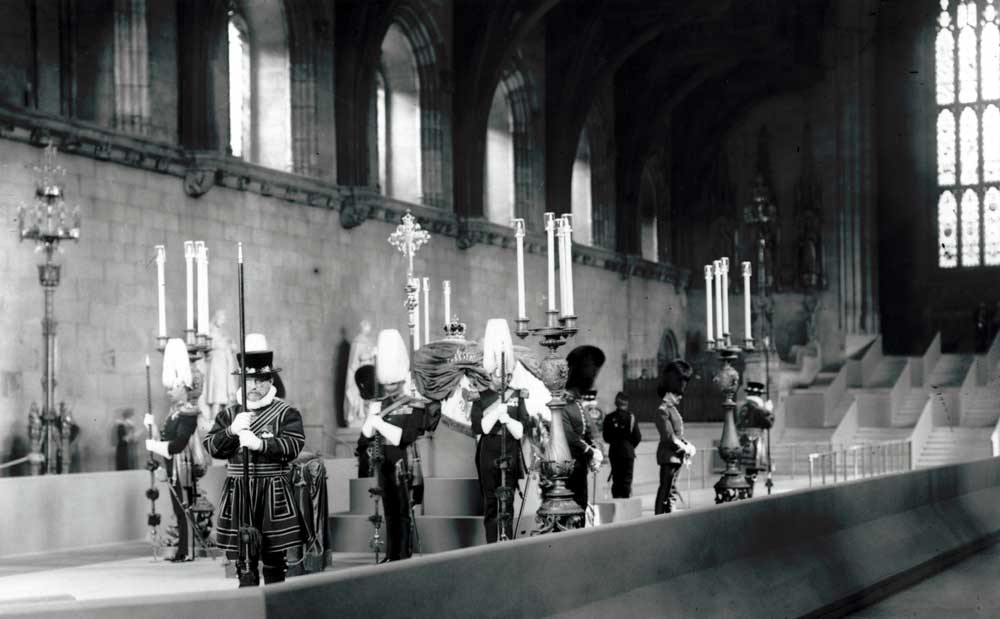 Here too, royal 'missteps' seemed likely. Yet by the time of Edward's sudden death in 1910 he was extraordinarily popular. When he became the first modern monarch to follow the former prime minister William Gladstone and lie in state in Westminster Hall, the queue to file past his coffin eventually reached seven miles in length, despite the rain. 400,000 people visited in all. The claim that Edward deserved this popularity had begun with his accession. Gilbert Parker, a Canadian novelist and Conservative MP for Gravesend, earned a knighthood by writing that Edward was 'urbane, strong, exacting, consistent, generous, simple, authoritative … qualities which go to make a successful constitutional sovereign'. Edward's biographers have extolled his conscientious approach to paperwork and wily diplomacy, instrumental in ending Britain's isolation in Europe. Academic historians of monarchy have been less starry-eyed, but in arguing for the importance of their field they present him as a consequential figure, endowed with the powers of patronage over the Church, colonies and armed forces which Victoria had so vigorously flexed. Yet, although involved in such achievements as the Entente Cordiale with France, he did not initiate them. And while he had visited both Canada and India, he was more interested in Continental watering places than in running his Empire. A regular if perfunctory churchgoer, he did not resemble his mother in seeking actively to govern the Church.
Seeing is believing
A more convincing case for Edward's agency has focused on his rehabilitation of the monarchy's representational role. Victoria's penchant for remote residences and the infirmities of old age meant that she never fully quit the seclusion she adopted after the death of Prince Albert in 1861. Her heir agreed with leading politicians that this was a dangerous abnegation of duty: monarchs had to be seen to believed. A stickler for uniforms, decorations and tailoring – just as Charles III is – Edward fulfilled his ceremonial and social duties with panache at a time when the mass media reported on them with ever more vividness. He stripped away the fusty excrescences of Victoria's court and dropped his first name 'Albert' for a more traditional regnal name. At Windsor Castle he had rooms full of moth-ridden royal gifts burned. Buckingham Palace's sepulchral interiors got a lick of gilt and were opened up to evening receptions. At Balmoral Castle, Edward hid a life-sized statue of Victoria's ghillie John Brown in the shrubbery and had his papers burned. He stopped her indulgent supply of whisky to the Highland servants and on the day of his coronation he presented her beloved Osborne House to the nation. One wing was subsequently developed as a college for naval cadets, officially opened by the king in 1904. Edward's one concession to sentiment was to rail off the private apartments in which Victoria had died.
New reigns often begin with such mild but heavily discussed kinds of modernisation. But a study of public reactions to Edward's accession and coronation reveals that opinion formers had primed him for success with a barrage of rhetoric. This convinced British and colonial publics that he would resemble his mother in being a monarch who not only respected constitutional proprieties but could share and attract the values of her religious subjects. Although church attendance was tailing off markedly in big cities, late Victorian and Edwardian Britain remained on many measures a 'faith society' in which leaders of the churches generally, and the imperial Church of England in particular, shaped how people talked about virtue. After decades on the throne, Victoria's death was – as Helen Thompson lately called Elizabeth's – a disturbing 'temporal rupture' for her subjects. But it handed immense emotional capital to Edward. Although Victoria's dynasty had often been successful in staging a happy 'family romance', misfortune has been just as integral to its demotic appeal. By 1901 death had become less an eschatological than an emotional event, with the deceased's destiny of less concern than the feelings of their loved ones. That made the Christian endurance of royal grief more significant than ever, evident in public interest in Albert Edward's sorrow at the death of his eldest son and heir in 1892.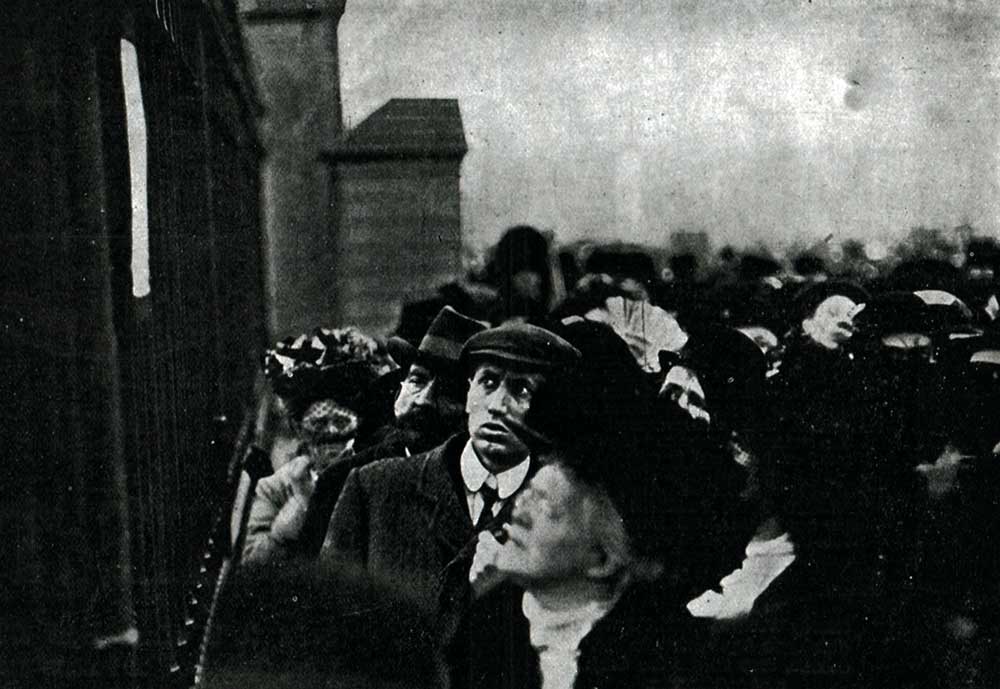 Acting as Victoria's chief mourner provided Edward with opportunities for displays of simple humanity. As the royal yacht carrying Victoria's remains from the Isle of Wight docked at Portsmouth, he had knelt in prayer next to the coffin and alongside his captious cousin Kaiser Wilhelm II, a gesture that presented the passage of power as an affecting family event. Preaching a sermon in Toronto, timed to coincide with Victoria's funeral, Canon Edward Welch observed that Edward's disclosure of his grief at his loss had given a 'glimpse into the character of that home circle of which she was the centre, and the influence of which she has done so much to keep up the standard of English family life'. Although a year of mourning ended with a January 1902 service at her Frogmore Mausoleum, Edward and his family remained committed to her commemoration. A month before his coronation he put up a stained-glass memorial window of the crucifixion in her chapel at Windsor Castle, with a dedication 'from her devoted and sorrowing son'. In December 1901 his eldest son George returned from a six-month colonial tour on which he had harvested tributes and unveiled statues to his grandmother. George had succeeded his father by the time he joined the kaiser in 1911 to unveil the most grandiloquent of tributes to her virtues, the Victoria Memorial on the Mall.
Temporal power, divine sovereignty
Victoria's memory not only outlived Edward but moulded what his subjects expected him to be: an exemplar and focus of Christian faith. Although Edward was in his private life a serial adulterer, the major events of his life could be plotted within a Christian drama of suffering and resignation. Preachers argued that he had always been in the hands of providence. After he narrowly avoided dying of typhoid fever in 1871 he and his mother had travelled through packed crowds to St Paul's Cathedral on 27 February 1872 for a solemn act of thanksgiving, the template for services across the UK and the Empire. Not long after his accession, providence struck again. In June 1902 Edward had surgery for an abscess, causing the last-minute postponement of his coronation and triggering debate about whether to move ahead with local celebrations around the country. But the churches hailed the mishap as a blessing, their leaders rejoicing that the rescheduled coronation on Saturday 9 August would be surrounded by less materialistic festivities than planned. One London journal mused that sickness had made Edward 'once more what the Church and mediaeval tradition made the ancient kings, a typical man; pain has anointed him before all the priests'. Edward's publicised fundraising for hospitals had long answered the republican question of what he did all day. His pale appearance in the Abbey deepened the impression that suffering had made him a compassionate and humble king. In sermons on the Sunday after the coronation and on the 26 October day of thanksgiving ordered for his recovery, preachers cited his 'deepest gratitude to Divine Providence for having preserved my life' in response to their prayers.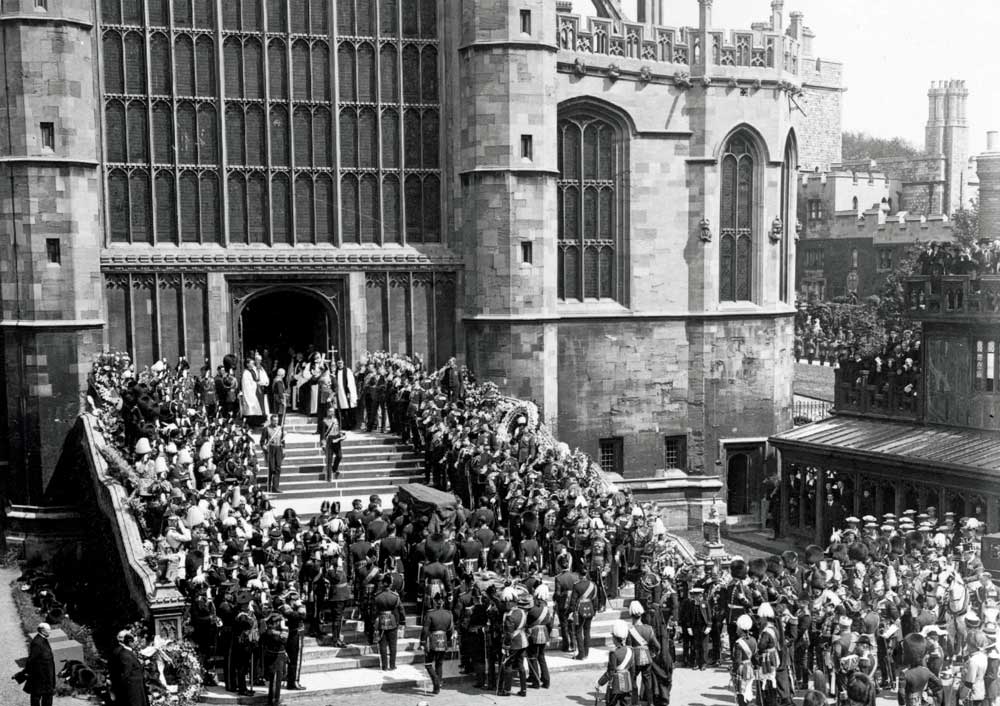 The coronation liturgy, which newspapers reported with antiquarian relish and whose hiccups they smoothed over, supported this hieratic view of monarchy. In his official history of the coronation John Edward Bodley admitted that, in dwelling on the king's archaic regalia, he and others fed the public's appetite for colourful 'anachronisms' at a time of anxiety at social change. But these were not merely invented or renovated traditions. Their meaning mattered, too: it sacralised the monarch by subordinating his temporal power to divine sovereignty, with the orb he held placed firmly beneath the cross. Edward was decked in priestly garments and anointed. Immediately after his coronation he led the celebration of communion. As a king priest, the monarch identified himself with a distinctively Anglican sacerdotalism, which was otherwise politically controversial. Protestant campaigners were pressing for crackdowns on 'ritualism' in parish churches. Nonconformists and their allies in Parliament were fighting a rearguard action against the passage of a new Education Bill that prioritised church schools. Yet the main complaint most Nonconformists had was that their own ministers were not more prominent at the coronation. For all its medieval flourishes, it was compliant with popular understandings in Britain and the settler world of the 1688 Glorious Revolution as having pledged Britain's monarchs to Protestant freedoms. Edward had duly followed his predecessors in vowing to defend Protestantism and in reverently receiving a Bible.
Useful fuzziness
The coronation, then, expressed not just the importance of his ecclesiastical persona, but its useful fuzziness. He followed Victoria in worshipping with Scottish Presbyterians when at Balmoral, an act as significant to the symbolic defence of the Union as his willingness to sport a kilt. He also extended Victoria's sympathy with other religions. His friend the Aga Khan sat near the Moderator of the Church of Scotland in the Abbey – a politic act of courtesy, said Bodley, as he headed an Ismaili Muslim community more 'numerous than the followers of John Knox'. The Chief Rabbi attended the coronation and he and other rabbis around the Empire later preached coronation sermons, which presented the monarchy as a bulwark against religious intolerance. The relationship with Roman Catholics remained by contrast tortuous, especially in Ireland. The coronation was a Protestant affair, which Roman Catholics needed a papal dispensation to attend. A year earlier the king had angered them by agreeing after much prevarication to recite the accession declaration against transubstantiation, even if he had the grace just to mutter it. Yet Edward had long been a friend of popes and cardinals and quickly exerted that friendliness in defence of the Union. On his state visit to Dublin in 1903 he sought to reset relations by praising the recently deceased Pope Leo XIII and visiting Maynooth College, a charm offensive which met with a strong popular response, even if it hardly quelled the grievances of nationalists.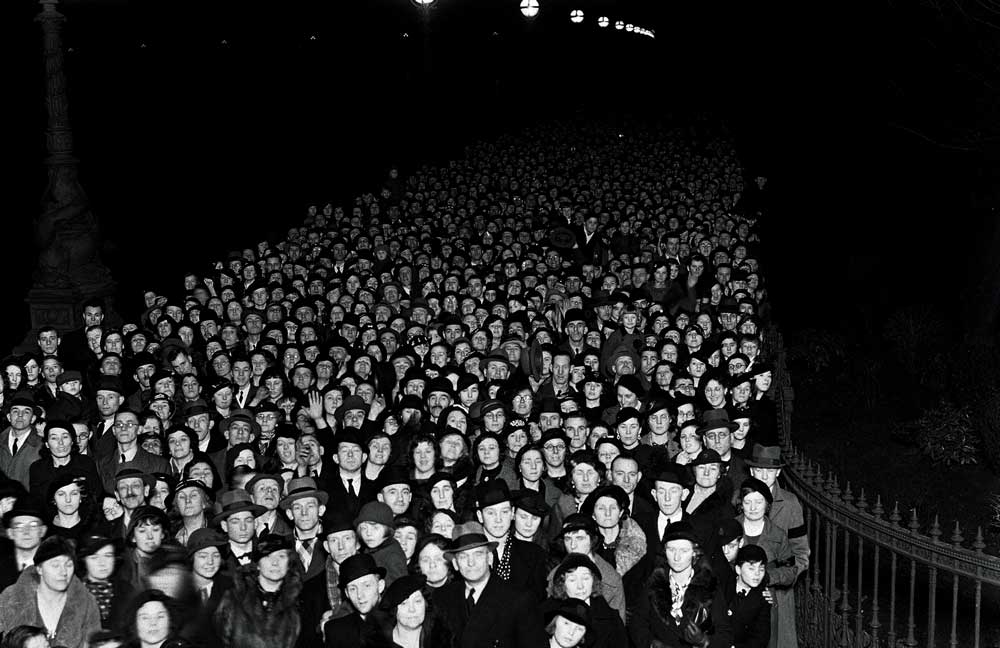 Bodley's presentation of the coronation as 'an act of religious consecration' was quite compatible with celebrating it as an imperialist demonstration. Victoria had striven to make the Crown into 'the emblem of the British race, to encourage its expansion over the face of the globe, and to retain the allegiance of emigrant settlers to the island-kingdom of their origin'. Now Edward was the 'Emblem of Empire', whose coinage styled him Britt: Omn: Rex (King of all the Britains). Especially for patriots in settler territories, his coronation was less a moment to dwell on him than to marvel at the size of the empire which paid him fealty. In the London crowds Bodley singled out the 'gallant white settlers', still wearing the khaki uniforms in which they had lately defeated the Boers. While Edward's illness also disrupted arrangements for colonial celebrations, the holding of Anglican services in settler cities and capitals heightened the sense that the coronation was what one Vancouver paper called a festival for the 'entire British race', at which Indian soldiers, Maori warriors, Nigerians and Dyaks established Edward's rule as a global and assimilative force.
A thorny crown
As the historical charge sheet against monarchy's colonial crimes lengthens, today this dual emphasis on the humble piety of the monarch and the military sway of his empire looks like psychic dissonance. Yet the preachers who hailed Edward's rule sincerely believed that Christian kingship could stop the drift of any empire towards unprincipled rapacity. The morning after the coronation, James Welldon, Canon of Westminster, addressed the colonial troops at a farewell service. He had served as Bishop of Calcutta, where he had led a memorial service for Victoria in his cathedral. But, though Welldon liked to believe that 'the heart of India naturally inclines towards monarchy', he had been troubled by the futility of missionary efforts, as well as by the state's failure to prevent catastrophic famine. He fretted at the psychic toll on 'English men and women' of living 'an unnatural life' in an alien environment. These misgivings stole into his sermon, which asked the troops whether their empire would decline as others had done. The answer lay with their faith: 'You will never maintain empire without character, you will never maintain character without religion, you will never maintain religion without Christ.'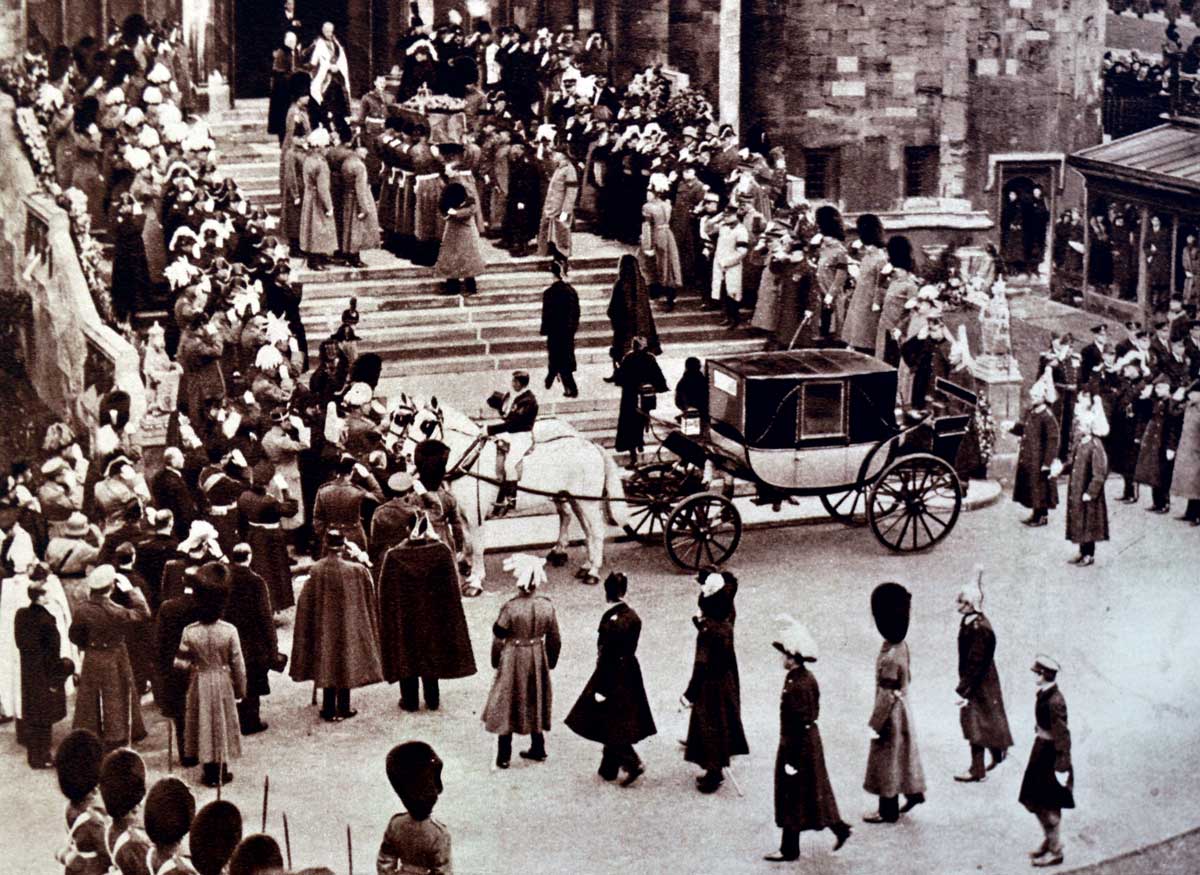 When Welldon toured Australasia the next year he was concerned to find societies that seemed to be Anglo-Saxon but not very Anglican. The Church's failures meant that the kind of biblical literacy which informed Christian monarchism was waning. Even zealous monarchists worried that creeping secularisation over the course of Victoria's reign made the spiritualisation of kingship too abstruse for everyday life. Yet these beliefs survived to set the tone for Edward's elaborate funeral in 1910. Preaching in the Abbey just after his death, the Archbishop of Canterbury Randall Davidson remembered him as an object of divine intervention, whose recovery from grave illness had been a 'bit of "revelation" – the unveiling of the Divine guidance and discipline of our people's life'. The king may have had real, if intangible, political strengths, but it was his association with the 'providences of God' which mattered. That aura soon settled on his pedestrian son. As the historian Heather Jones has argued, the British marched into the First World War behind George V, a self-denying Christian soldier, while, at the war's end, he led the sanctification of the imperial war dead.
This Victorian language of providence and service, which led Victoria to speak of wearing a 'thorny crown', has flickered since but never fully gone out; during the coronavirus pandemic it was evident in the mobilisation of the late queen as a spiritual auxiliary of the NHS. Will it assist Charles III today? He begins his reign as a mourner in chief, mixing emotional disclosure with commitment to the Church of England. His faith and its 'values' led him to respect 'the precious traditions, freedoms and responsibilities' of parliamentary government. In his address to the Lords and Commons in Westminster Hall, he trusted in 'God's help' to follow Elizabeth's example. Yet, although the rites, buildings and personnel of churches have been as prominent in Elizabeth's obsequies as in Victoria's, active church membership has shrunk steadily since the early 20th century and precipitously in recent decades. Even Charles' broad church pluralism, which envisions 'faith' or 'faiths' grouped beneath an Anglican but spiritually inquisitive monarch, is unlikely to resonate with a secularised public. Yet the lesson of Edward VII's accession is not so much that reverence is a necessary quality of monarchy, but that British monarchs are safe when they continue to represent the nation's values, however that nation and those values shift.
Michael Ledger-Lomas is a Visiting Research Fellow at King's College London and author of Queen Victoria: This Thorny Crown (Oxford University Press, 2021).