The Execution of Dr Crippen
Richard Cavendish remembers the execution of a notorious murderer on November 23rd, 1910.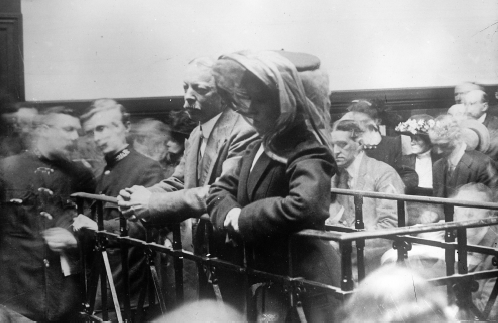 Hawley Harvey Crippen was 48 years old when he was hanged in London's Pentonville prison at 9am on November 23rd, 1910. He had spent the previous hour with the Roman Catholic prison chaplain and two warders. His plan to commit suicide with broken glass from his spectacles had been forestalled and now, though unable to finish his breakfast, he seemed perfectly calm. The hangman, a Yorkshire barber named John Ellis, who had spent time with him the day before, recalled that 'Crippen came across to me as a most pleasant fellow.' He was smiling as the cap was put over his head on the scaffold. The drop broke all the bones in his neck and he must have died instantly. The body was buried in the prison graveyard.
The Crippen story aroused enormous public interest at the time and Crippen himself has always attracted considerable sympathy. He was a small man, 5ft 3 or 4in tall, bespectacled and moustachioed, an American who had trained originally as a homeopathic doctor. Quiet, mild and polite, a docile husband and apparently entirely unremarkable person, he had a wife who is always described as a blowsy, heavy-drinking nightmare, vain, bullying and promiscuous. She came from a Polish family in New York City, called herself Cora (her original name was Kunigunde Mackamotzki) and tried without much success for a career as a music hall singer under the stage name of Belle Elmore.
The Crippens moved to London in 1897 and he worked at a centre for treating the deaf, where one of the typists was an attractive girl called Ethel Le Neve. They fell in love, but the relationship was at first platonic. In 1905 the Crippens moved to a house in the Holloway area of north London, 39 Hilldrop Crescent, where they took lodgers. Crippen came home one day and found Cora in bed with one of them. She had been unfaithful to him before and he and Ethel now began an affair. Ethel was his 'wifie' and he was her 'hub'.
On February 1st, 1910 Cora Crippen vanished. Her husband said she had gone back to the United States for a few months. In March Ethel moved into the Hilldrop Crescent house with Crippen, who now gave out that Cora had died in America. Cora's friends grew suspicious, Scotland Yard was alerted and Detective Inspector Walter Dew talked to Crippen in July. Crippen took fright and fled to Brussels with Ethel, who was dressed as a boy. The police searched the Hilldrop Crescent house and found the gruesome remains of a body beneath the coal cellar. Wrapped in a male pyjama jacket, which was later identified as Crippen's, it had no head, no limbs, no bones and no genitals, but there were traces of a poison that Crippen was discovered to have bought not long before Cora's disappearance. A hue and cry began, followed excitedly by the press. Ports and stations were watched and police forces abroad were alerted.
On July 20th Crippen and Ethel sailed from Antwerp for Canada on the liner Montrose. He called himself Robinson and Ethel posed as his teenage son, but they behaved too lovingly and the captain grew suspicious and informed the ship's owners by telegraph. They passed the word to Scotland Yard and Dew pursued the fugitives across the Atlantic in a faster liner, the Laurentic, which reached Father Point in the Gulf of St Lawrence ahead of the Montrose. Dew was waiting, went aboard with the pilot vessel and arrested Crippen and Ethel. He afterwards said that he had never in his life felt such a sense of triumph and achievement. The Montrose took all of them on to Quebec, accompanied by reporters who had swarmed on board. Dew regarded the latter as an infernal nuisance, but the dramatic story that George Orwell said no novelist would have dared to make up created a frenzy of excitement in the press.
So did the trial at the Old Bailey in October, which made the name of the pathologist Bernard Spilsbury, who had examined a piece of flesh and confirmed that a scar on it corresponded to an operation that Cora Crippen was known to have had for the removal of her ovaries. This has since been challenged, but it helped to demolish Crippen's claim that the corpse must have been there all along, unknown to him and Cora. However, he did succeed in his heroic effort to persuade everyone of Ethel's innocence. Tried as Crippen's accomplice, she was acquitted. 
American academics in 2007 claimed that the DNA of the dead body in Hilldrop Crescent did not match that of some of Cora Crippen's distant relatives, which meant that the body was not Cora's and Crippen was innocent, but their case was generally considered unconvincing.