Decolonisation in British Africa
Anthony Kirk-Greene looks at the remarkably rapid 'end of empire' of Britain in Africa, and argues that perspective and objectivity can now yield a useful stocktaking.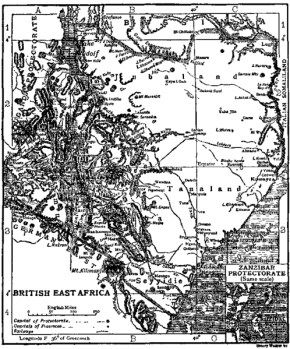 Map of British East Africa in 1911.
Because it is a time-past, time-present hybrid, decolonisation exercises on contemporary historians the same kind of excitement of revelation as does, for example, the study of recent wars: not the Gulf War and perhaps not yet the Falklands Campaign both being too close for objective interpretation, and sadly no longer Gallipoli or the Boer War; but certainly the 'Emergencies', as they were called in post-war Malaya and of Mau Mau in the 1950s, and, of course, the Second World War. These all share an element of 'I was there', 'I remember', or, regardless of whether as actor or spectator, 'I often used to wonder why or how...'. As Lord Bullock has said, he considers himself to be in a uniquely fortunate position as a historian of the Second World War: not only did he live through the events and had access to many of the relevant documents, he has also lived long enough to gain the perspective normally granted to historians of earlier times.
The end of British hegemony in Africa and the decolonisation of the continent enjoys a paradoxical dual attraction: by definition a past event, it nevertheless remains a matter of recent experience, current interest and contemporary debate, however incomplete in the record, and ambivalent in its interpretation. Decolonisation excites our interest by manifesting the past in the present.