The furniture maker died on October 22nd, 1806.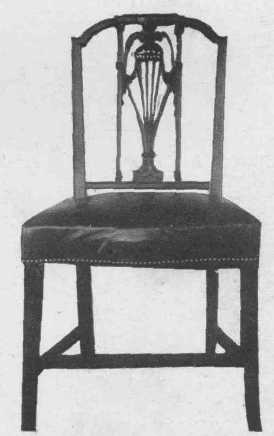 No piece of furniture made by Thomas Sheraton has ever been identified, and doubts have even been expressed about whether he made any, but few furniture-makers signed their work in those days and he is regarded as the first person ever to have made his living by designing furniture. A good living it was not, however, and he spent his life in poverty.
The son of a Stockton-on-Tees schoolmaster, Sheraton said he had never had the advantages of 'a collegial or academical education'. He seems to have felt socially inferior and feared his work would be looked down on because of his humble origins. He evidently got a training as a cabinet-maker and draughtsman, and moved to London when he was about forty, living at various addresses near Grosvenor Square and in Soho as a designer and author, drawing teacher and devout Baptist minister. His master work The Cabinet Maker and Upholsterer's Drawing-Book began coming out in fortnightly parts in 1791. It sold to professional furniture-makers and opened with chapters on geometry, perspective and the classical orders of architecture.
In 1803 in the preface to his Cabinet Dictionary Sheraton remarked dispiritedly that although he spent his time racking his brains to produce fine designs, he would be content to sit on a simple wooden chair himself if he could but have 'common food and raiment wherewith to pass through life in peace'. Adam Black, the future publisher, worked for him for a few days in 1804 and tried to tidy up the dirty, bug-ridden shop in Broad Street in Soho in which Sheraton sold drawing books. Sheraton and his family lived above the shop and one afternoon Black took tea with them. 'There was a cup and saucer for the host, and another for his wife and a little porringer for their daughter. The wife's cup and saucer were given to me and she had to put up with another little porringer.' In his threadbare black coat, Sheraton looked like 'a worn-out Methodist minister' and Black felt badly about taking his meagre pay from so poor a man.
The unfortunate Sheraton's mind gave way in the end and he died in Broad Street at about fifty-five of 'phrenitis', an inflammation of the brain accompanied by fever and delirium, leaving his wife Margaret and their two children in poverty. He was buried five days later in the church of St James's, Piccadilly.