Robert Peel suffered a fatal fall from his horse on June 29th, 1850. He died three days later.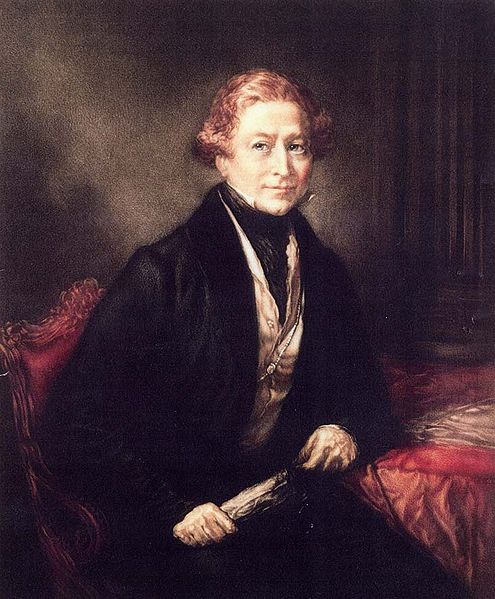 Robert Peel was 62 when he died. He had sat in the Commons for more than 40 years and had held high office many times. As Home Secretary in 1829 he had created the 'Peelers' or 'Bobbies', the country's first efficient police force. He had served twice as prime minister, in 1834-35 and in 1841-46, and had broken his own Tory Party twice, in 1829 and again in 1846, after which he had supported the Whigs.
Tributes poured in after his death. The Duke of Wellington, not an admirer of politicians as a rule but now reduced almost to tears, told the Lords, 'I never knew a man in whose truth and justice I had a more lively confidence, or in whom I saw a more invariable desire to promote the public service.' Queen Victoria wrote, 'Everyone seems to have lost a personal friend.' Lord Aberdeen told the Princess Lieven, 'Never did I know such universal grief exhibited by every description of persons: high and low, rich and poor, all feel alike, and with good reason, for his services were equally rendered to all.'
This remarkable reaction was exacerbated by shock. The death came out of the blue. On Saturday June 29th, Peel attended a meeting on the 1851 Exhibition and returned to his house in Whitehall Gardens in the afternoon. About five o'clock he went out for his early evening ride. Although a competent horseman, he was not fully accustomed to his new horse, a hunter he had acquired a few weeks before. Unknown to him, it had an evil reputation for bucking and kicking, and his coachman did not like the look of it, but Peel ignored him.
Peel stopped at Buckingham Palace to write his name in the visitors' book and then rode on up Constitution Hill. When in sight of St George's Hospital he met two girls he knew, with a groom on a skittish horse. His own horse began acting up and threw Peel off, then tripped over him as he lay face-down on the ground and fell on him. Passers-by rushed to help and a lady with a carriage offered to drive the injured man home. He was lifted into the carriage and driven back to Whitehall Gardens, where he managed to walk to the front door, but then fainted. His wife Julia watched distraught, as Peel was carried to a sofa in the dining room.
A brigade of medical men materialised and reported that Peel had broken his left collar-bone and probably several ribs. He was in dreadful pain, there was evidently a severe internal haemorrhage and he became delirious and had difficulty breathing. Crowds gathered outside in the street as the news spread and Queen Victoria and many others sent messages or called to express sympathy. The police had to come and control the traffic and the spectators. They also read the medical bulletins to the crowd.
On Tuesday July 2nd the patient seemed better, but his condition worsened again before long. The doctors could do nothing and the Bishop of Gibraltar, George Tomlinson, was summoned to give the last Communion to his old friend. Julia Peel broke down and had to be led away, and the rest of the family said their goodbyes and then waited until the dying man's breathing ceased soon after eleven that night. The family refused to allow a post-mortem, but Norman Gash, who wrote the classic biography of Peel, thought the cause of death was probably broncho-pneumonia. The body was buried in the Staffordshire countryside, at Drayton Basset, in pelting rain.