The Death of Harold at the Battle of Hastings
Was King Harold slain by a Norman arrow that pierced his eye? Charles H. Gibbs-Smith adduces a powerful argument for correcting the traditional story.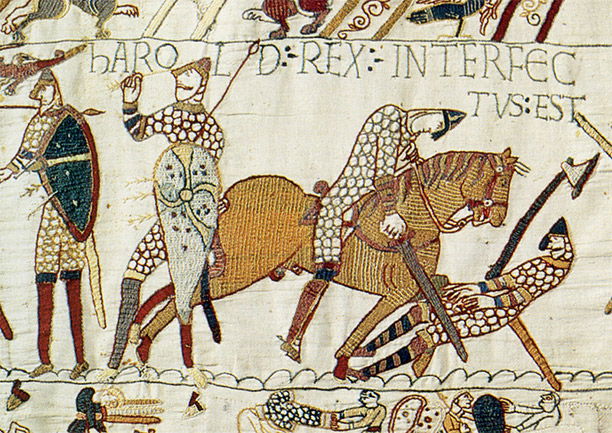 Harold, king of England, was killed in the fourth and last phase of the Norman attack at the Battle of Hastings in the late afternoon of October 14th, 1066. This last attack was a combined-forces assault of infantry and cavalry, with archers giving covering fire.
The earliest description of Harold's death occurs in the Gesta Normannorum Ducum by William of Jumièges, written in or about the year 1070, in which he says "Harold himself... fell covered with deadly wounds." Later, between the years 1099 and 1102, Baudri, Abbot of Bourgueil, wrote a poem describing a piece of embroidery in which there was shown a scene of Harold's death in battle, where—says Baudri—the King is killed by being struck in the eye by an arrow.